November 03 2022
Introducing Blum's Innovative Compact Clip Hinge - The Industry Upgrade is Now Our Standard
Fabuwood has always been dedicated to leading our industry in technology. Whether it's with our modern door designs, proprietary EZ-Pricing platform, or exciting cabinet accessories, we keep things new and modern. We believe in leading by example and constantly look for ways to expand technological advancements in the kitchen industry.
In keeping with our tradition of innovation and desire to push the boundaries of cabinetry, we're thrilled to announce that Fabuwood is the first cabinet company to utilize cutting-edge clip-on hinges for an entire cabinet line, as all our Allure cabinets will now come equipped with Blumotion compact clip hinges.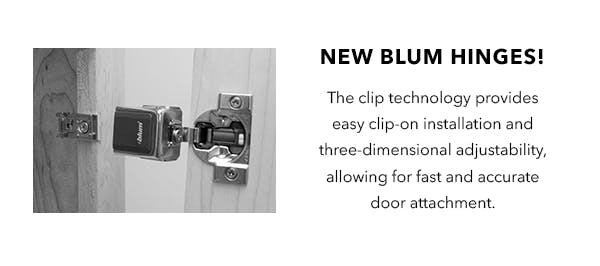 What is a compact clip hinge?
First introduced with our Luna door style, the compact clip hinge (or clip-on hinge) is a modern adaptation of the classic cabinet hinge. The use of this hinge replaces tools and screws with clip-on technology that takes installation from an extensive chore to a simple task that can be completed with just a click.
What are the benefits of the compact clip hinge?
1. Quicker/less labor-intensive installation: By ruling out the use of tools and screws when installing your cabinet doors, you are consequentially lowering the labor intensity and amount of time it takes to install your cabinets.
2. Lower damage rate: The percentage of cabinets damaged during installation is lowered with the use of these hinges, which make it easy to click a door into place after the cabinet box has been installed in the kitchen.
3. Easy adjustment/removal: These hinges make it easy to adjust and remove the door from the face frame of the cabinet, so you can make sure it's installed just the way you like it!
4. The Blumotion compact-clip hinge is a concealed hinge, which means you get all the function and quality while maintaining the sleek appearance of your cabinets. Sometimes, less is more, and this hinge helps maintain the minimalist appeal of the modern kitchen.
5. These hinges are equipped with soft close action to protect your fingers and the finish on your cabinet frame.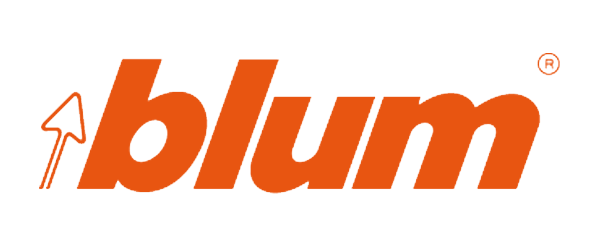 Blum is a top-of-the-line company whose product lines cover every fine detail of cabinet motion technology. This includes hinge systems, box systems, runner systems, organization systems, and more. Fabuwood values them as a brand and partner in our goal to create the most technologically advanced cabinets in the kitchen industry. Blum shares Fabuwood's goal of constantly adapting and improving in order to stay ahead of the competition, and the release of their innovative Blumotion Compact Clip Hinge is proof of that. Their high-quality products are a vital part of every Q12 Fabuwood cabinet.
What are some other options for cabinet hinges?
1. Face Frame Hinge: Also known as a semi-concealed hinge, this hinge is mounted on the cabinet frame. Its door wing is attached to the back of the door and therefore concealed, while its frame wing is attached to the outside of the frame and is visible.
2. Flush Hinge: This hinge is either completely concealed or leaves only a knuckle exposed. Both its door wing and frame wing are mounted on the interior of the cabinet.
3. Full/Half Overlay Hinge: This hinge is crafted specifically for cabinets where the end of the door completely covers the frame of the cabinet. It can either be totally interior, meaning both its door wing and frame wing are installed within the cabinet, or totally exterior, where both the door wing and frame wing are installed on the outside of the cabinet.
4. Inset Hinge: These hinges are installed on the interior of the cabinet frame, flush with the closed cabinet face. Based on the homeowner's preference, it can be either fully concealed or fully exposed, but either way, hardware is necessary to open a cabinet with this hinge.
5. Partial Overlay Hinge: This hinge allows the face frame of the cabinet to be seen through a gap in the doors that's typically about one inch wide. Due to this design, cabinets with this hinge require no hardware to be opened.
6. Surface Mount Hinge: This hinge mounts to the cabinet door and does not require a hole to be installed. Before choosing this hinge, please keep in mind that it is fully visible when viewed from the front.
While it's true that the right hinge is defined by the type of cabinet on which it's being installed, at Fabuwood, we believe that with high-quality innovative products, you can't go wrong.
Out with the old, in with the new
With constant upgrades, Fabuwood continues to redefine quality in our industry. We understand that when it comes to creating the kitchen of your dreams, every detail is important. The perfect kitchen needs the perfect cabinets, and the perfect cabinets need the perfect hinges. We add the perfect finishing touch by updating our Allure cabinets with Blum's Blumotion Compact Clip hinges. Your new kitchen will be the one you've always dreamed about, right down to the smallest details!
Visit our dealer locator page to find a Fabuwood dealer near you and bring your dream kitchen to life.