Are Grey Kitchen Cabinets Still Trendy?
Neutral color palettes have held first place in the kitchen design world for a long time. After all, white and tan kitchens are timeless, versatile, and trendy. However, the grey kitchen has recently come in for the tie, with a color scheme that is sleek and modern, yet warm and inviting. Get the best of all worlds with a design that is sophisticated, homey, and timeless. There are numerous reasons why the grey kitchen trend is here to stay.  
Hide the mess
As a refreshing take on neutral, grey can be the perfect choice because of its almost chameleon-like quality, and its wide range of warm and cool shades. It suits just about every room, every mood, and every setting.
The versatility of grey makes it perfectly suited for kitchens. It provides relaxing neutrality and an exciting warmth to your space, giving you the best of both worlds. Grey presents itself as a fitting backdrop to any style from classic to modern and even transitional. All furniture styles and all ranges of bright colors pair delightfully with this modern neutral. Unlike beige and tan, it contrasts well with wood tones, making it the ideal companion for wood floors.
Grey is calm and soothing, and despite being equated with rainy days, in the home grey is the opposite of dreary. A kitchen adorned with grey cabinets, and the right matching colors, is far from dull but rather inviting!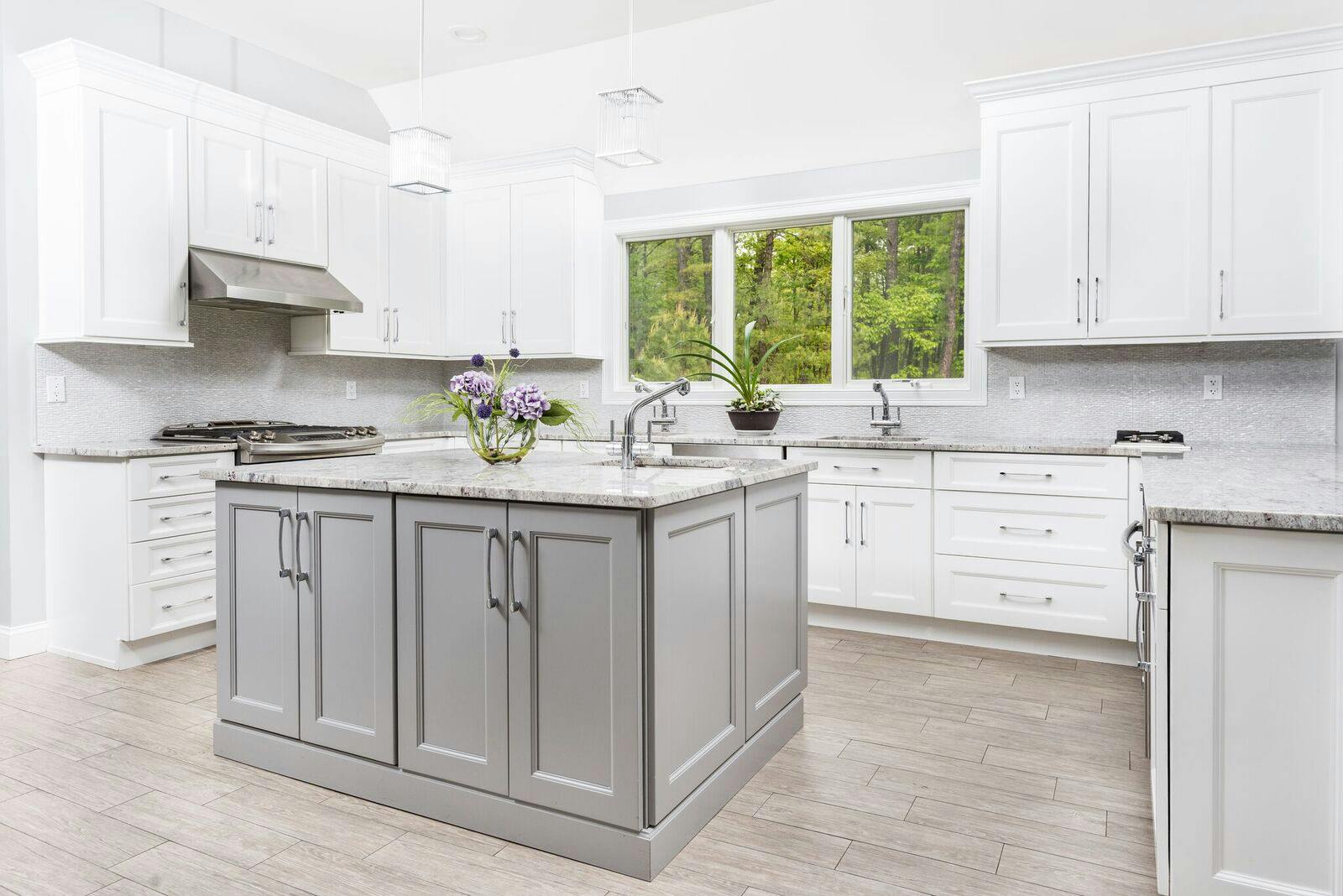 Warm and calm
Grey cabinets give the kitchen a warm and fuzzy feeling which cool white cabinets lack. There is something comforting in the stormy color that adds a soft sort of sophistication to your kitchen. Grey also emanates a sense of calm, which can be helpful during the early morning madness as you get yourself (or your kids) ready for the day.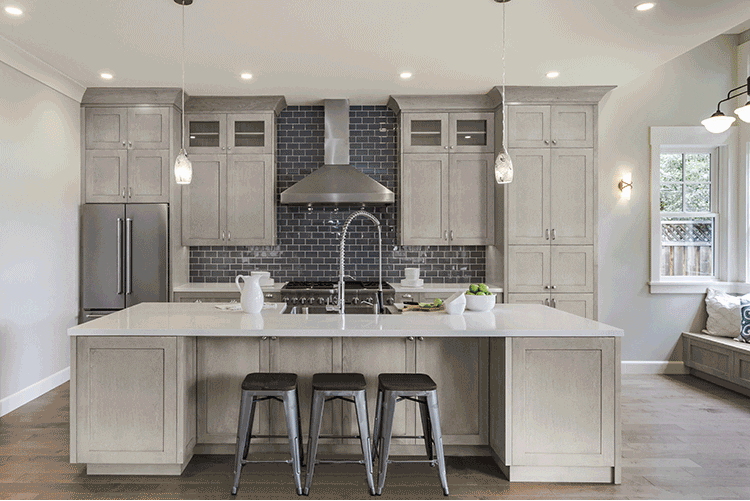 A Balanced kitchen is a balanced life
It's easy to get caught between two or more styles while redecorating your kitchen, it's harder to find a nice middle ground between them that will satisfy all your kitchen cabinet wants and needs. If you can't decide between a light neutral color scheme and a dark brown, or black color scheme, consider using grey. Grey cabinets are the ultimate balance between dark and light. There is such a broad range of shades to choose from that it's easy to adjust until you find one that fits your style.
Gorgeous Contrast
Thanks to its amicable nature, grey not only blends well with every color but gives them an extra flair. Grey cabinets will make any bolder, brighter, or more vibrant color exceptionally eye-catching thanks to the stark contrast. You can also mix and match grey cabinets with cabinets of any other color to add a unique touch. Even the slightest bit of color, like a white cabinet or a fruit bowl filled with oranges, will take your grey kitchen from boring to beautiful.
Keep your kitchen timeless in grey
If you're redecorating, and you're worrying that your new grey kitchen will soon be old news, you can stop worrying. You cannot go wrong with the color that is a perfect balance between the polished contemporary look of white and the warm traditional feel of dark wood. A beautiful and homely choice, grey cabinets will transform your kitchen into an elegant, warm haven that will never go out of style.
What do you think, are grey kitchens dated or timeless?