Why Grey Cabinets Might Be the Best Choice for Your Kitchen
What comes to mind when you think of the color grey? Something bland and unimaginative? Grey is usually thought of as boring or dull, when it is really a soothing color that comes in many tones and shades. According to the science of psychology, there are several colors that have a soothing and relaxing effect, and grey is one of them! Grey's relaxing underlying tone lets other complementary colors in the kitchen pop for an outstanding kitchen design. Check out all our grey cabinet door styles and the different shades they come in to learn which tone is perfect for your kitchen or bathroom!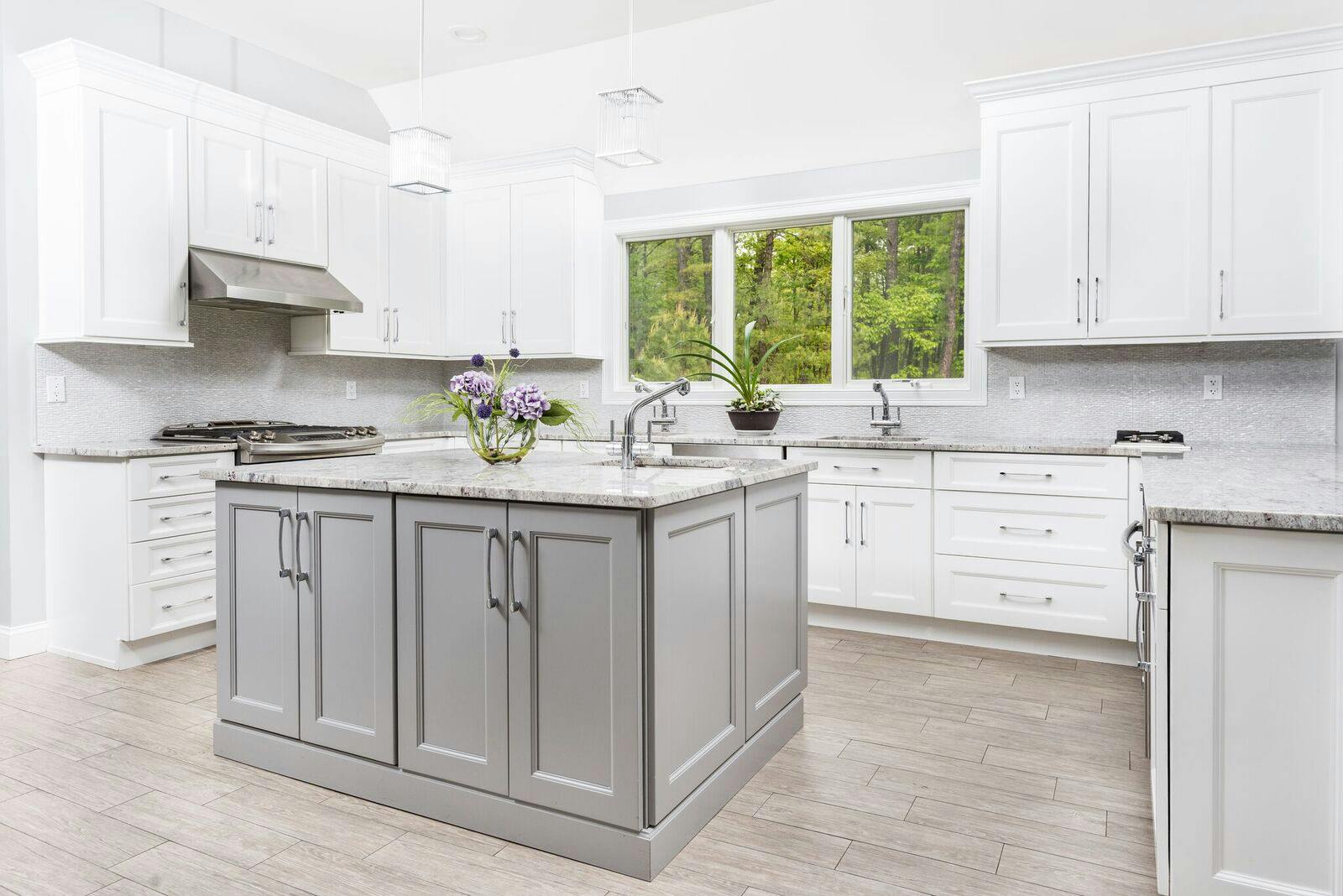 Why Should You Use Grey Kitchen Cabinets?
1.      Grey is versatile- the color can go with different kitchen styles and countertops. Marble, laminate, and even butcher block go well with grey cabinets, no matter the tone. Whether you have an ultra-modern aesthetic or favor traditional or transitional, grey is the perfect neutral tone to go with each.
2.      Stands the test of time- while grey is currently in style, it is still a lasting trend. It can go with any kitchen aesthetic, and when styled correctly, its modern charm can last for years.
3.      Different tones, different shades- Grey is not just a one trick pony- the numerous grey shades and tones mean it can match with either bright or more subtle colors. This gives you a lot more variety when it comes to styling your kitchen! Check out some of our grey cabinet options, like Horizon, Mist, and Nickel which bring out the most charming and timeless grey shades. Here are some other popular grey tones:
a)      Green/grey: A calming tone for a soothing kitchen oasis
b)      Blue/grey: Lends an elegant, upscale look, especially when paired with chic hardware and finishes
c)      Charcoal grey: If you want to go for a sleek and moody feel to your kitchen, this is a great choice
d)      Greige: A mix of beige and grey, creating the ideal neutral canvas for bursts of color in your kitchen
e)      Grey/brown: this hue has a dark earthy tone that lends an ageless charm, just like the Cobblestone stain for our Galaxy cabinets. 
4.      Say goodbye to visible dirt and grime- grey is a great color if you don't want to dust and clean your cabinets every day. While the dirt is still there, grey cabinets are excellent at masking not only dirt, but also minor scratches, making it the go-to low maintenance option.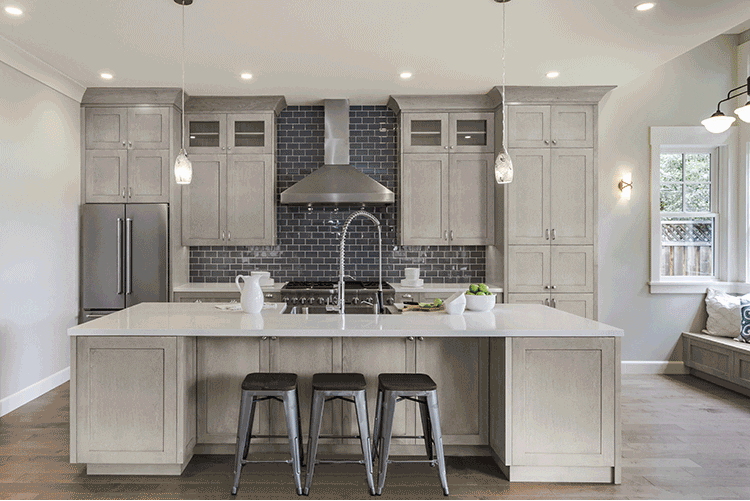 With their sophisticated charm, grey cabinets add subtle elegance and are a great alternative for those who want a neutral tone without going stark white. Grey creates a balance of cool and warm, allowing for maximum styling options. Wondering how to incorporate grey into your kitchen to create a trendy yet timeless appeal? Start thinking grey with these styling tips:
Styling Tips for Grey Cabinets
·         If you have painted your kitchen walls grey, choose a backsplash in a different color to add depth to the space. Grey on grey is beautiful but can be too one tone. Adding a splash of color creates dimension and visual interest.
·         If grey is too neutral for you, add accessories in different colors to amp up the drama. Hardware and other decorating choices allow for added excitement without being overwhelming. Remember to match the tone of the hardware to your chosen grey hue. For example, if you use a warm grey tone for the cabinets or walls, choose a complimentary hardware like brass or gold to match the warm tone.
·         Try two tone cabinets in different shades of grey for added visual appeal. Two tone cabinets are a great way to create a beautifully versatile kitchen space with different yet complimentary colors. A quick tip when integrating two tone cabinets- chose the lighter shade for the uppers and keep the darker hue for the lowers to make your kitchen appear even bigger.
·         Don't forget about the flooring! Every shade of grey looks great with hardwood flooring, no matter the chosen stain color for the floors. Because of its inherent impartial tones, the natural beauty of wooden floors pairs nicely with the neutrality of grey.
·         If you have a smaller kitchen space, use shades of light grey instead of dark. Darker hues can make the space feel smaller, while lighter colors create the illusion of a larger kitchen.
·         Because of its simplicity and versatility, grey can be dressed up as either modern or traditional. Depending on what hardware, finishes, and cabinet style you choose, your kitchen can be styled in whatever aesthetic speaks to you.
Grey kitchens are naturally beautiful, especially when paired with beautiful cabinets. If you are in the midst of reimagining your kitchen space and are wondering what type of cabinets work best for your kitchen space, we've got you covered!
Modern or Traditional Kitchen Cabinets?
If you're thinking modern, try Illume, our frameless cabinetry line that comes in four stunning colors. Our Grigio Gloss is a smoky grey that heightens the modern-day beauty of the cabinets. If you want to go traditional, we have plenty of options for grey cabinets with our Allure line. Whichever you decide to choose, know that we've got you covered with our extensive choices that are sure to appeal to your own stylistic flair. Even if you don't choose grey and decide to go with a complimentary color for the cabinets, we've got many cabinet colors and finishes for you to choose from. If you don't find exactly what you're looking for, you can always choose from our Custom Colors Program for that perfectly unique color choice!
What Accent Colors Work Best for Grey Kitchens?
Once you choose which shade of grey you want for your kitchen cabinets, its time to think about what paint color works best for your kitchen and for the accent colors. If you chose a warmer grey tone, reds, yellows, and oranges are complimentary in their matching warm tones. If you chose a cooler grey for your cabinets, think blue, green, and even light purple for the perfect accent color. Remember, you can always go white for an easy, classic look. You can never go wrong with white if you favor a neutral design!
Don't forget the Hardware!
Incorporating matching hardware is crucial in pulling off a beautiful kitchen design. Silver is the most common color used with a grey color scheme. However, if your kitchen has a warm grey tone, brass or gold meshes well along with other similar metallic finishes. Matching the drawer and cabinet pulls, faucets, and other finishes will tie the entire grey theme together for an incomparably stunning kitchen design.
Grey cabinets are a popular yet ageless kitchen trend. From light grey to dark and every shade in between, the grey color wheel is chock full of choices that is sure to please any palate. Whether you chose to cover your kitchen in grey or just add pops of grey throughout, grey kitchen cabinets haven proven themselves to be a lasting trend.