Welcome to the Fabuwood Blog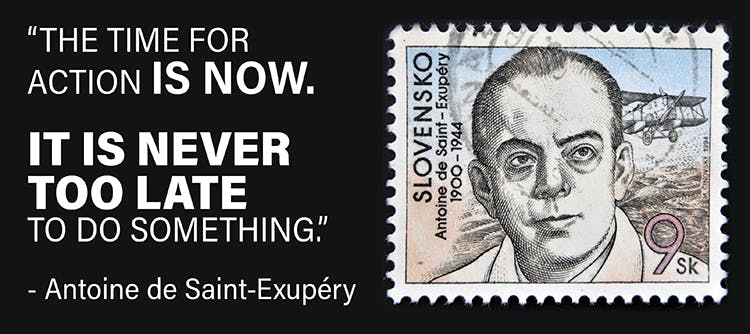 "It's Never Too Late…"
Yes, that might sound cliché, but hey – don't we all want to turn into the success that Saint-Exupéry was?
By the way, a quick fact that might interest you - Antoine de Saint-Exupéry first met with failure when he attempted to enter the naval academy. He went on to become a successful pilot and his aviation experience inspired him to write and become an acclaimed author. The Little Prince, his most popular book, was translated into more than 190 languages and sold more than 80 million copies.
So What's The Hype All About?
Well, it's been a long time in the making and we are finally thrilled to launch the FabuView blog - Fabuwood's view on industry trends and developments, and all things new and exciting at Fabuwood. While we're in the spirit - we'd like to share the positive vibe with you.
So… Back To Business – What Can You Expect To Find In This Blog?
Below is a list of some of the things you may discover in our blog. Don't be stunned if you find additional content – we love surprises!
NEWS – Stay in the loop about new product releases and updates.
TRENDING – It's always nice to know what others are doing. Visit our blog to find out the latest in styles and popularity.
PARTNERSHIPS – Fabuwood is all about partnering up with other companies to give you the ultimate product. This includes hardware, lighting, glass shelves, and countertops, amongst other things.
CUSTOMIZATION / MODIFICATIONS – We'll give you details on how we modify stock Fabuwood Cabinetry to achieve the look of a fully custom kitchen.
HOW TO / ADVICE – This platform will also be used to give you instruction on how to care for our products, tips on organization, and other kitchen guidance.
INTERVIEWS – Whether featuring a Fabuwood employee or kitchen designer, these interviews are sure to teach you more about Fabuwood and will help gain your appreciation for our company and what we stand for.
Now That You Know….
Having cleared all of that, there's just one thing left unsaid. We are doing our part, but it takes two hands to clap – so make some noise and share your thoughts. We'd love to hear your comments and ideas, please give us your feedback below.
We can't promise, but we will definitely make an attempt to answer your inquiries.
As a reminder, we are Fabuwood  – The Makers of all things Beautiful!