December 02 2019
The best countertop materials for your kitchen
Before you embark on a kitchen renovation journey, it's imperative to educate yourself. Figuring out what direction you want to take your décor, what kind of cabinets to get, as well as the right kind of countertop material are all crucial things to know before you start any big scale projects. As far as countertops go, there are various materials to choose from. We've compiled a list of the most popular kitchen countertops out on the market today, each with their own benefits.
1.      Quartz
2.      Granite
3.      Marble
4.      Butcher Block
Quartz
Quartz countertops are a favorite among homeowners for their versatile color selection, as well as the durability they provide. This is a man-made material that's engineered with ground quartz, binders, and pigment. Given that it's one of the hardest minerals in the world, the durability factor plays a huge role in it being scratch resistant.
It also requires less maintenance than some other materials, as its non-porous and never has to be sealed. This means that as life happens and spills occur, it won't absorb any liquid or messes, and thus not harbor any bacteria. It's easy cleaning procedure, beauty, and durability make it perfect for places like the kitchen.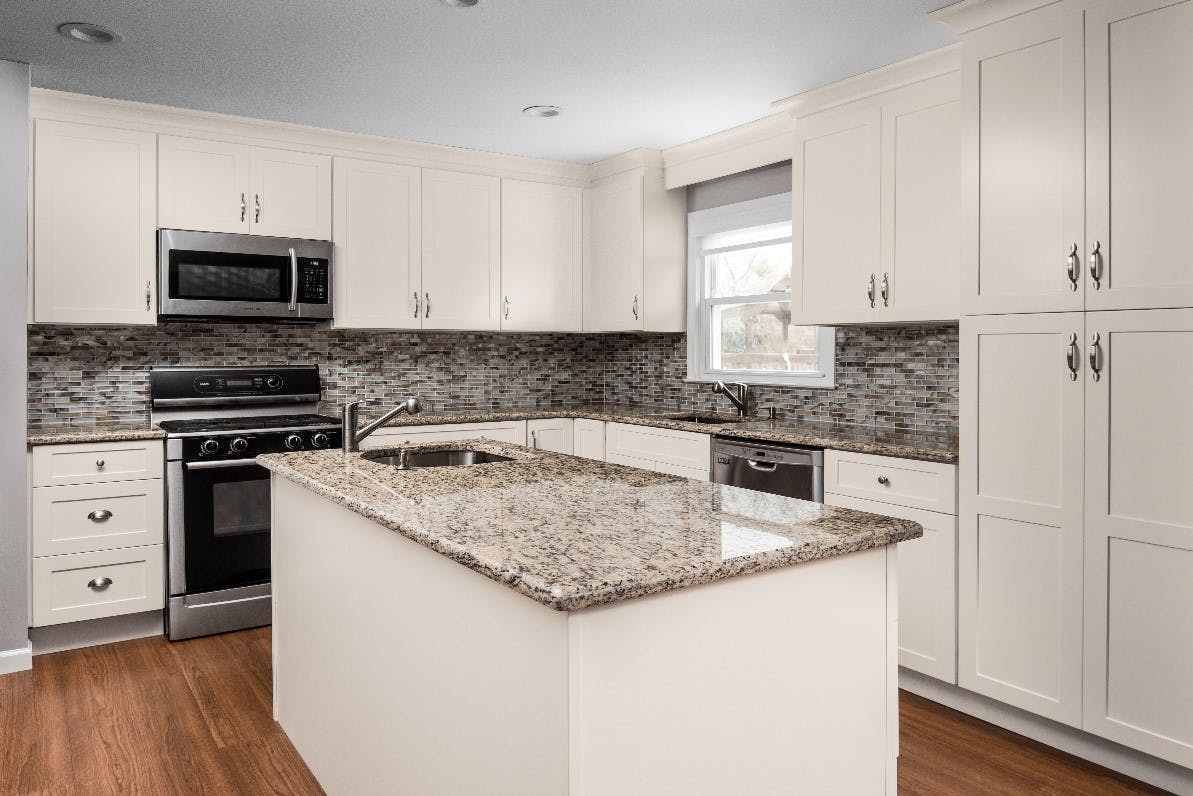 Granite
Granite is another popular pick across the board, and it's considered to be a bit higher end than some other materials. It's a natural material, which makes it porous. This is an important factor to consider with granite, as it means that it has to be sealed properly in order to maintain its beauty as well as it's function.
Granite is also known to be extremely durable and heat resistant (up to a certain degree) and will handle normal wear and tear very well. There are many shades of granite as well, ranging from lighter to dark, so your choices aren't limited with this natural beauty.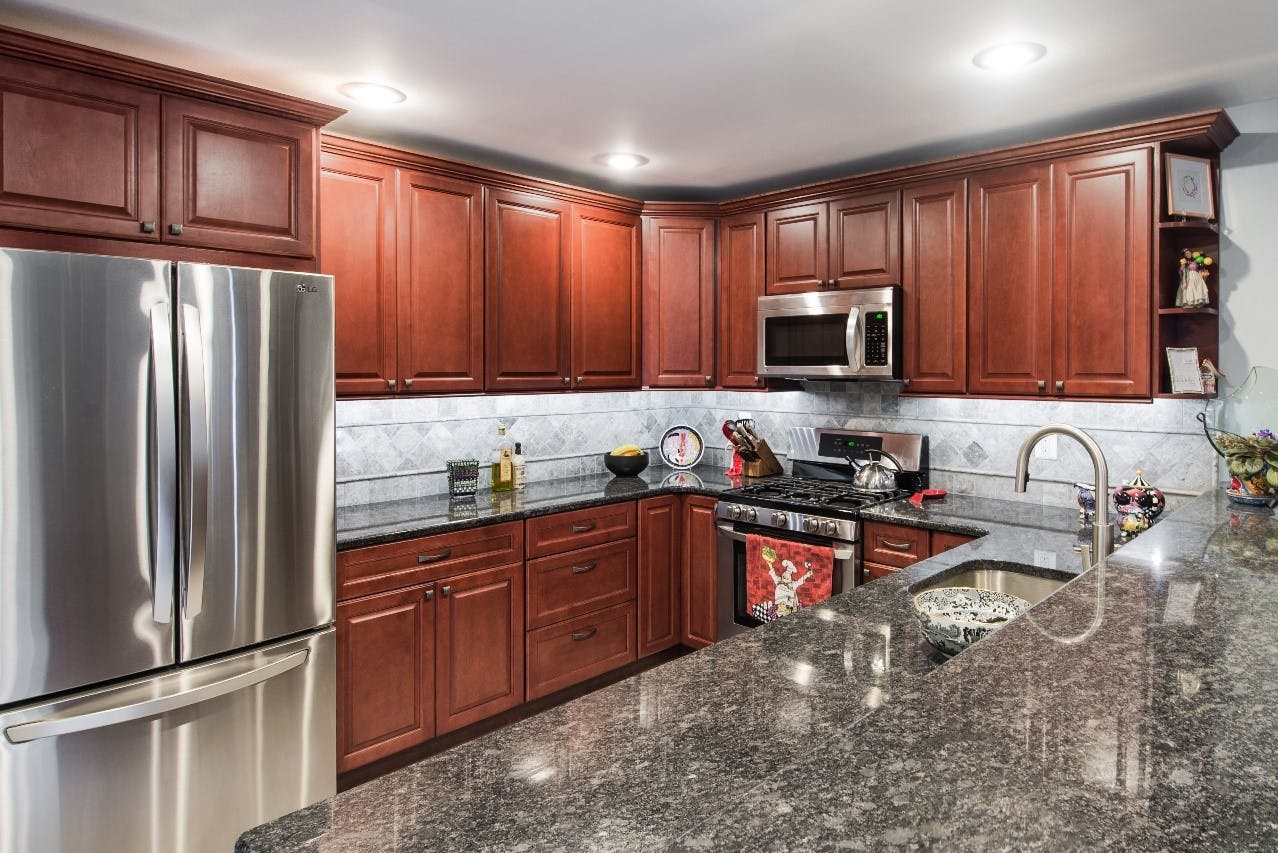 Marble
Marble takes the cake in terms of the most luxurious looking countertop, renowned for it's beautiful veining and elegant appeal. No two slabs of marble are the same, so you can be assured to have a unique kitchen countertop unlike anyone else.
Since marble is a natural material, it's also porous, even more so than granite. It's important to seal it and keep up with the maintenance of sealing it annually, to maintain its beauty and longevity. Another great aspect about marble is that it can handle heat very well and will stand hot pots and pans.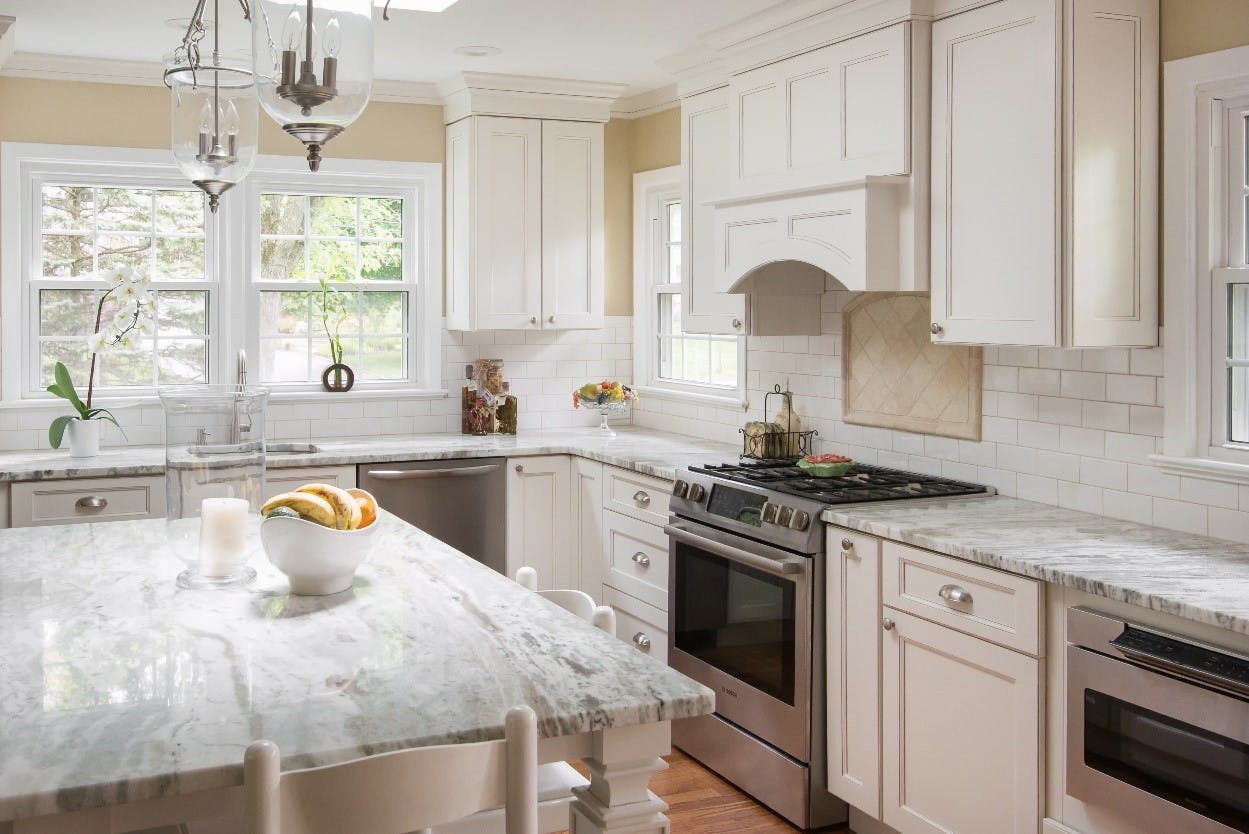 Butcher Block
Butcher block countertops are a great eco-friendly option for those who want to opt for something more natural and earthy. This countertop is made out of assembled wooden boards and provides a warm and inviting aesthetic.
There are plenty of wood types to choose from, like maple, oak, and walnut, depending on if you prefer a lighter or darker wood. Since wood is a natural, living element, this countertop option is also softer than other stone materials, and easily restored if anything happens to it.
Conclusion
The type of countertop material you choose will definitely impact the overall décor, depending what kind of aesthetic you're going for. Whether you prefer a more glamorous and luxurious kitchen, a traditional look, or an earthy and natural vibe, the types of countertop materials are plentiful.
Which countertop material is your favorite? Let us know down below!