Prep Your Kitchen For A New Season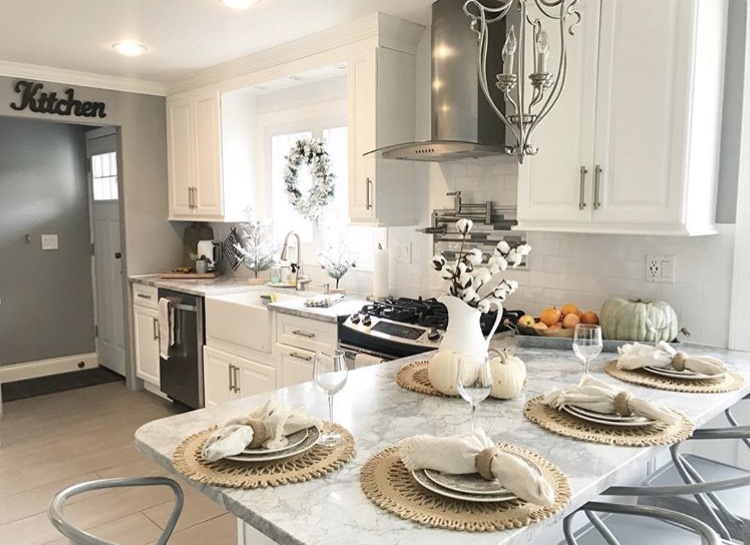 Fall is on the horizon and the nesting season is about to begin. Unlike spring cleaning, fall cleaning is not exactly about airing out your home, organizing closets, or giving your floors a proper scrubbing. This time of year, is more about making space in the kitchen for heartier cooking action and feeling more comfortable during the hibernation months.
It's a good habit to clean out your pantry and kitchen at the beginning of each season. We aren't saying you should throw everything away, but it's smart to reorganize and take inventory of what you have. If you love to cook and bake, thanksgiving is probably your favorite holiday! I'm sure you've already been thinking about your menu plans, but whether it's your first-time hosting or you're a seasoned pro, cooking a thanksgiving feast can definitely be stressful. Fall forward using these tips to prep your kitchen and home for hosting duties during the holidays and coming colder season.
IDEAS YOU'LL FALL FOR

Clean out the fridge: A clean fridge can go a long way and when it's sparkling, you'll enjoy being in your kitchen even more. Plus, cooking gets a lot easier when you're not digging through the mess in your fridge to find each ingredient!
Dust off the fall kitchen tools: Slow cookers, Casserole dishes and school lunch-making supplies should be positioned for easy access within your cabinets, while the grilling gear should be placed in lower-priority spots. 
Upgrade your soap: Despite the refreshing changes this season brings about, it also comes with lots of sneezing, sniffling, and coughing.  We are always in contact with germs, whether we are cooking or just enjoying the great outdoors. Washing your hands, especially before you eat is principal in keeping sickness away.
Try out new meals: Make sure your kitchen is ready for all the deliciousness it will produce in the coming chilly months. At this time of year you'll also want to consider stocking up on baking supplies: There is a lot of baking to be done in autumn and you need to be sure that you are braced for it. It all starts with disposing any old, expired or unusable ingredients from the previous year then making a list of everything that you will need to replace or add. 
Rustic decorations:  Bring in the spirit of fall using bright and vibrant colors such as golden yellow, orange and various shades of red. It will turn a kitchen into a warm and cozy place, and create a sense of cheerfulness.
Lay rugs or carpeting: Even with your best efforts to keep this room warm, you may still notice that the floors in your kitchen are cold during the fall and winter. No one likes stepping on a cold, hard floor each morning when making coffee or breakfast. You can keep your floors warm and also make the room cozier and more comfortable by installing new carpeting or at least laying rugs on the existing floor.
By adding just a few tasteful touches to the room, you can easily capture the rich warmth of this colorful season. Is your kitchen ready for the upcoming season?  We'd love to hear about the ways you fall-proof your space in the comment sections below.