September 16 2019
7 Solutions to Common Kitchen Problems Super-Busy Customers Face
Does your customer-base include super-busy, super-stressed, working parents who get all caught up in the everyday pandemonium of getting kids ready and off to school (hello there, back-to-school season!)? Back to school typically means tons of meal prep, packed lunches, express breakfasts, and finally, some much-dreaded clean-up of the massive volcanic eruption in the greater kitchen area.
Well, there's certainly something you can do to help your customer achieve a method to their madness and therefore a better work-life balance. So, go that extra mile to talk to them about their lifestyle as well as the challenges they face in their current kitchen.
Cabinets make up a significant part of a kitchen remodel. As you sit down with customers to develop a cabinetry plan, talk to them in detail about cabinet accessories and upgrades that can make a world of difference to their lives. Even small additions to their existing plan can make their kitchen more functional and accessible. The devil is in the details after all!  
If you're looking to come up with solutions to problems working parents commonly face in the kitchen, be sure to read on.
1.     Cutting through the clutter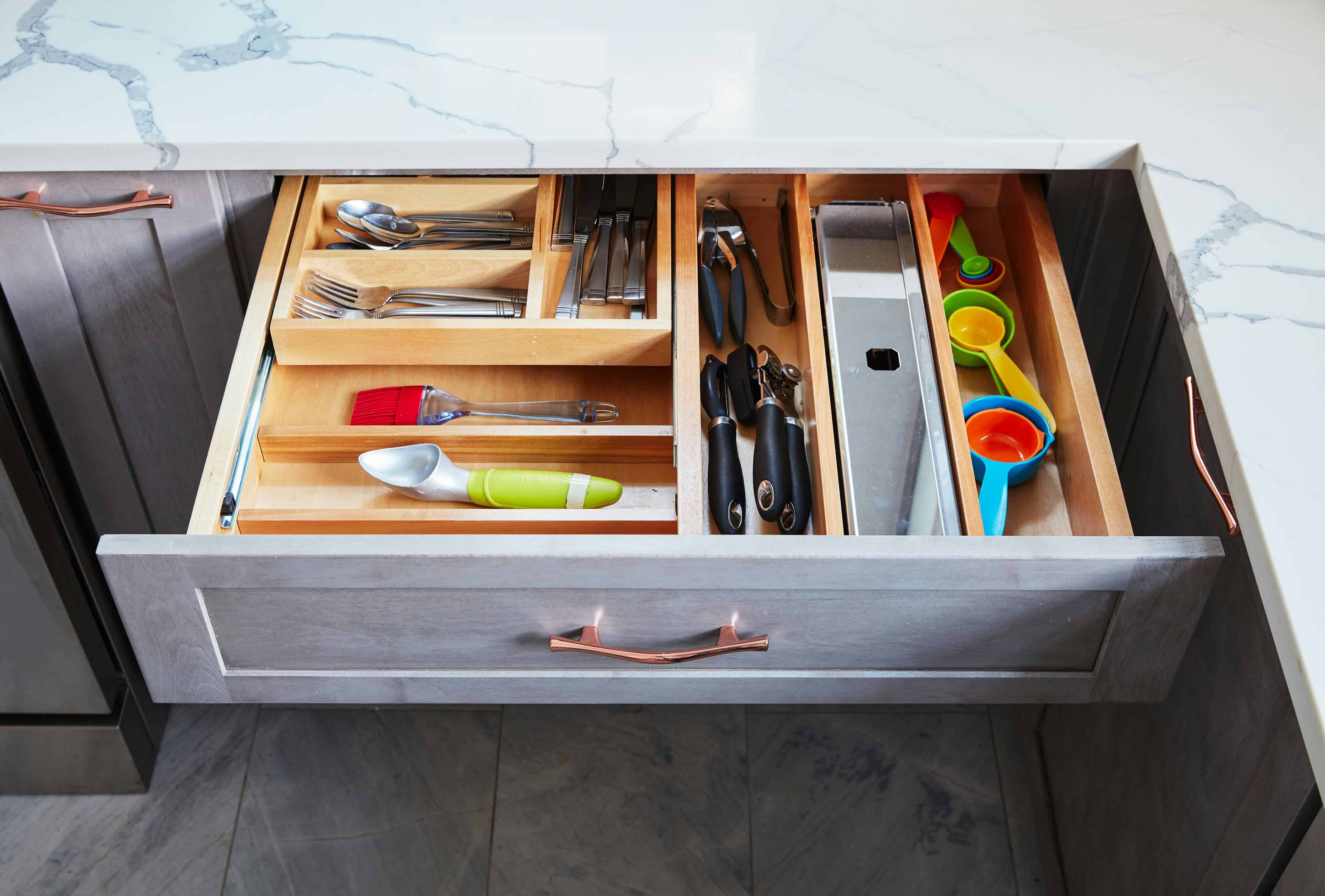 Problem:  Busy mornings typically start with meal prep for the family – hot breakfasts, healthy lunches, crispy snacks etc. etc. etc. If your customers have been slicing bread loaves with butter knives or buttering sliced bread with steak knives, you know they're in desperate need of some serious organization.
Solution: Help them cut through the clutter by recommending organization solutions such as two-tiered cutlery drawers. This beauty features a movable upper cutlery tray that conceals another organizing tray at the bottom (yay, bonus!). Or, take organization to the next level by recommending the more spacious, two-tier combo drawers which offer a movable upper cutlery tray that conceals a built-in knife organizer. Adjacent compartments can be used for storing larger items such as utensils, sandwich bags, foils, and more.
Don't forget to tell them about drop-in cutlery and knife dividers that can be trimmed to fit drawers of various sizes. With these clever compartmentalization options, your customers can navigate through their drawers with ease and proficiency. Chop, chop!
2.     Break time
Problem: Not every person is a morning person. As parents to a "not-a-morning-person" kid, your customers are bound to deal with teary-eyed "I don't want to go to school today" tantrums. Any parent can tell you how tantrums involve a variety of alarming activities such as sky diving (certainly not a "love you to the moon and back" moment), free falling, and crashing into your most delicate and prized possessions. Chances are, that bottle of Pinot Grigio on your customers' roll-away bar cart plus those fancy Parisian wine glasses are broken, damaged and destroyed...forever.
Solution: You know better than anyone that handy (and handsome) in-built cabinet options such as wine bottle inserts and stemware racks can help your customers catch that much-needed break. And to top it all, under-the-cabinet stemware can be customized to match the rest of their cabinetry. So, an eye-opening conversation with your customers can help them find their wall-mounted haven to store fine wines and a kid-proof safe zone for displaying stemware.
3.     Trash talk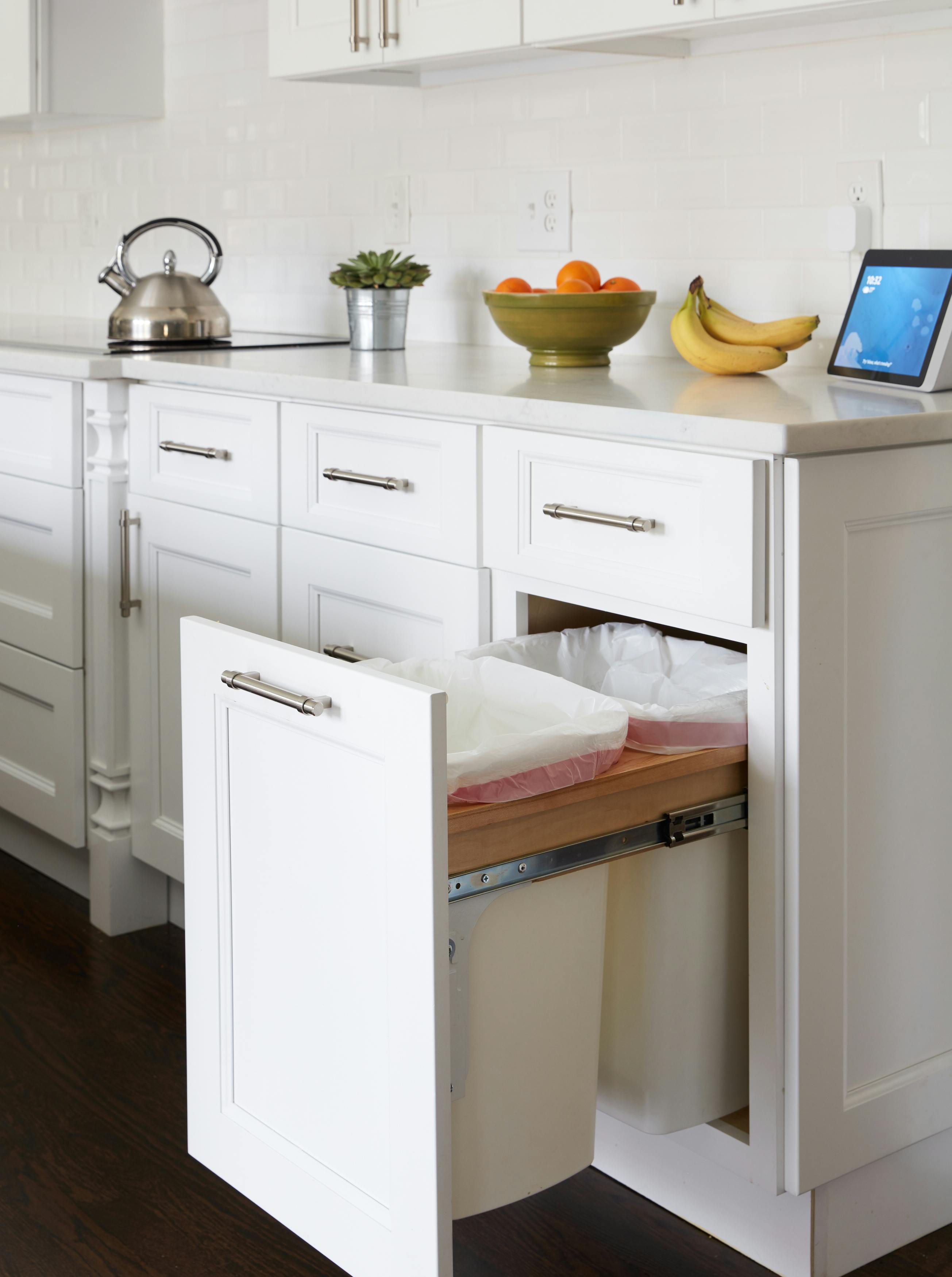 Problem: As your customers juggle multiple responsibilities as working parents, it's only natural for little ones to take complete advantage of their parents' "one busy moment." Ask your customers how many times they've gone on a wild goose chase only to find those missing collectables in the trash. Or how many times they've found their little explorer rummaging through eggshells and banana peels in their stand-alone trash can. Or how often they've found their little organizers attempting to build an Empire State replica with empty milk cartons from the recycling can. Well, if you haven't guessed already, the answer is WAY TOO MANY TIMES.
Solution: Start trash talking, right now! Show your customers how they can conceal their garbage in style. Introduce them to garbage can pullouts featuring wooden drawer boxes and durable polymer waste containers. Who wouldn't be delighted to tuck the nasties away from the reach of their young ones while sending those unsightly remains and unwelcome odors out of the way.
4.     The sinkhole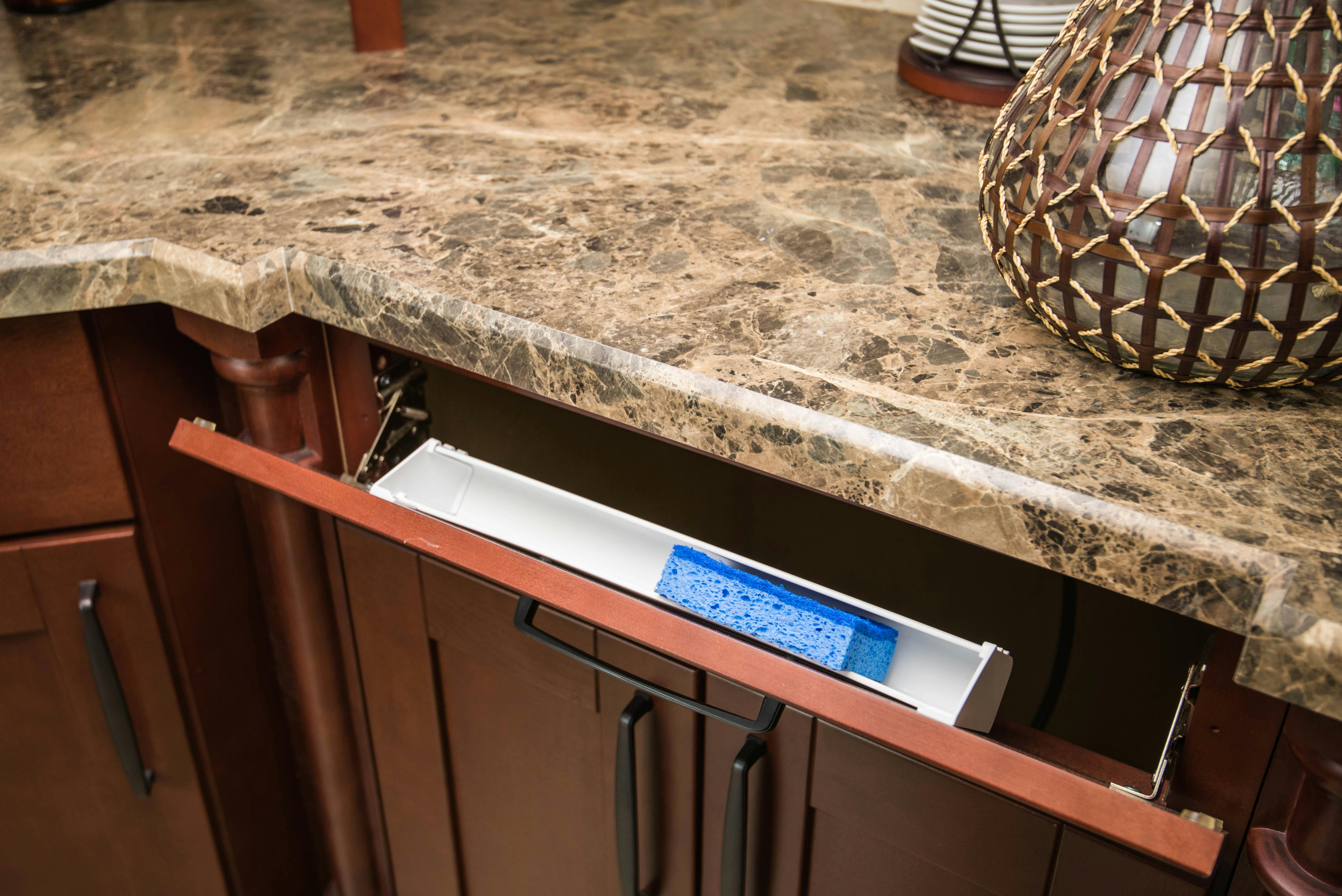 Problem: Some parents may strive to maintain a soothing, minimalistic feel to their kitchen. However, when life gets the better of them, they are often sucked into that sinkhole of dirty dishes piling up. With sponges, scouring pads and brushes drowning in a sink full of soot and grime, an innovative storage solution can help the cause.  
 Solution: Think smart, think tilt-out trays! Tilt-out trays are a must-have for exhausted customers who'd love to finish dealing with that mess ASAP! Dive right in and show them how to optimize on unused space above their under-sink cabinets. They'll love tilt-out trays which help store those sponges and scouring pads in a sweet little hiding spot that's still well within their reach when scrubbing duty calls.
5.     The counteroffer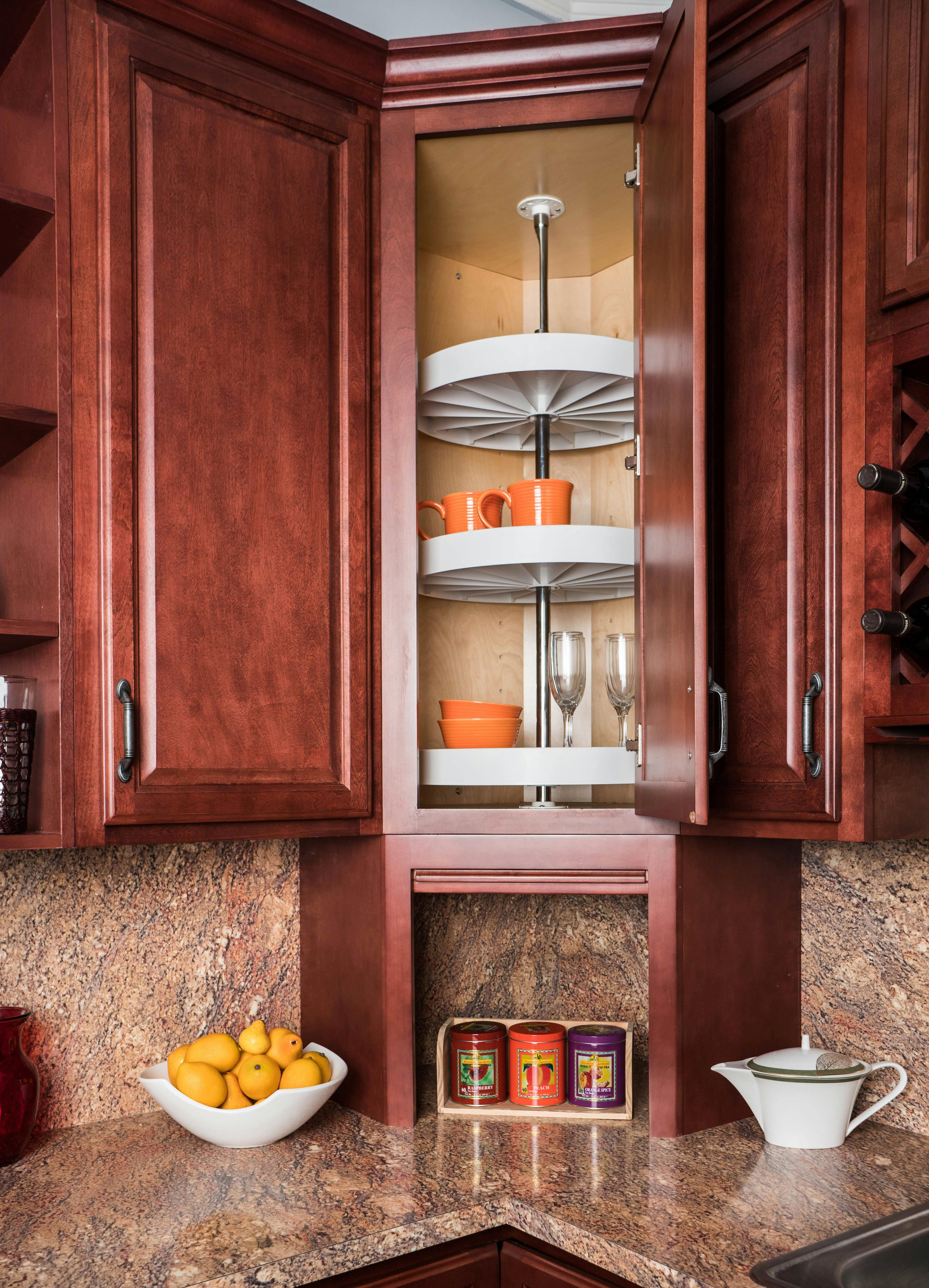 Problem: Did your customer scream "I need more counter space!" more than a dozen times? While parents continue to shuttle between never-ending responsibilities, food items and cookware can take full control of their countertop. When cereal boxes, small appliances, electric griddles, pots and pans, drying racks, oil cans, condiments, and so on take up much of your customer's countertop, it's your cue to get started on that appliance garage talk.   
Solution: Guide your customers towards investing in a corner appliance garage which will help them make the most out of that awkward space below their corner cabinet. A corner appliance garage can accommodate oddly-shaped appliances as well as everyday essentials that'll otherwise have no assigned parking for their daily respite. Customers can also opt for a straight appliance garage which can be installed below 24" wide wall cabinets. While providing a contained space for those morning must-haves (oatmeal, sugar, coffee powder and so on), appliance garages can help clear up some much sought-after counter space for meal prep et al!  
6.     Spice mix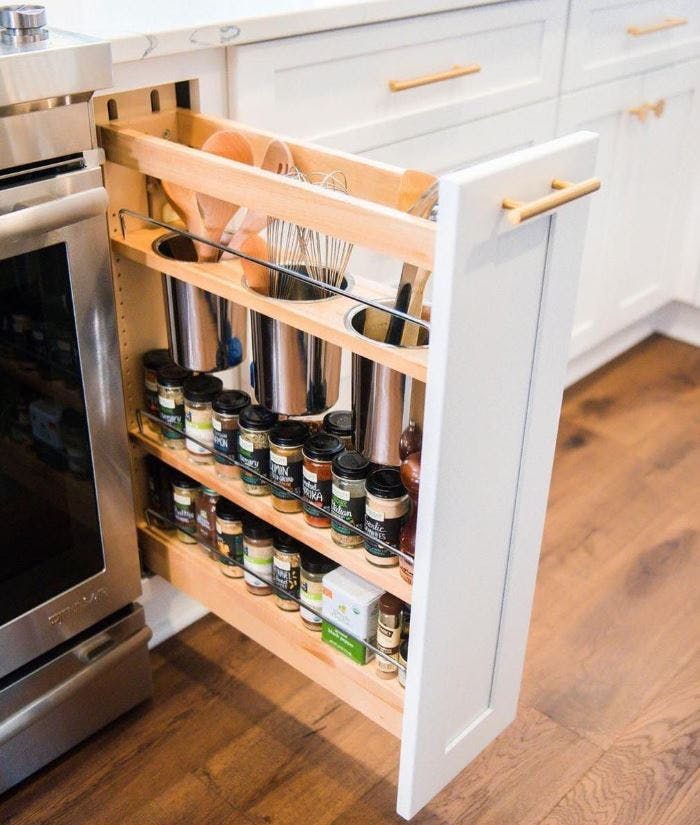 Problem: Sugary-sweet eggs and salty morning coffee do not make for a great morning start. If too many mix-ups leave your customers feeling overwhelmed and frustrated as early as 7 o'clock, it's time for you to think outside the box.
Solution: Allure them into the beautiful world of pull-outs. Spice pull-outs can give your customers tiered, adjustable shelving that allow for neat storage of spices and condiments. Avoiding mix-ups by arranging the sweet stuff on top and their salty cousins right below may give those new parents the clarity they need when they're all brain-fogged after a sleepless night.
7.     The lost world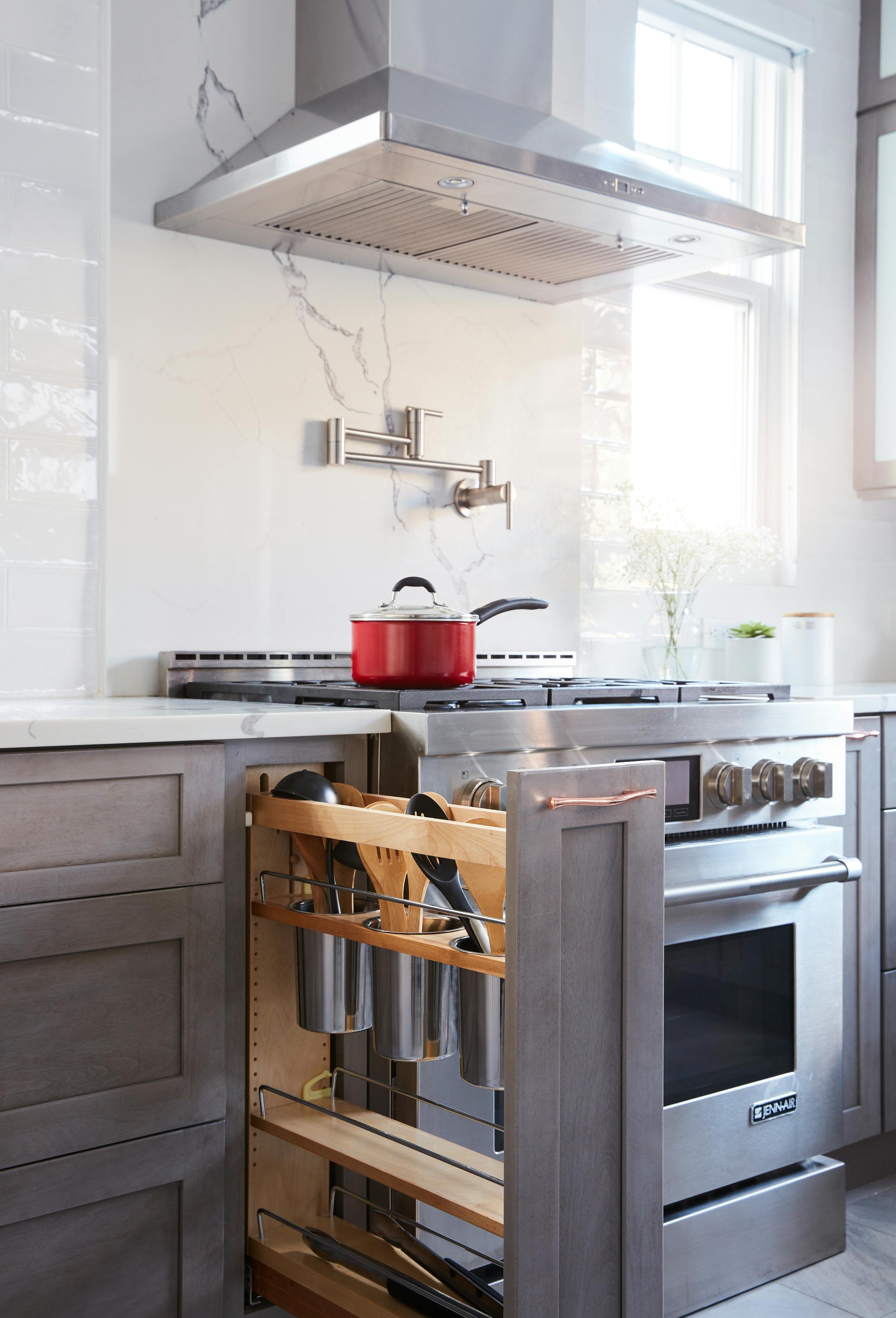 Problem: When your customers get tired of whisking pancake batter with rolling pins and flipping pancakes with soup ladles, the claws tend to come out. The last thing they want to do on a demanding day is to excavate long-lost utensils and appliances from those impossible to reach cabinet backs.
Solution: Utensil and tray divider pull-outs can help you save the day. Utensil pull-outs feature stainless steel bins for mix-up free organization of ladles and spatulas. Tray divider pull-outs are life-savers when it comes to storing all types of bakeware. A removable center rack will give your customers the option to stock larger items as needed. Yet another miracle-worker is a corner Lazy Susan which optimizes on corner cabinet space while taking your customers on a joy ride.
If your ever-busy customers have been in super-parent + employee of the month mode for a while, simple changes in the kitchen can help instill a well-deserved sense of tranquility in their lives! Check out our extensive list of cabinet accessories to learn more about how you can improve your customer's quality of life.