November 14 2019
11 ways to effectively childproof your kitchen
Of all the rooms in the house, the kitchen is the most hazardous to young kids. As such, it needs to be carefully and thoroughly babyproofed to keep your children safe. We know it's hard to find every hidden danger before your child does, so we've devised a list you can follow and check off, to ensure that as many parts of your kitchen as possible are ready for curious little explorers.
o  Cabinet Locks
We all know how much babies love to unpack drawers and cabinets, usually at the expense of both their safety and your sanity. Fortunately, there's an easy fix. All you need is some childproof latches for any accessible cabinets to keep those cooking utensils securely locked away.
o   Curves and Edges
Every parent has experienced the heart-in-your-throat anxiety of seeing their children racing recklessly through the house, weaving between the sharp edges on countertops and tables. It's hard to get them to stop, it's easier to install some corner protectors to put your heart at ease.  
o  Unplug Small Appliances
Anything that heats up, or dispenses hot liquids, is a significant safety risk. All it takes is one tug on that wire, or one push of a button, to cause serious harm. Unplugging appliances like your coffee maker, toaster, or microwave can prevent curious little hands from pressing the wrong buttons and causing damage to themselves and/or your home.
o  Child-Proof Your Stove
The most dangerous part of the kitchen is the stove. Even if your child cannot manage to spark a flame, it's all too easy for them to twist the knob and cause harmful gases to fill up your home. Prevent this by either covering your oven knobs or removing them entirely when you are not actively cooking.
o  Lock up your fridge
We've all seen horror pictures posted by parents of the aftereffect of little kids exploring the fridge. Not only is it a sticky, nasty mess, but if a glass jar shatters on the floor, it sends sharp shards scattering to every corner of the kitchen. Restrict fridge access with some appliance locks, so kids only have access under your strict supervision.
o   Don't forget the oven
Appliance locks should also be utilized on your oven doors. Even when the oven is not in use it's risky to have it accessible for a child to crawl into. It is even more so dangerous to leave it unlocked while in use, especially if whatever is inside smells delicious and sweet.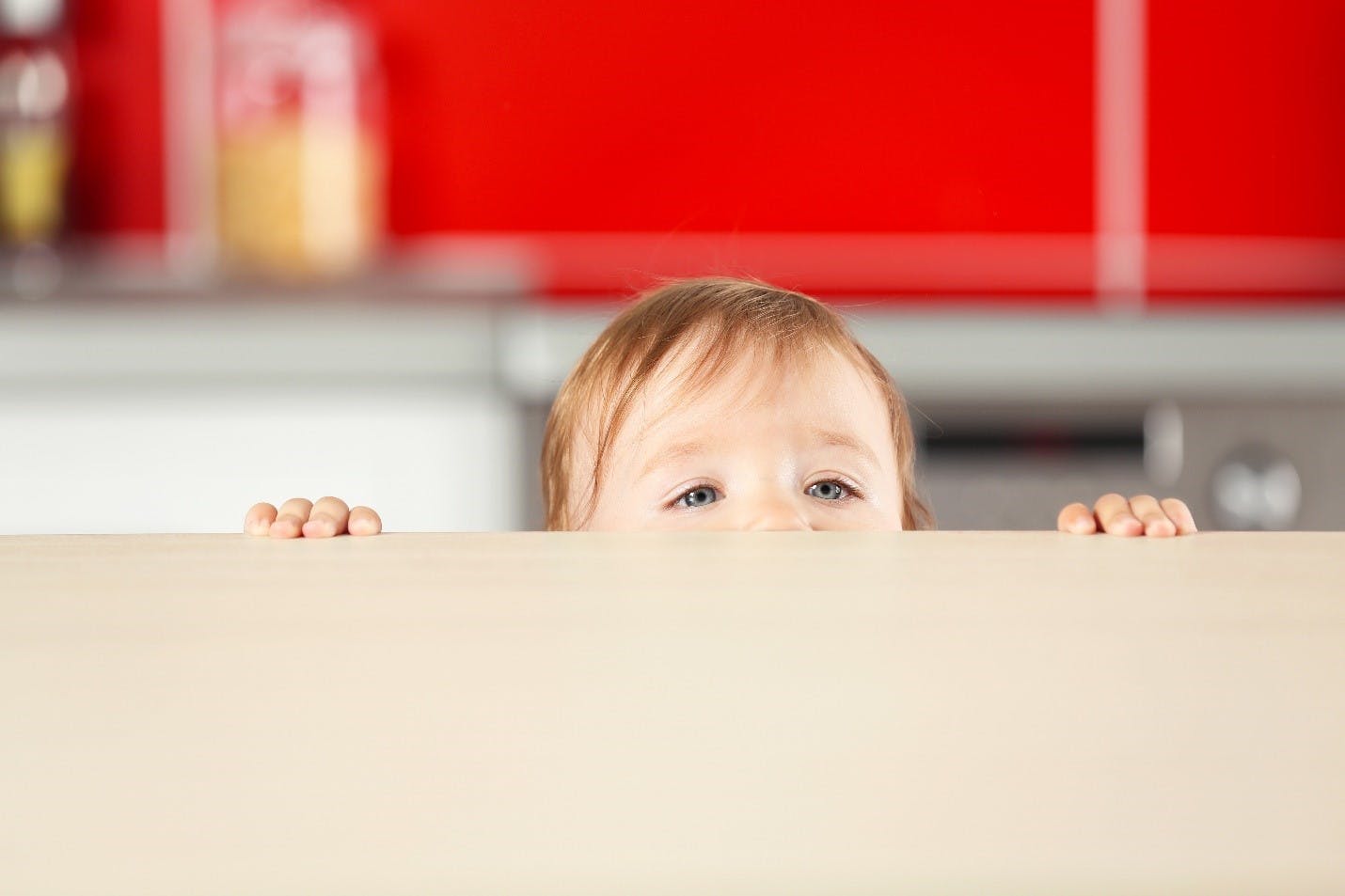 o   Choking Hazards
Always check/clean your kitchen floor thoroughly to ensure that there are no choking hazards or other possible dangers lying around, shoved into a corner, or hidden under a cabinet where only a small toddler's hand could reach. Making this a daily, or even twice-daily routine helps maintain a safe environment.
o   Trash Talk
Kids are always looking for new ways to keep you on your toes. For some, this includes thorough inspections of the content in the kitchen garbage can. Not only is this an unpleasant and odorous habit, but it can also become a health risk should the kid decide to sample some of the goods. Prevent this by either getting babyproof garbage cans or putting a cabinet lock on your pullout trash.
o  Wires and Outlets
Another important part of babyproofing your kitchen is to make sure all electric wires are out of reach and all outlets are covered with safety protectors. Children who are too young to know better than to stick their fingers into the outlets are at serious risk of electric shock. If your kids are at that curious and fearless age, covering them becomes a vital protective measure.
o   Relocation for Medication
Even if you childproofed your cabinets, it's a good idea to relocate any medication from reachable areas in your kitchen to out-of-reach areas. This way, if the lock breaks or you accidentally forget to close it properly, there will be no dangerous products within reach.
o   Practice Safe Cooking
There are a few tricks to keeping a safe kitchen while cooking.
1.    Use a stove guard to block flames from reaching a kid's hands when leaving something to simmer.
2.    Keep your oven locked while it is in use.
3.    Never leave a hot pot or pan unattended in a reachable place; especially if it contains a freshly baked treat.
Take it One Step at a Time
This may seem like a lot, but don't worry. Just take it one step at a time. As the heart of the home, the kitchen should be a safe and happy space for everyone, even those who are too young to understand the dangers it could pose. Remember, a safe home is a happy home.
 Which of these tools best helped you prepare your kitchen for a curious little explorer?