September 23 2019
Bring the spirit of Fall to your kitchen showroom! 
In an era where almost anything can be purchased online with the click of a button, it's essential for you as a business owner to put in every extra ounce of effort possible into making your showroom visually enticing for potential kitchen buyers.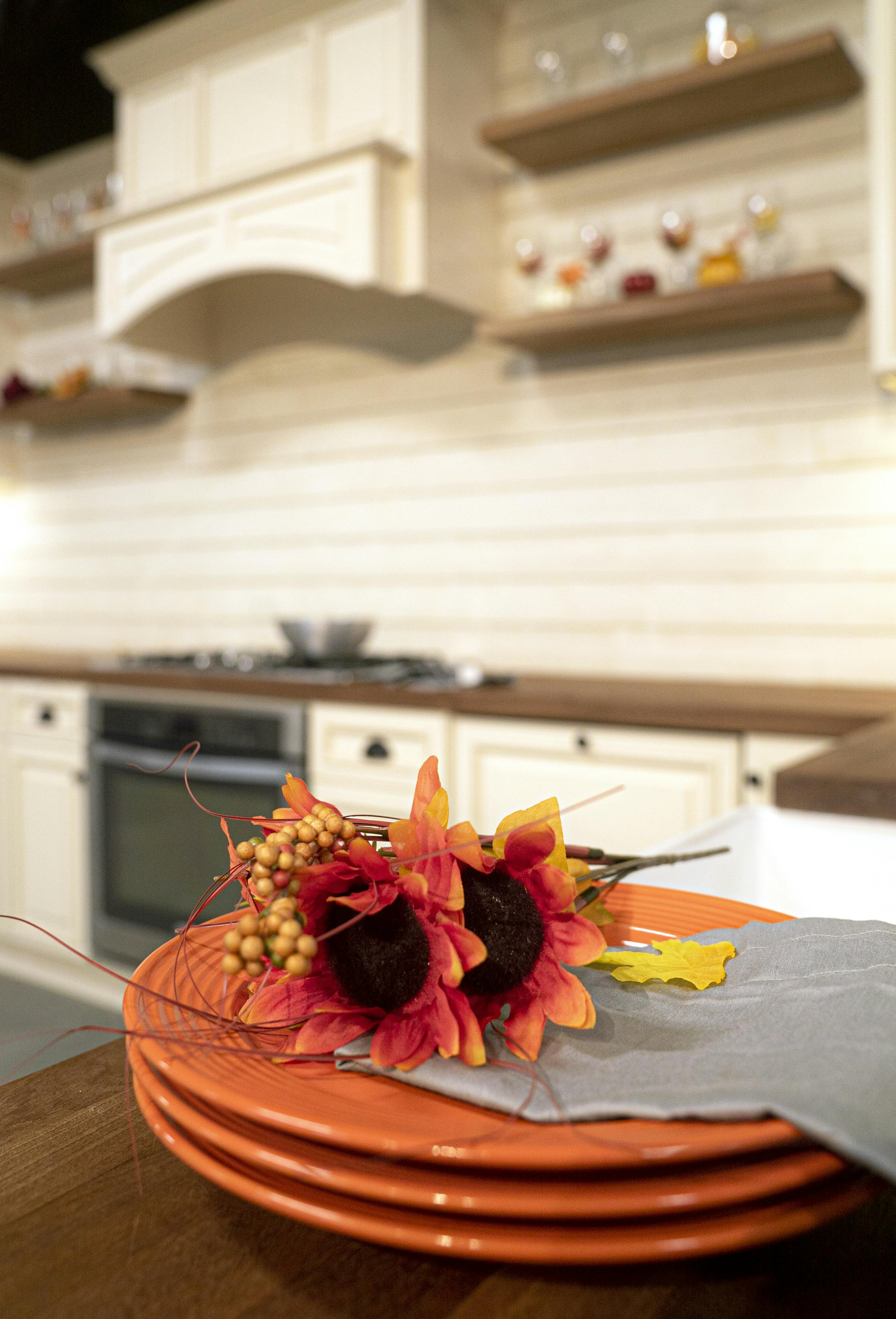 With shoppers increasingly gearing towards season-driven experiences, being proactive about bringing the spirit of the season to your showroom can help augment your sales. As we gear towards the vibrant fall season, it may be time to spruce up your kitchen displays to keep your showroom looking all fresh and avantgarde.
Keeping up with the seasons and holidays will ensure that your business remains relevant and exciting to all. By doing so, not only can you enhance shoppers' excitement for fall, but also connect with their sentiments surrounding holidays and seasonal offerings.
No matter the size or structure of your showroom, the ideas below will help you get a head start on embracing the essence of fall.
Set your fall backdrop
What comes to your mind when you think of fall? Crisp red leaves, hot cocoa and marshmallows, cinnamon spice and everything nice? Draw inspiration from the most cherished fall elements to set your backdrop.
If you're in the process of updating your displays, start by choosing cabinets that bring out the cozy warmth of fall's iconic brown and red tones. However, if you're gearing towards using a more neutral palette or an existing display, you might as well go for a blank canvas (white and off-white cabinets are great choices) and dress it up with pops of fall color.
Arrange your apples. Organize your gourds.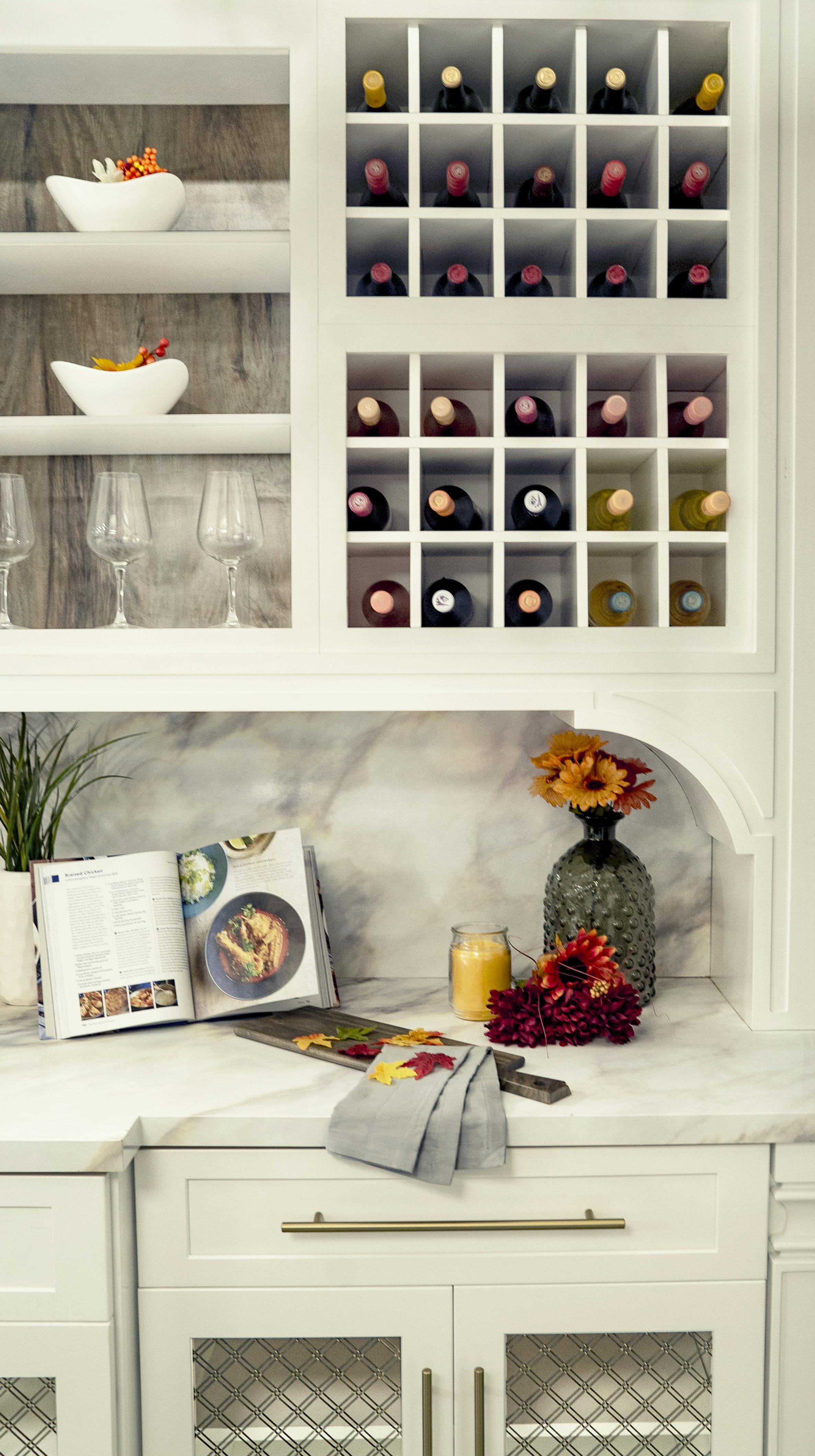 This time of the year, there are plenty of fall-themed merchandise out there for staging your kitchen displays. With plates, mugs, wine glasses, cups, bakeware and cookware sporting full-on fall designs, today's home décor stores leave very little to the imagination! Now, while staging fall-themed utensils/cookware in your kitchen displays, plan the placement strategically so as to also showcase your uber-cool cabinet storage/organization features.
Does your cabinet display feature wine and stemware racks? Stack them up with fall-inspired wine glasses and colorful, fruity dessert wine bottles. With an in-theme display showcasing your beautiful in-built wine organizer, you've totally nailed the art of killing two birds with one stone.
Perhaps your display features a luxurious under-cabinet refrigerator. That's another perfect way to showcase an impressive cabinet feature housing chilled fall wine or cold apple cider!
Place your fall foliage endowed plates on in-built cabinet plate inserts. Also, arrange those beautiful fall bowls (hello, crimson reds and happy yellows!) as island centerpieces and place that colorful bakeware into your wall-mounted ovens.
Stock up your beautiful tall cabinet pantry with ever-so-popular fall treats! Fill up your pantry pull-outs with spices, canned goods, packaged marshmallows, hot cocoa mix and so on.
Use your imagination and creativity to flaunt your love for fall while showcasing innovative cabinet features that never fail to wow!          
One man's orange is another man's black
While stock cabinets are great, don't forget customizations that cater to customers' unique needs! Draw one's eye to a custom-color cabinet for the island area. How about a bright orange, high-gloss door style that brings out the versatility and variety that only custom cabinets can provide? Not only will you elevate exciting customization options, but you'll do so while embracing that special touch of fall. 
Living in color
Here's an easy and economical fall fix – accentuate just one noteworthy aspect of your display that'll also work as a focal point. For instance, accentuating the backsplash behind the cooking area with deep red glossy tiles or red brick tiles can invite that warm glory of fall to your kitchen display. High-quality stick-on backsplash tiles can do the trick while helping you stick to your budget.  
Pictures speak a thousand words
The warm and fuzzy emotion that the fall season evokes may exactly be what your customers are looking for! Use your electronic displays to show-off your fully-finished kitchen projects and let the photos do the talking. Display pictures of family gatherings and togetherness (gobble, gobble!), special kitchen moments (mom and son sharing a laugh while making some scrumptious pecan pie) and every day kitchen highlights (a family working on fall crafts). Cater to the timely sentiments of your clientele while helping them visualize an array of fun possibilities in their kitchen-to-be.  
­Blow 'em away with window displays
While you may already have a strong customer-base, grab the attention of unassuming onlookers with your fall-themed window displays. What better way to put out that red carpet than by giving potential customers a sneak peak of what your business can do for them!
Add touches of fall décor to your window displays – dress them up with fall produce of all shapes and kinds, chocolate scented candles, ever-so-pleasing mums, juicy red apples in wooden crates, colorful little mason jars, or whatever else your fall fancies are.
Pick your own!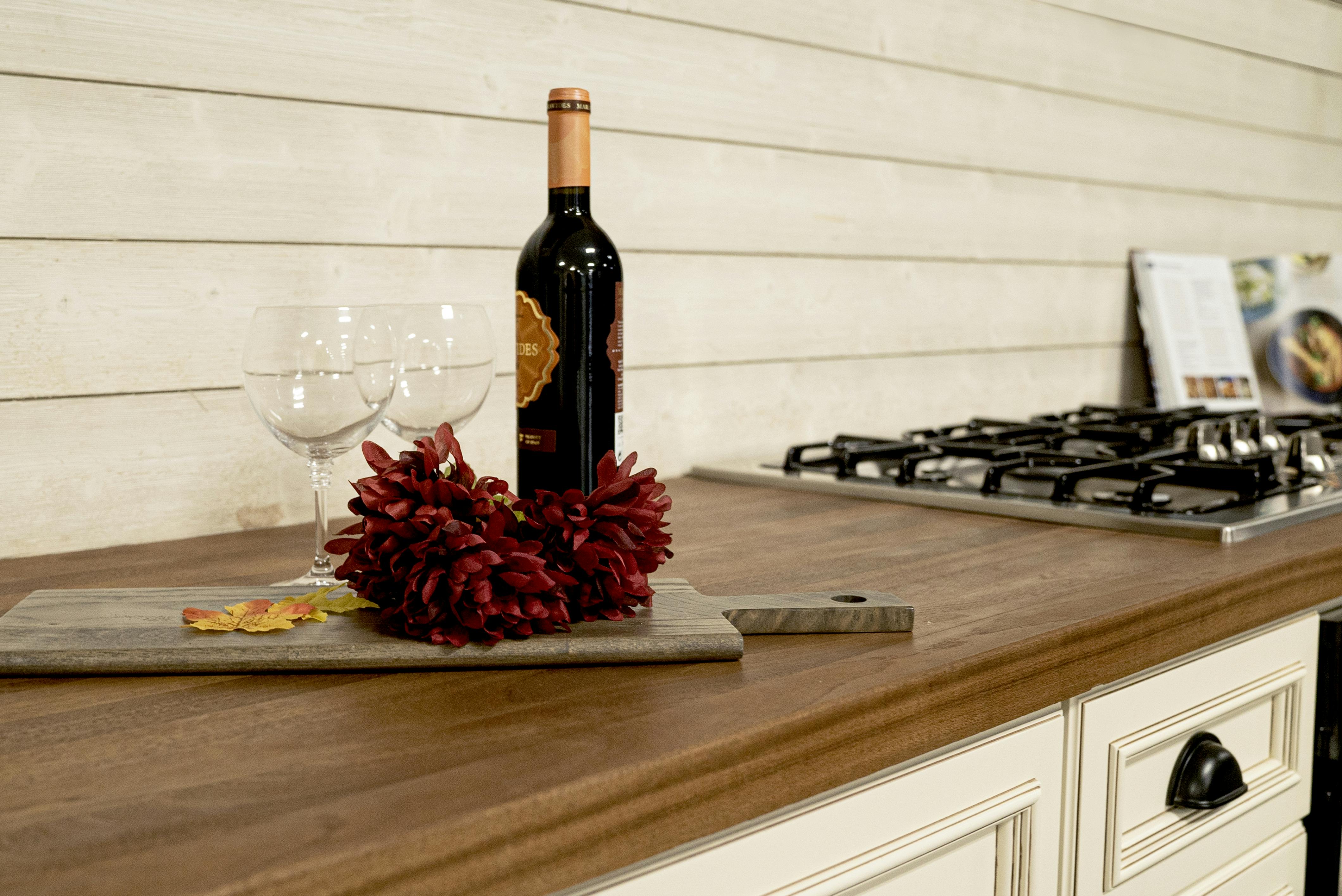 We know that every showroom is different in terms of size and resources. However big or small your business may be, there's always room for that touch of fall. So, pick and choose from the ideas above and add the right amount of fall inspiration to your showroom this year!