June 24 2022
How to Choose the Right Kitchen Hood
Choosing a kitchen hood may be a more complex decision than most homeowners realize. As an element of the kitchen that is vital to its function as well as its design, the hood you install must be handled to suit the daily use of your kitchen as well as complement the design. That's why we've broken down the variety of available options to help you find the perfect hood for your kitchen.
Why Do You Need a Hood?
As you're designing your kitchen, you may find yourself asking, is a hood necessary? The answer is yes! You will definitely need a hood, or some vent, in your kitchen. Why? Because cooking produces smoke, exhaust, chemicals, and grease, all of which may be harmful or at least unpleasant. A vent fan helps eliminate all that, plus the smell of food, which may be pleasant before and during the meal but can grow bothersome when it lingers throughout the house for the next few hours.
Ducted vs. Ductless
You will generally be given a choice between ducted and ductless, though some brands might only allow ducted. This is because ductless fans are less efficient and higher-quality brands will want to supply only the most effective ventilation. Ductless hoods draw the air in, filter it, and recirculate it into your kitchen whereas ducted hoods draw the air in and pump it out of your home which means, ducted hoods will remove heat, grease, humidity, chemicals, and, smoke, while ductless hoods will only filter chemicals and smoke.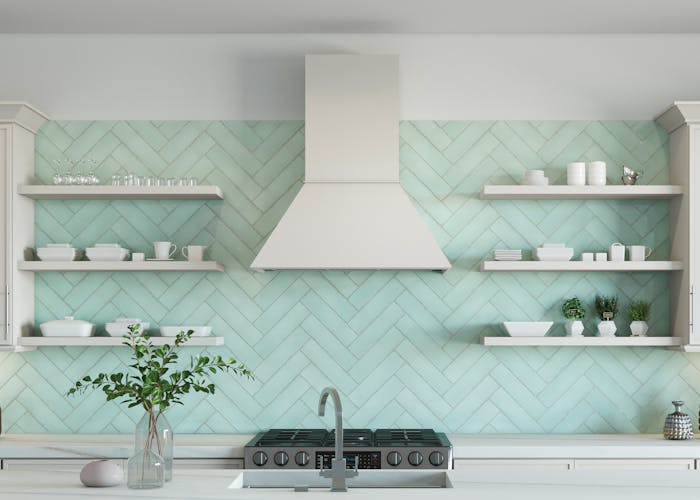 The 5 Most Common Hood Options
Every homeowner has a style preference, and their kitchen usually reflects that. There are various hood designs, or hood substitutes, that allow stylistic freedom while still providing the necessary function of range hoods.
Microwave with exhaust fan/vent:
Some homeowners prefer to have their microwaves above the stove/oven, thereby eliminating the possibility of installing a hood. Fortunately, ventilation is still possible, with a microwave that has a built-in exhaust fan/vent. This is the least expensive choice, but it is less effective than a full hood despite offering the option of ducted or ductless.  
Undercabinet Hood:
Undercabinet hoods are installed under existing cabinets and take up a lot less space than wall mount hoods, making them ideal for smaller spaces, or kitchens with lower ceilings. They are closer in price to vented microwaves but are closer to full hoods in their efficiency.
Island Hood:
Island hoods occupy a central position in the kitchen, being installed above the island, and are necessary if you have an island stove. Unfortunately, being mounted on the ceiling makes installation errors more common and may be problematic with low ceilings. Design-wise, these large showy hoods have started to lose popularity to concealed hoods.
Wall Mounted Hood:
These hoods are mounted against the wall, and while they may require more space above the stove than the other options, they are also the most effective when it comes to ventilation. Additionally, wall-mounted hoods are easy to conceal and blend into your cabinets, making them trendier and more modern.
Custom Hood:
The custom hood does not follow any of the guides of the other hood options. In fact, it is designed and built to fit your kitchen, with the only limits being the dimensions of your space and your imagination. It is the most expensive option, but if you're big on having a completely personalized kitchen, then a custom hood is a great addition.
Appliance Hoods vs. Designer/Decorative Hoods
There are two available purchase options for island or wall-mounted hoods. The first is to purchase the hood as a ready appliance with all the parts included. The second is to purchase a designer decorative hood and buy the blower insert separately. While the first option may be somewhat more economic, the second option provides more stylistic freedom with a hood that perfectly complements your cabinets.
Designer/Decorative Hood Styles
The kitchen hood can be a centerpiece, or it can be a subtle design element that accentuates the other part of your kitchen. Whichever way you utilize it, it's important to choose a hood that will complement your style, as it will strongly affect the overall appearance of the kitchen.
1. The Farmhouse Hood:
Farmhouse kitchens generally include wooden or nature-related elements, so it isn't uncommon for farmhouse hoods to feature shiplap detailing. They are often built chimney style and are designed to encompass the warm and homely feel that is the essence of farmhouse kitchens. Available in a variety of styles ranging from rustic to modern to traditional, farmhouse hoods are a beautiful centerpiece that will really tie together your kitchen design.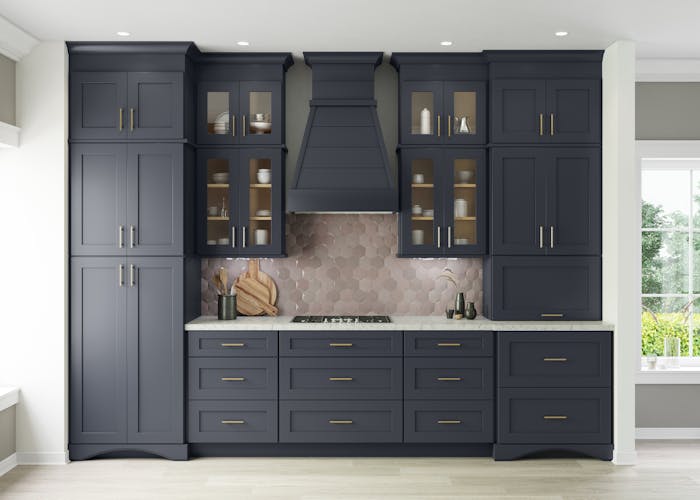 2. The Contemporary Hood:
Euro hoods encompass sleek simple designs that are built to blend seamlessly into modern kitchen designs. The basic and subtle detailing complements the minimalist approach most contemporary kitchens favor. They will almost always be chimney style and are often painted or stained to match the cabinet finish, allowing you to utilize the high function of wall-mounted hoods without breaking the streamlined impression of your design.
3. The Traditional Hood:
Signature hoods are styled for classic kitchens with a clean design that's accentuated by beautiful and elegant detailing to add a charming and dramatic flair to your design. They are generally built chimney style and complete with distinct trims and adornments that complement those commonly found in traditional kitchens, making them ideal for traditional or transitional spaces alike.
4. The Mantle Hood:
Mantle hoods bring traditional style into modern times, with a design that is generally heavily adorned without ever being tacky or overdone. They tend to feature an arched valance whereas more contemporary designs feature a straight valance. Ornate trims and panels add to the traditional charm and the shelf that is often found built into the front of the frame provides additional functionality. 
Fabuwood's Decorative Hood Styles
Our chimney-style farmhouse hood is adorned with shiplap details and complete with a craftsman trim. It is the perfect combination of contemporary and rustic style and is available in all our allure finishes.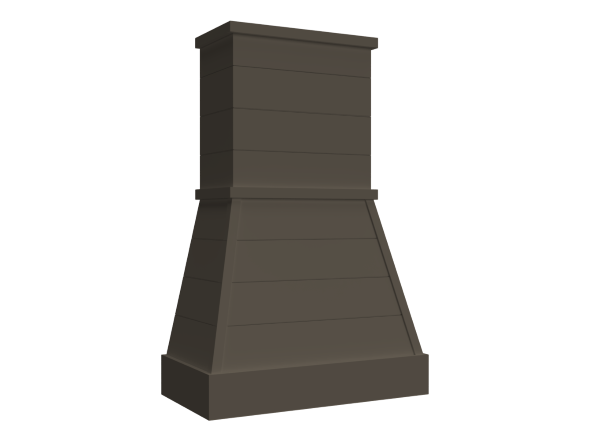 Our chimney-style Euro hood is as modern as it is timeless. It is complete with subtle details in the trim and is available in all our allure finishes to allow for flawless cohesion with your cabinets.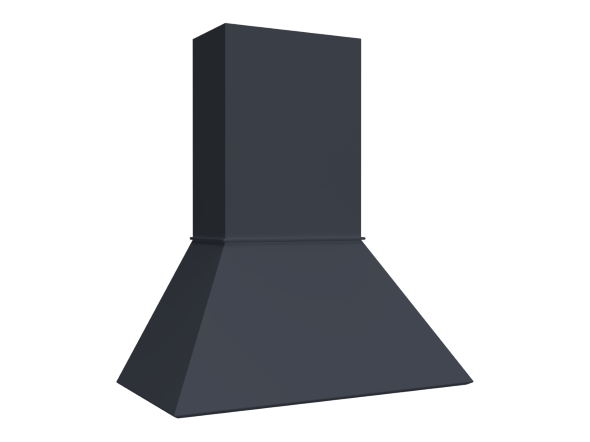 Our chimney-style Signature hood features a smooth design that's adorned with decorative details in the trim to give a traditional feel. Available in all our allure finishes, our hood can make an attention-grabbing centerpiece or beautiful addition to the backdrop created by your cabinets.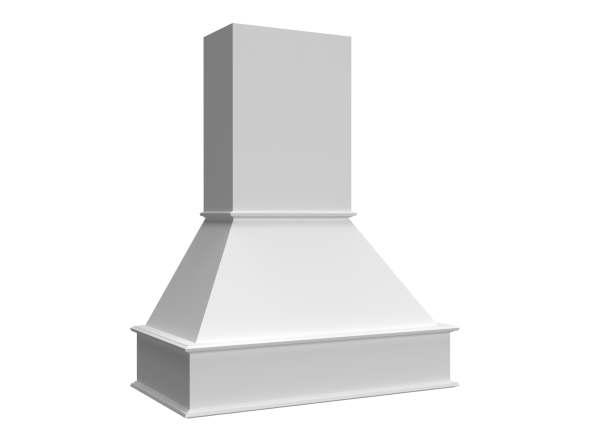 Our mantle-style Arched Range Hood features a traditional arched valance and is complete with panels that are available in all allure finishes for a seamless design.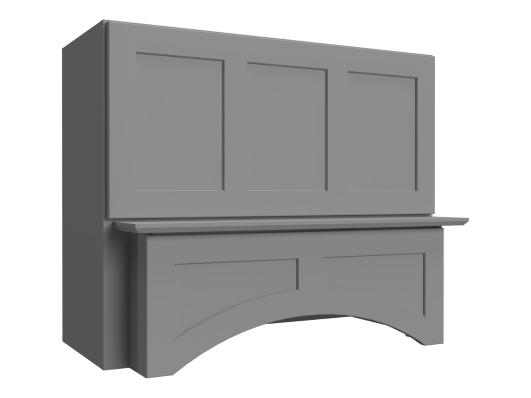 Our Recommendations
Microwave with Exhaust fan:
· Don't cook that often/ don't need strong ventilation
· Want a microwave above the range
· Looking for a budget-friendly option
· Looking to preserve space
Undercabinet hood:
· Cook often/need strong ventilation
· Want more cabinets over the stove
· Looking for a budget-friendly option
· Have less space to spare
Island hood:
· Cook often/ need strong ventilation
· Have an island stove
· Don't have a budget limit
· Have pretty high ceilings
Wall-mounted hood:
· Cook often/ need strong ventilation
· Like the look of a full hood over the stove
· Don't have a budget limit
· Have enough space for a full hood
Custom hood:
· Cook often/ need good ventilation
· Want to create a fully custom space
· Have an unlimited budget
· Have unlimited space
When choosing your hood, remember to pick according to function and design. Your hood should be able to handle the daily meal preparation as well as complement all the elements of your kitchen to create a cohesive design.
We hope this helped you determine which hood is right for you.
Happy designing!