November 04 2019
Cabinet accessories that will transform your kitchen
Designing a kitchen may be one of the most vital projects a homeowner will take on, as it will ultimately determine how the heart of the home will function. It's crucial to make sure that your kitchen cabinets are of the utmost quality, and that you're adding the right kind of kitchen cabinet accessories. We've compiled a list of our top ten suggestions that will undoubtedly maximize your kitchen experience and are available right here at Fabuwood!
1.      Drawer inserts
2.      Spice pull outs 
3.      Utensil pull outs
4.      Roll out drawers
5.      Trash drawers
6.      Tilt outs
7.      Stemware rack
8.      Appliance garage
9.      Lazy Susan
Drawer Space
Real-estate is critical in many aspects, but particularly in your kitchen. Where you store your kitchen utensils and supplies matters, as it can help your kitchen space stay organized. There are two great options to consider in order to optimize your drawer storage.
·         Cutlery Dividers - Pre-designed cutlery drawers are the perfect place to store the everyday essentials that you need. The best part is that you don't have to waste time searching for a separate cutlery divider that fits your drawer, as you'll already have one built in. The 2-tier cutlery drawer is specifically designed with an upper and lower tray, to maximize organization. It also comes in two different sizes.
·         Knife Dividers - The built-in knife divider that's available within this drawer insert is also a great addition. It will allow you to store a typically bulky item in a neat and fashionable manner, eliminating the need for a big knife block. It also allows you to feel a peace of mind that your knives are being stored in a much safer space.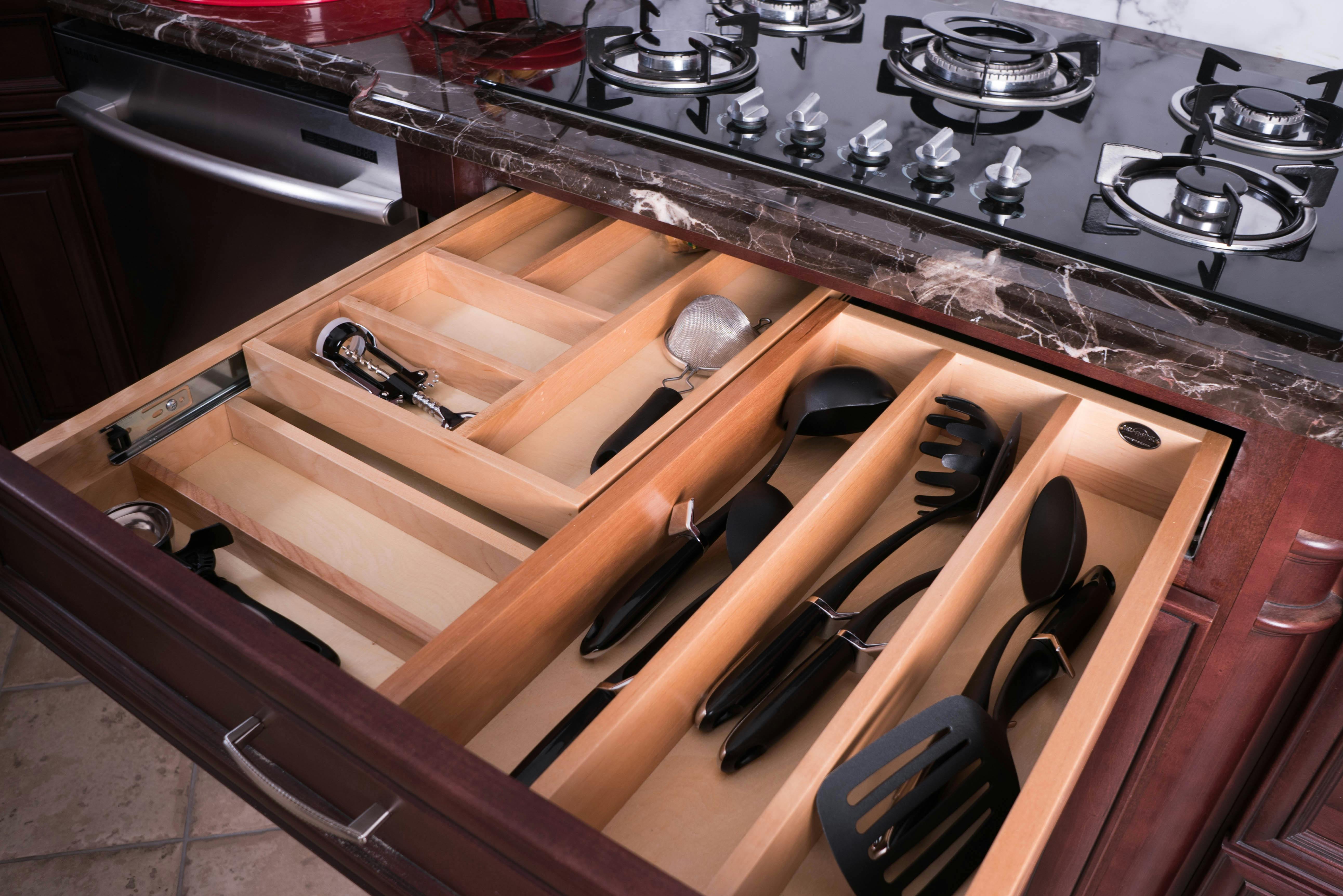 Organization, spice, and everything nice…
Although exterior spice racks might be a popular choice to store spices, nothing will compare to a spice pull out, that blends seamlessly into the rest of your kitchen. The amplest option for a clutter free kitchen space, this cabinet pull out offers the most efficient amount of extra storage space.
It boasts three adjustable shelves that are the perfect spot to store your spices, as well as other canned goods and products. This frees up pantry space that can be used for bulkier items. They're also available to be upgraded to our exclusive Blumotion soft close runners, which offer a smooth and quiet closing method, every time. This technology prevents any potential damage and cracking from closing cabinets.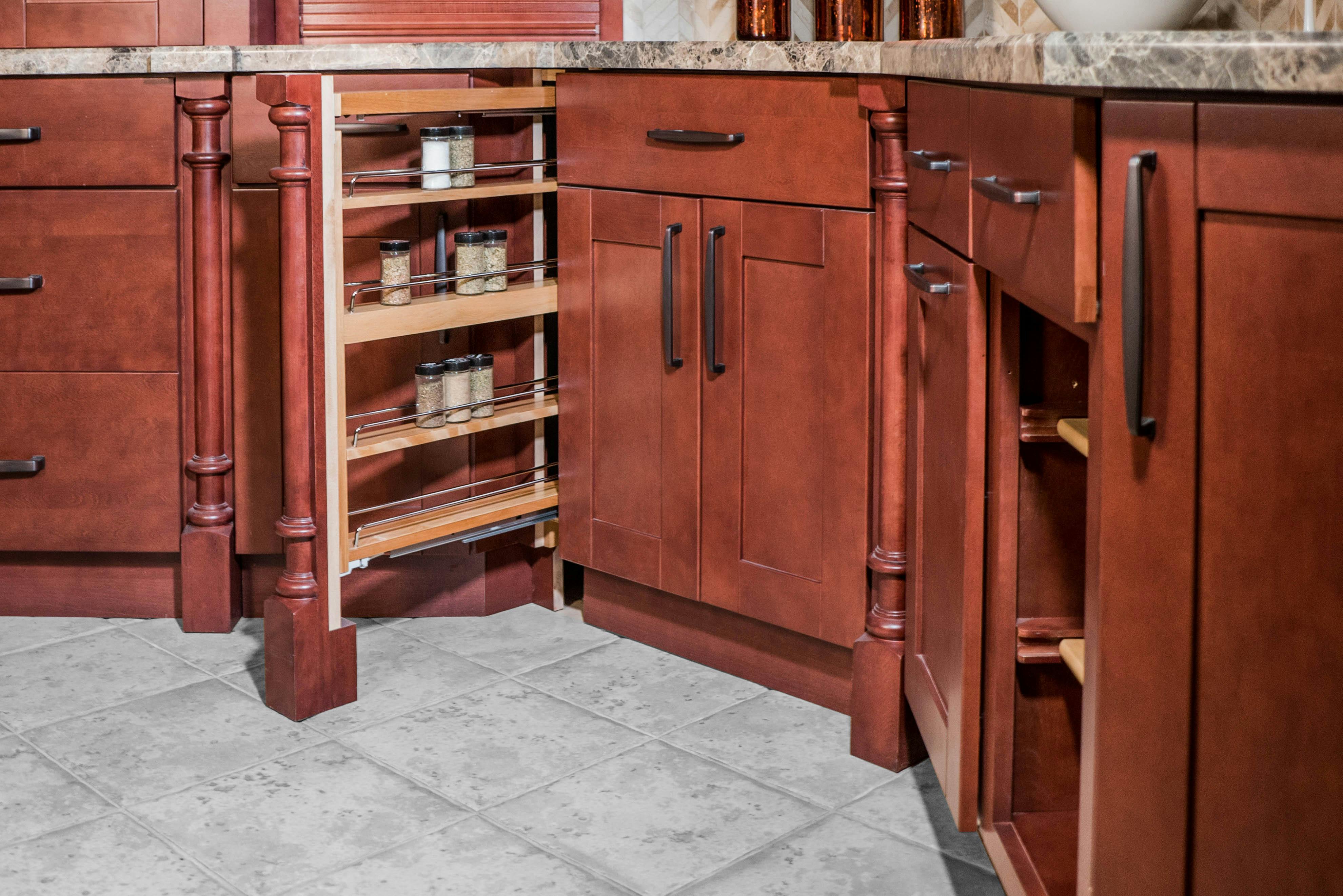 Utensils Galore
Spice are nice, but so are two-tier pull outs for all those utensils that are just too bulky for cutlery drawers. This utensil pull out includes three stainless steel bins for easy kitchen utensil storage. It also means they're within easy reach, so you won't have to worry about rummaging throughout the entire kitchen just to find that one ladle.
The removable center rack also allows you to customize this storage area exactly how you want to and store bigger kitchen items like food packages. It's also available to upgrade to our exclusive Blumotion soft close runners.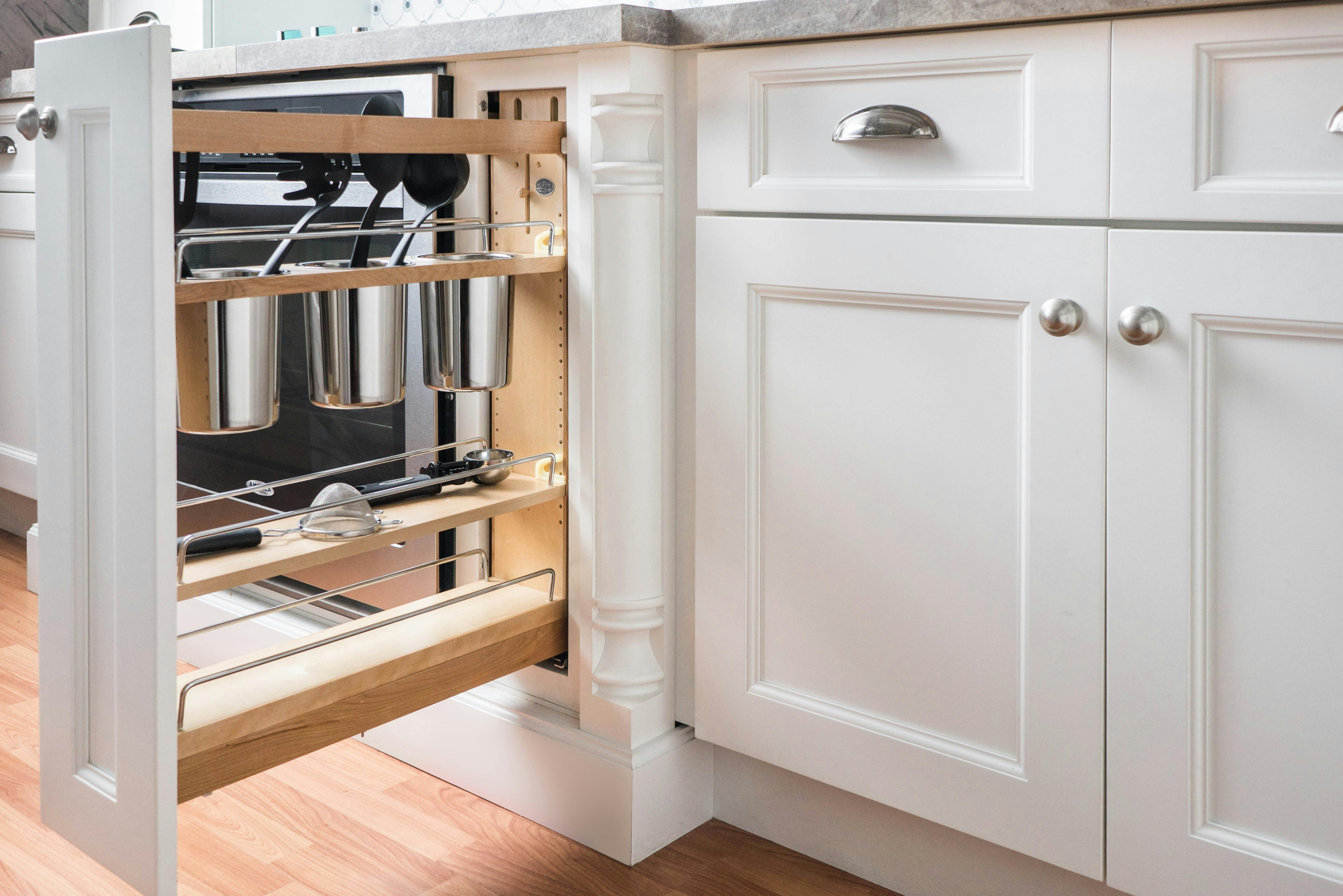 Roll 'em out
These roll out cabinets will not only bring functionality to your kitchen, but a sense of calm as well. No more bulky pots and pants crowding up around your kitchen, as they now have the perfect home. Upgrades for the Blumotion soft close runners are also available.  
Perfect for storing any big appliances as well, these drawers pull out at a full range, making your kitchen supplies that much more accessible.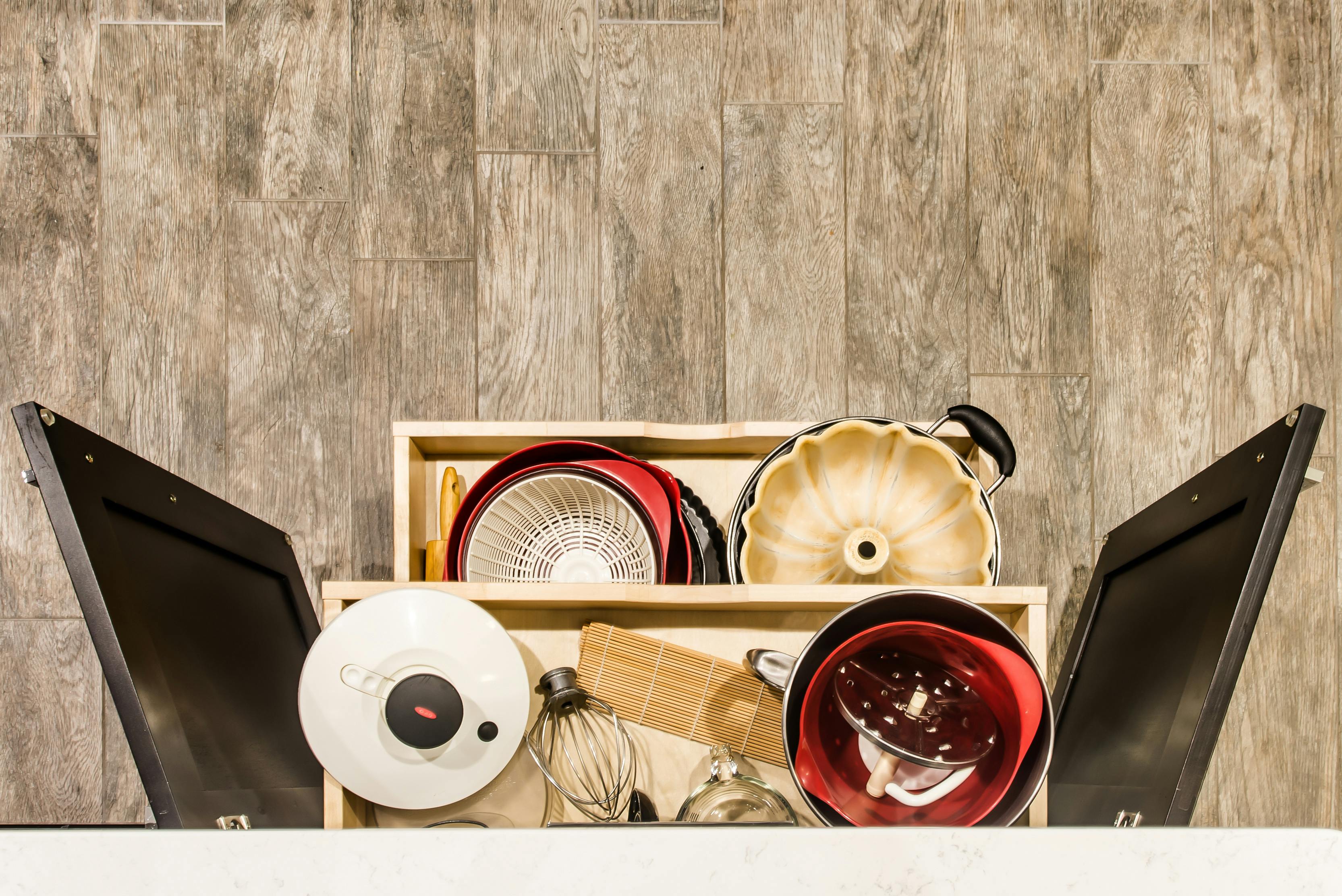 Taking out the trash in style
Nothing ruins the vibe of a beautiful kitchen more than a bulky trash bin taking up precious space, which is why pull out drawers should not be limited to only storing your kitchen supplies.
Our garbage bin pull-out drawers conceal garbage bins and have enough storage space for two of them. Not only does the kitchen become instantly more visually appealing, but now you don't need to worry about running into a garbage tin while prepping dinner.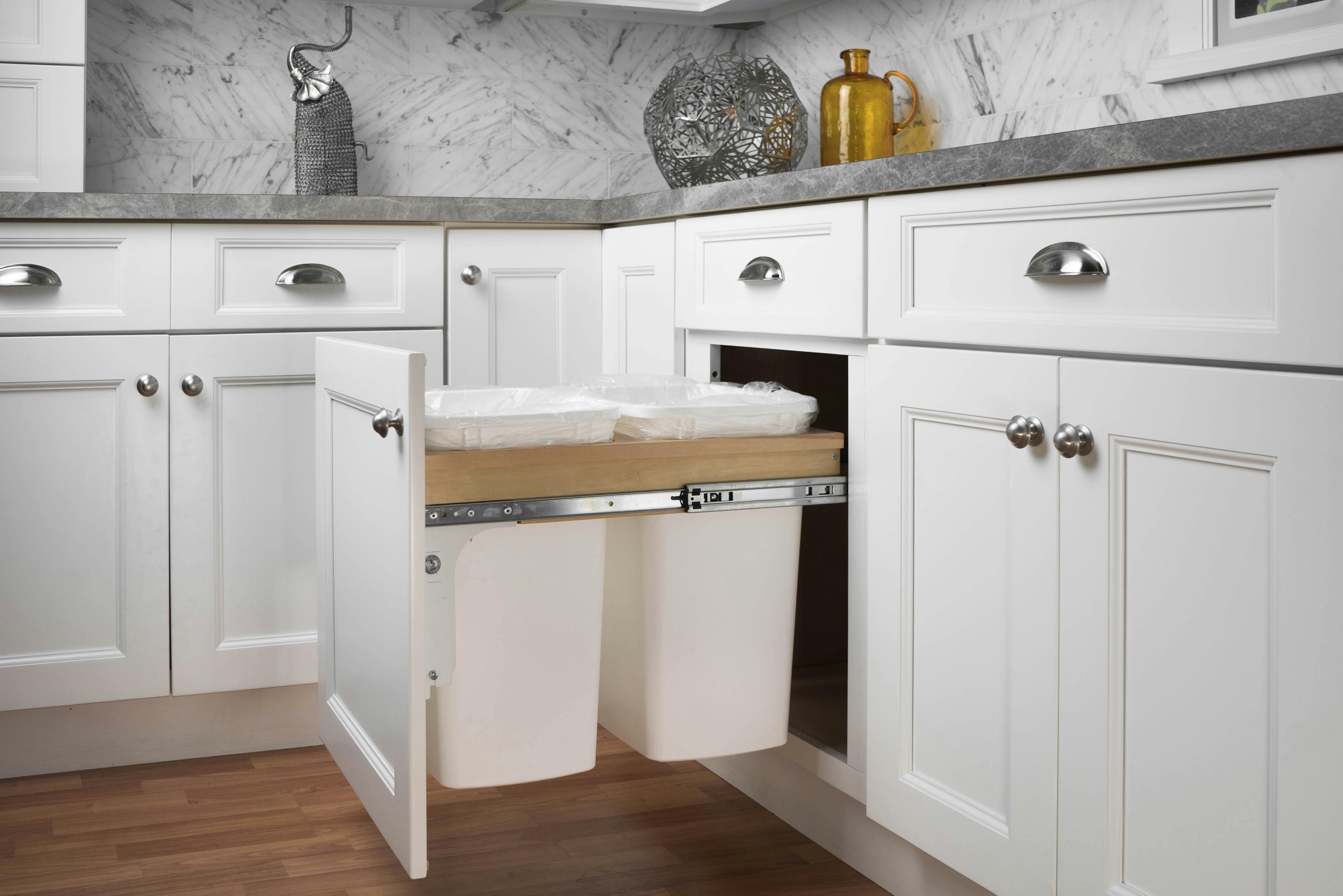 Tilt It Out
For anyone who values organization, this is definitely a must have accessory. These little tilt outs are small, but mighty, as they provide the perfect place to store any cleaning supplies or sponges. This optimizes the sink drawer area in the front, which allows you to gain more storage and space.
They come in various sizes, and clear up your space, so that all that's left is your beautiful sink. They're out of sight, and out of mind – that is, until you have to clean up after dinner again!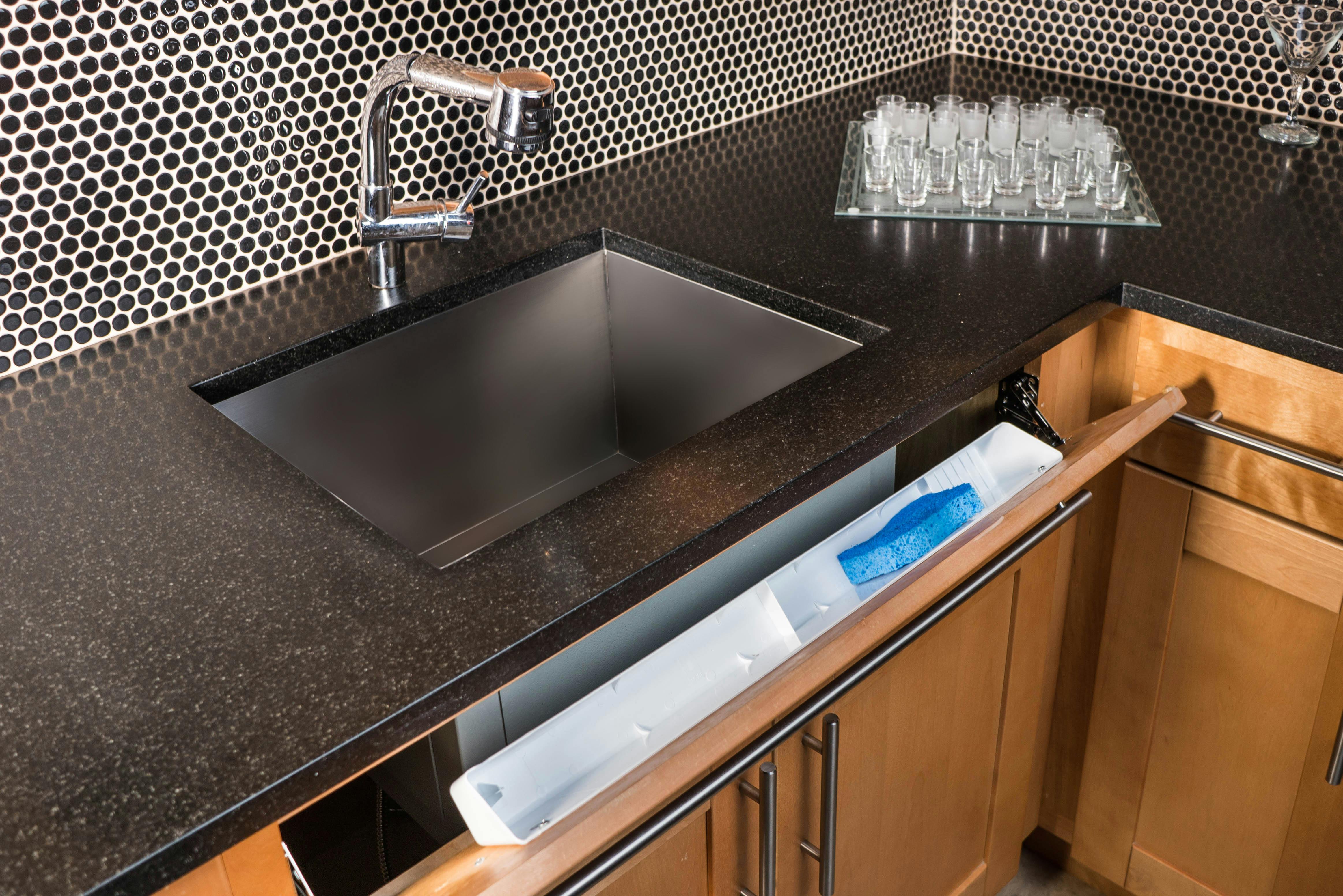 Don't wine about it
Let's be real, whining never really got anyone anywhere, but with this stemware rack the only kind of whining you'll be able to do will come from a glass (and that's the best kind). This stylish kitchen accessory allows you to store your collection of wine glasses in a sleek, under cabinet storage space. It looks both classy and elegant, as your wine glasses are now organized and also provide a decorative appeal to your kitchen.
They're made to match the rest of your kitchen, so your personal style will not be compromised, and they come in two different sizes. The best part of all is that they're out of reach of any little hands that might be exploring the kitchen space while you're making dinner.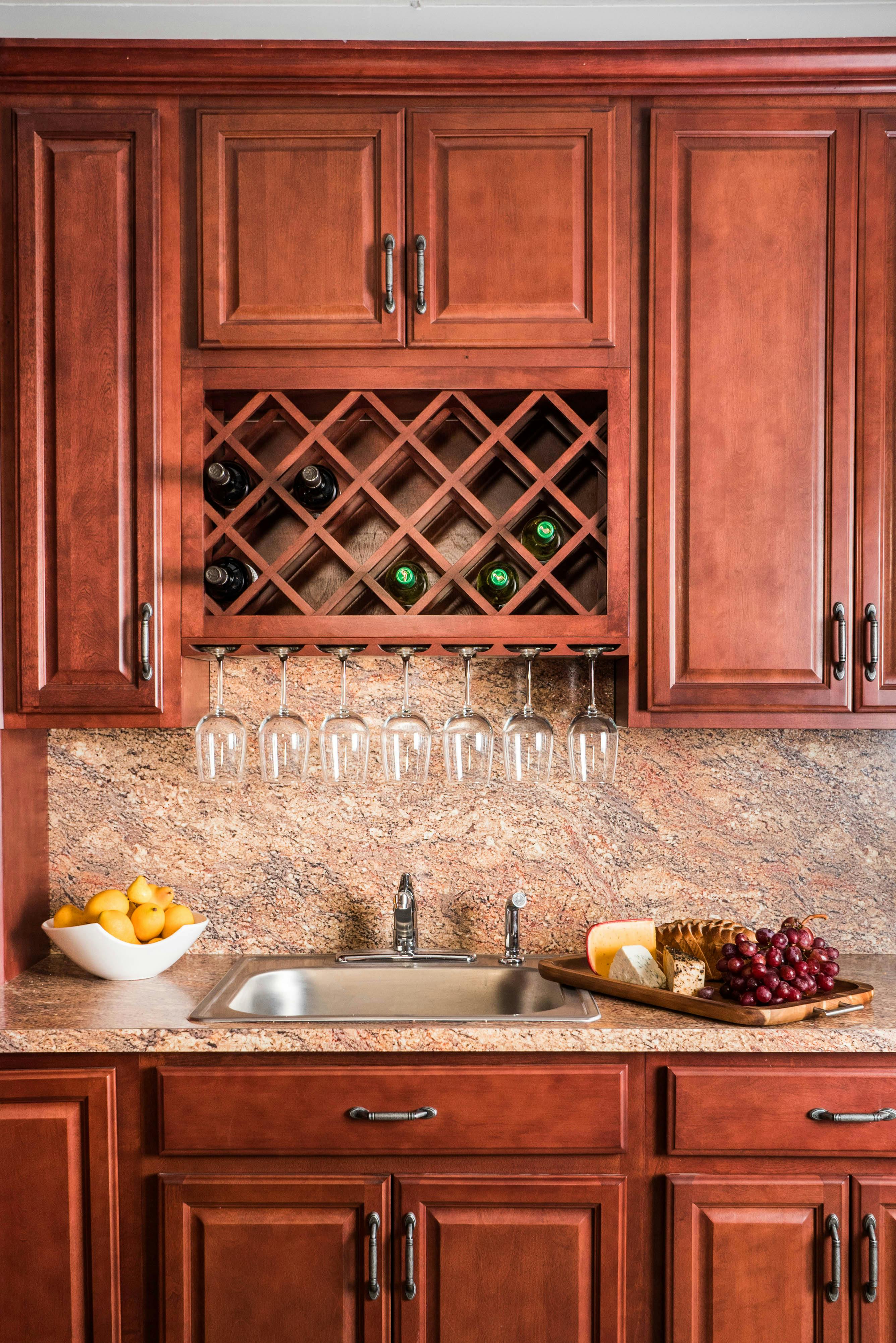 Out of sight, out of mind
When you don't have the right kind of kitchen cabinet accessories, bulky appliances that you use on a daily basis can start to take over your countertop space. A cluttered space only adds to the stress of maintaining the organization of your kitchen.
Fortunately, the appliance garage is the perfect accessory to alleviate you of that stress, and house all of those appliances. The name of this accessory speaks for itself, and it's the best way to clear up your counter space. They're available in both a corner and a straight version,  and can be installed below wide wall cabinets.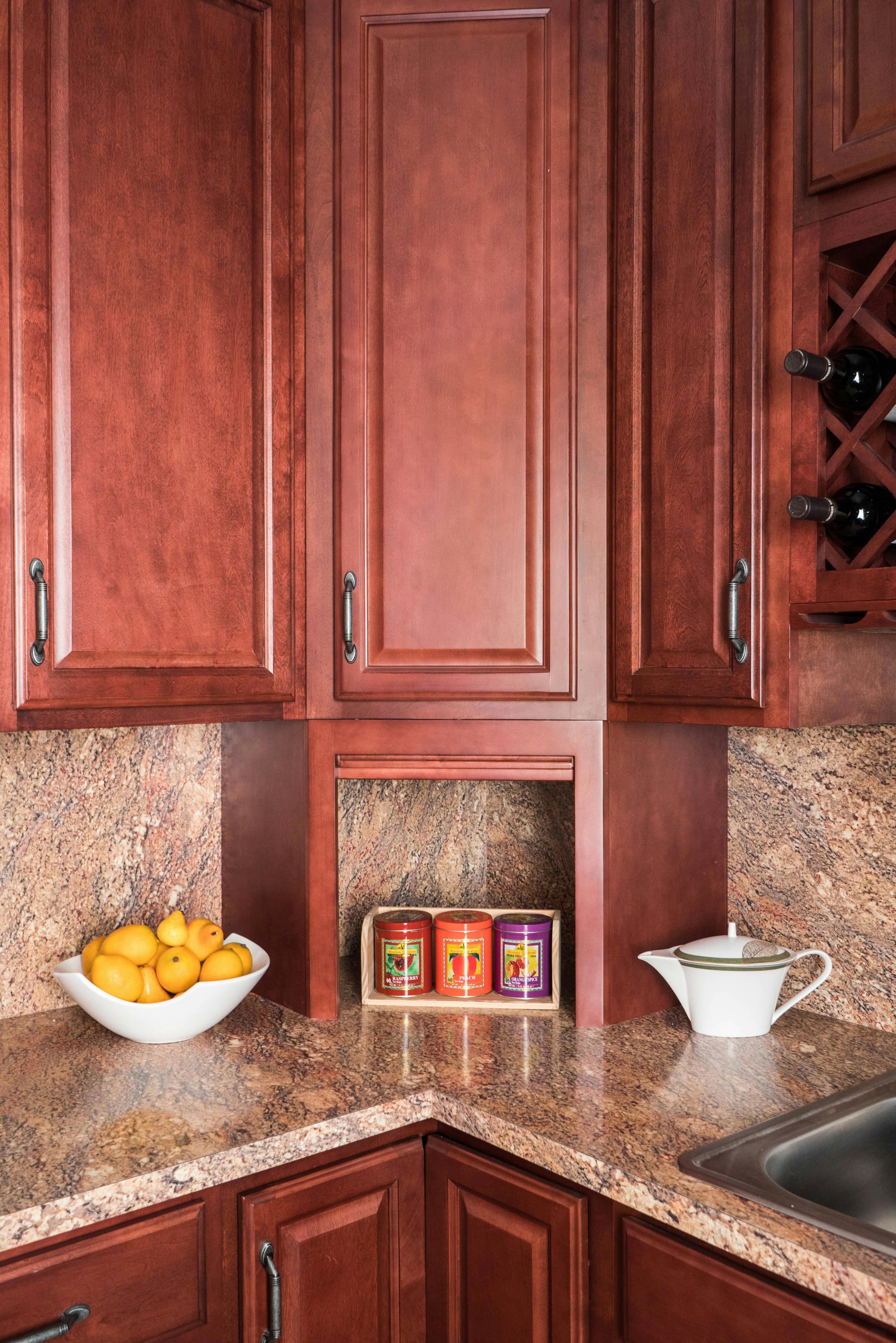 The best kind of lazy
As a leading manufacturer in the kitchen cabinetry world, always striving to grow and progress, we're not one for laziness… except if it's for this accessory, the Lazy Susan. Whoever Susan was or what she did to have this ingenious accessory named after her, she definitely got it right – a Lazy Susan is the perfect way to not only have easier access to your dishes, but it can also double as even more food storage.
If you have nightmares about kitchen cabinets swallowing your arm whole as you desperately try to reach for a coffee mug, you can rest assured this will take care of that problem. Multiple sizes are available for maximum storage. The mobility it provides will also put a halt to those kitchen cabinet nightmares for good.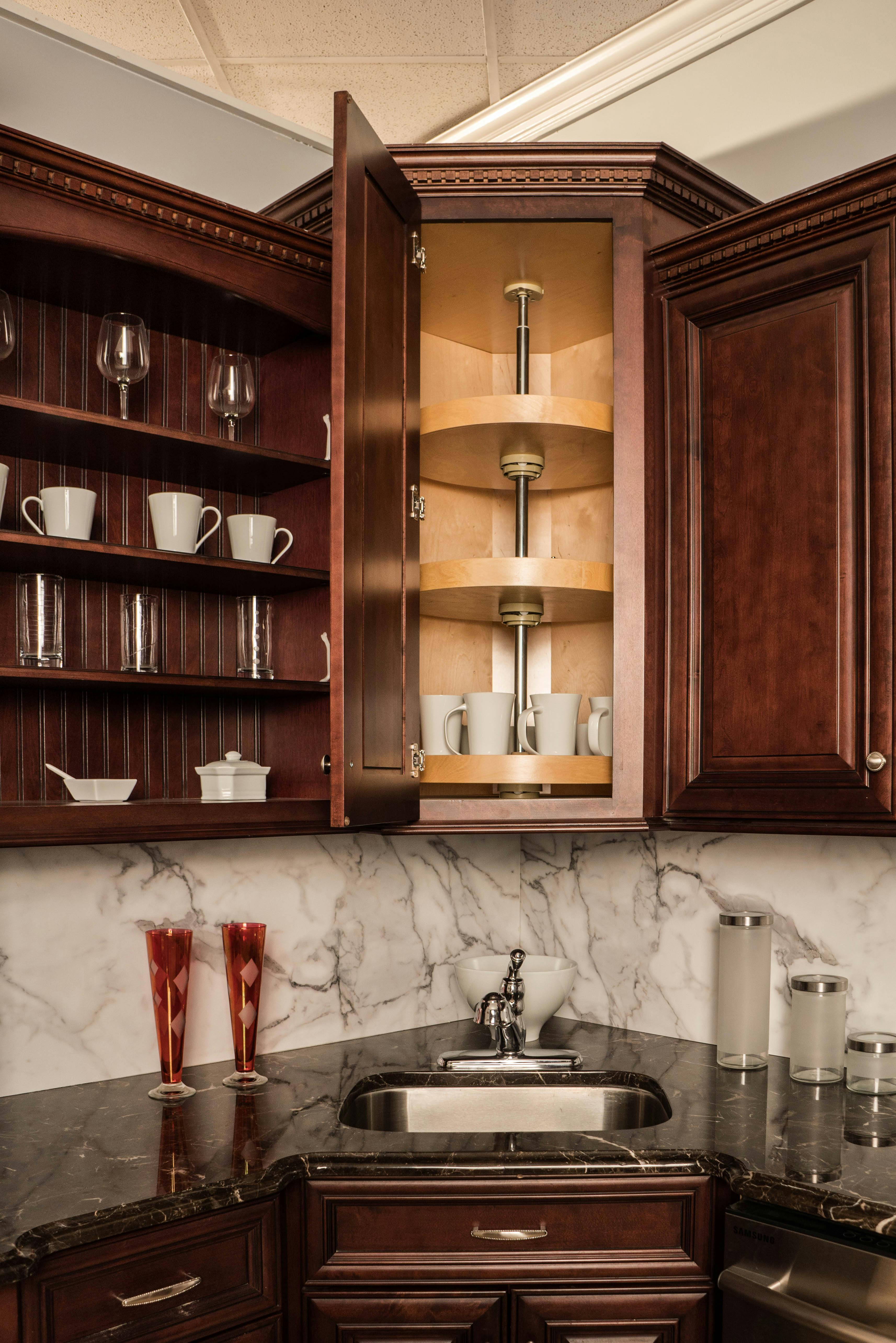 Conclusion
Kitchen cabinet accessories can either make or break your kitchen. So, when you find yourself designing your new kitchen cabinets, do yourself a favor and consider including these accessories. Accessorizing goes beyond much more than just décor, as maximizing the space that your cabinets provide is a top priority. These ten kitchen cabinet accessories will enhance your kitchen in a multitude of ways, proving to be both stylish and helpful in pulling your kitchen together, the way you always imagined.
Let us know down below which one of these accessories you wish you had!