January 27 2023
Should You Get a Farmhouse Sink? The Pros and Cons
Kitchen sinks used to be an all-in-one kitchen mainstay that were used dozens of times throughout the day for multiple purposes. Now, with modern and versatile kitchen sink choices on the market, there are dozens of styles and finishes to choose from other than the traditional farmhouse style. Just like choosing your kitchen accessories, your sink needs to blend seamlessly into your kitchen aesthetic and color scheme. With farmhouse sinks being some of the most popular choices, read on to find out more and if they're the right fit for you!
Humble Beginnings
Farmhouse sinks have been a kitchen staple since the 17th century. Extra-large and deep, farm sinks were originally designed as a strictly utilitarian pieces for those without running water. One side of the double basin sink would be filled with water from an outside pump, while the other basin would be utilized to wash dishes, laundry, and even the kids. As the decades passed and fads have come and gone, the traditional farmhouse sink has withstood the test of time to become the go-to kitchen feature in modern farmhouse homes. With a variety of design materials, farm sinks for kitchens have become versatile enough to fit into any style and décor.
While farmhouse sinks have been around for ages, you may be wondering if this statement piece works for your design and budget. Here are some tips to keep in mind which can help you decide if the farmer sink works for your unique taste and kitchen aesthetic: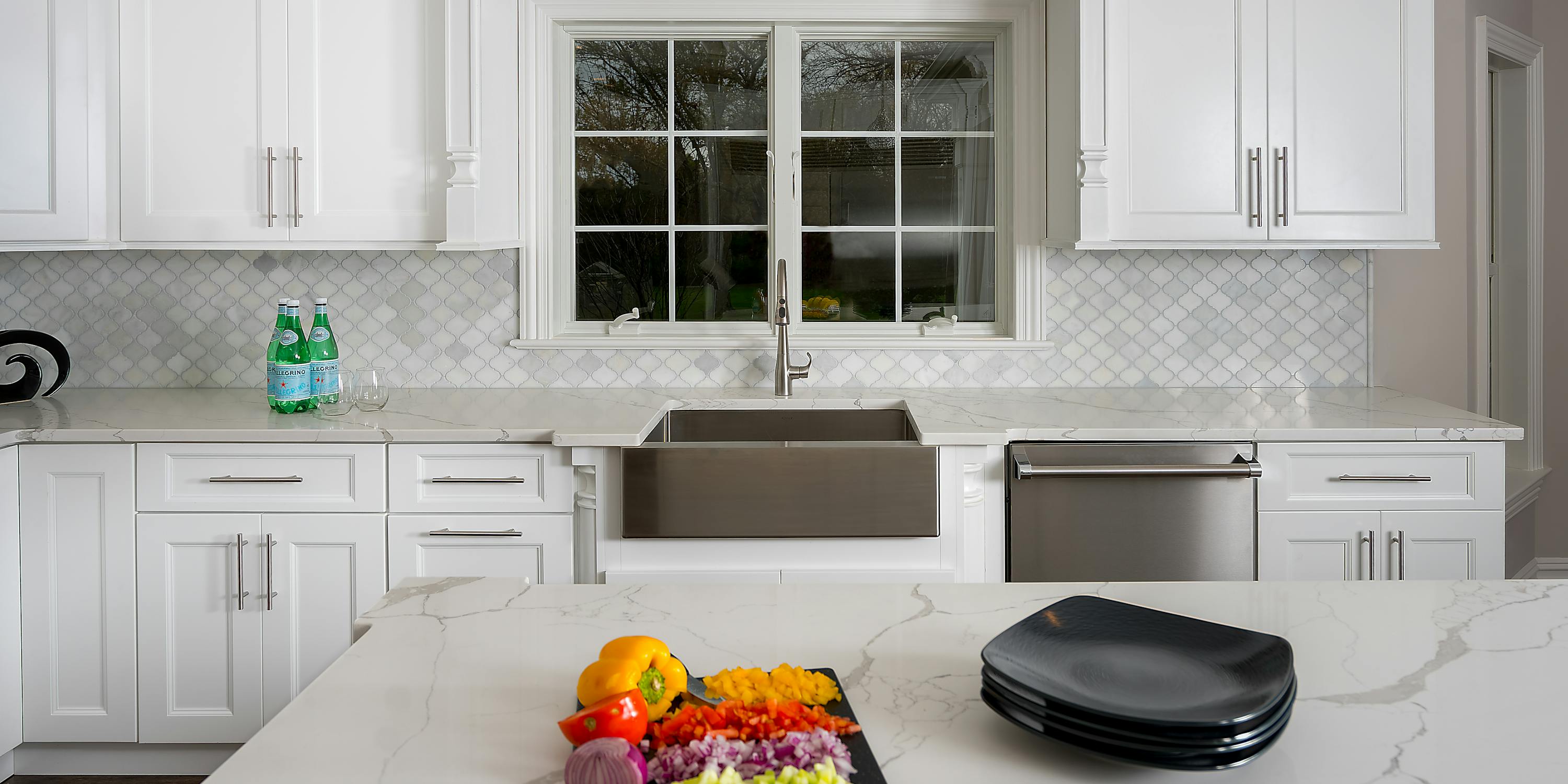 Smart Design
Also known as the apron-front sink, the wide front panels of the farmer sink jut out slightly to ensure that water doesn't splash onto the kitchen cabinets, making washing dishes as mess-free as possible. With the farmhouse sink's unique design, you also won't have to strain forward over a countertop to reach the faucet. This eases the strain on your back, making your time at your kitchen farm sink as easy and stress-free as possible.
User Friendly
Washing dishes is never the most fun experience, but once you use a farmhouse sink, this everyday chore will seem like a breeze. Kitchen farm sinks are oversized and deep, making it super easy to wash large pots and pans and even awkward-sized kitchenware like baking sheets. Anything that was a struggle to wash in a standard-sized sink is now a joy.
A Statement Piece that Adds Value
What once was solely practical in design is now a sought-after and coveted kitchen feature that creates a statement as soon as you walk into the space. The attractive and streamlined design of the farmhouse sink can add dollar value to your kitchen and your home overall. If you're thinking of selling your home down the road, the farmhouse sink is many home buyers' dream kitchen statement piece.
Complimentary to Any Kitchen
Farmhouse sinks are available in a variety of materials such as porcelain, fireclay, copper, stone, and stainless steel. Also offered in a single or double basin, it is easy to find one that compliments your kitchen décor, cabinet style, and your own personal taste. Forget about the farmhouse sinks of centuries past – modern farmer sinks are the perfect pairing of beauty and function.
Are Farmhouse Sinks Expensive?
While a variety of materials is a definite bonus, it can also easily increase the dollar value of the sink. Depending on what material you choose and the difficulty of installation, a farmhouse sink can have a wide range in price. Installing a farm sink into an existing kitchen is more costly and complicated since you may have to alter the countertops to adapt to the size of the sink.
What are the Disadvantages of a Farmhouse Sink?
Because the farm-style sink can be so large, it can take up valuable counter space and cabinet space to accommodate the width and depth of the sink. If you have a smaller size kitchen where every counter and cabinet space is utilized, a farmhouse sink may not be a good idea.
Upkeep, Upkeep, Upkeep
When imagining the perfect kitchen sink, many visualize the gleaming and sparkling white porcelain farmhouse sink. What isn't envisioned is the grime and dirt that can easily take place of the sparkling porcelain if not cleaned and scrubbed regularly (we recommend a mild solution of baking soda and vinegar to fight grime and rust spots). If scrubbing your kitchen sink regularly is not in your future, an alternate material, such as copper or marble, may be easier on your time and budget.
Delicate Dishes Beware
While deeper sinks are definitely a pro when it comes to washing large pots and pans, more delicate kitchenware like glasses and china can easily become chipped and even break if you aren't careful. Remind yourself to set the dishes down carefully in the sink and never leave stemware on the edge of a farmhouse sink if you want to avoid knocking them over!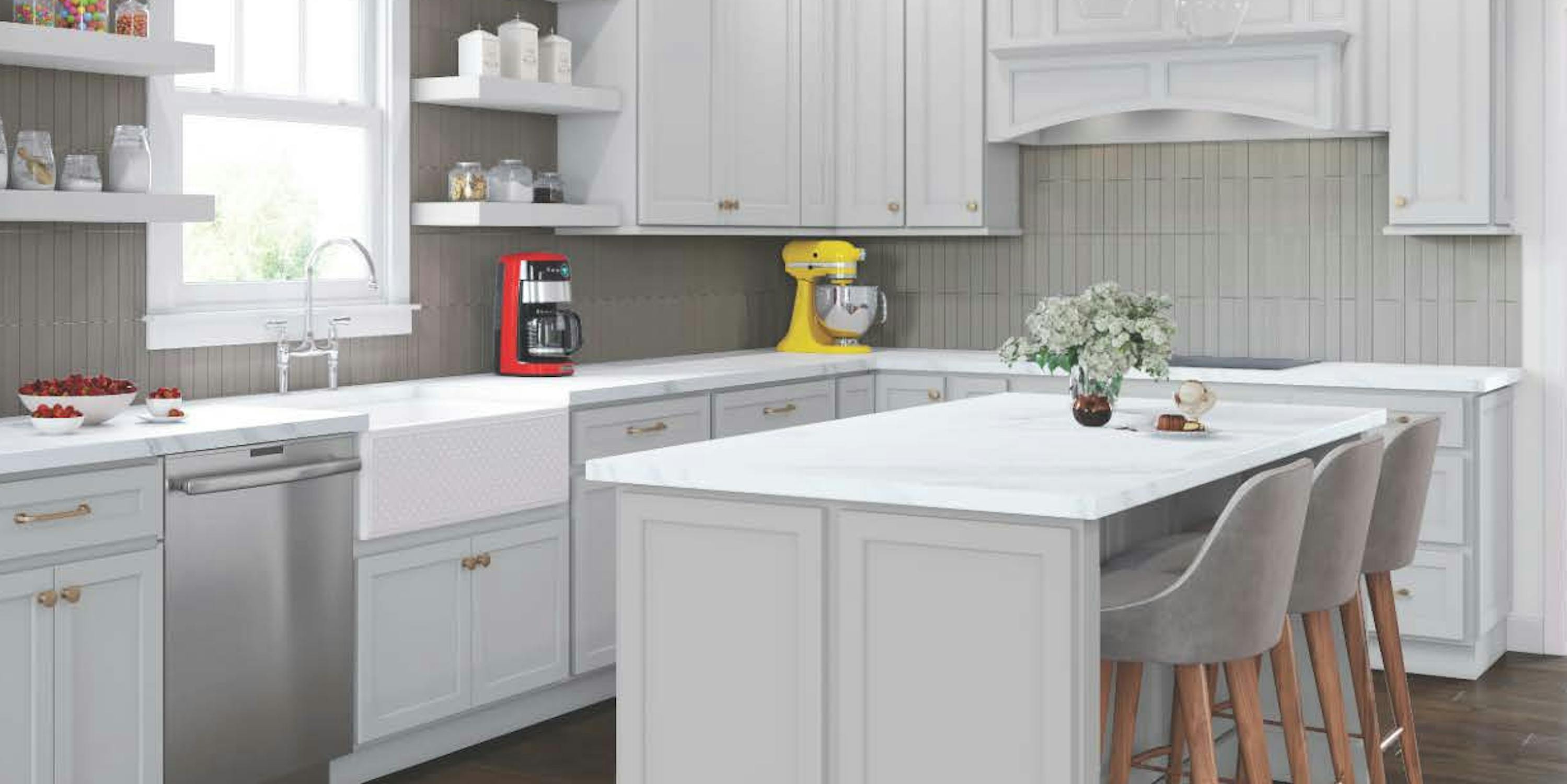 Are Farmhouse Sinks Still in Style?
If you choose to incorporate a farmhouse sink into your kitchen but aren't sure how to design around it, what hardware to use with it, or even what color sink to get, don't worry! Our design tips have got you covered.
Don't think farm-style sinks only fit in farmhouse-style kitchens! Farm sinks can go modern or traditional when styled in either aesthetic. They look great in any type of home, even a minimalist one. Don't think you have to go literally rustic with an all-wood kitchen look to use a farmhouse sink.
Farmhouse sinks come in many colors and materials like blue, white, black, and grey, and porcelain, copper, stainless steel, nickel plated, and even bronze. Try choosing a color that subtly picks up a complimentary color from your kitchen like a copper sink if you have similar hues in your hardware or finishes. If you want to be extra bold, try a wooden or stone farmhouse sink for the ultimate wow factor.
Single basin, double basin, extra wide, sideboard, no sideboard…there are many options for what type of farmhouse sink you can get. Think of your everyday needs and what would look best in the style and size of your kitchen space when incorporating your chosen style of farmhouse sink.
Think of your kitchen sink as more than a place to wash dishes – it can be the statement piece of your kitchen with its color, finish, and complimentary faucet. Use it as a space to show off your personality! Need help designing your dream kitchen? Check out our Visualizer for a comprehensive virtual experience!
Kitchen farm sinks are easily one of the best statement pieces you can add to your home that is striking as well as practical. Coupled with their functional design, the modernized beauty of the farmhouse sink can fit into most budgets and kitchen aesthetics. From home chefs to busy moms, the farmhouse sink is the modern take on a classic that has remained on trend for centuries.