How to accent your neutral kitchen design with color
Many people favor neutral kitchens for their clean and contemporary look with the light color shades that are used. The minimal design may look light and airy, but it can also look bare without the compliments of the right design or decor. Neutrals tend to be colors that provide an excellent background to any other color, giving the perfect foundation for decorating no matter what style you prefer. Entering a room that's decorated in white upon white upon white, is both boring and aesthetically stagnating. Whether you have white, beige, gray or vibrant cabinets, there is always a place for accent colors. Also, since most appliances are black, white or silver, adding bursts of color to other surfaces can really bring life to your space. Here are our tips to help easily brighten up your neutral room and add personality and charm to your kitchen.
NOT ANOTHER BLAND KITCHEN design
A major advantage to neutral kitchens is that an entirely different room is created each time you change your accessories. The following tips will instantly energize your design scheme while conveniently adding a splash of color.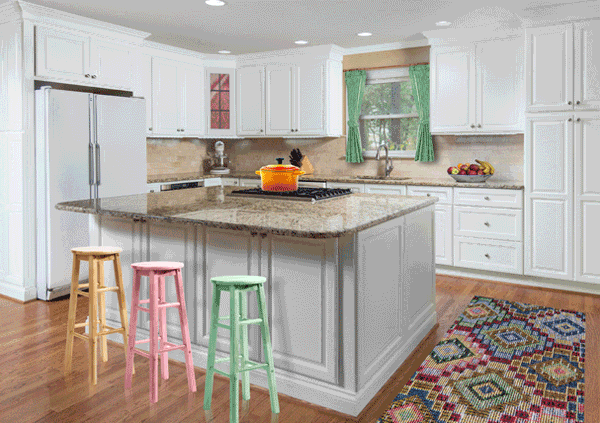 Add a window treatment: A new set of curtains or blinds can dramatically change the look of the whole kitchen design.
Add a colorful background: If you have glass front cabinets, Painting or adding wallpaper to the inside cabinets is a great solution for an instant brightening effect. You now have a thousand options for giving your cabinet interiors a makeover without making any permanent changes!
Add color underfoot: By opting for a colorful rug, you can add more detail and interest to your kitchen design.  Another benefit of an area rug is that it will help hide dirt and is also an easy way to introduce more colorful décor.
Purchase colorful cookware: Don't underestimate the visual impact of vibrantly colored pots, pans, or mugs. The will add a lot to you overall kitchen design.
Revamp your seating: Swap out your current chairs in favor of more interesting options — you could paint them, replace them with a set of colorful antique chairs, or simply give them a makeover with new slipcovers or cushions. 
What do you think? Can you handle bright colors in your kitchen design? Let us know your thoughts or ideas for adding colors in the comment section below.