How To Design The Ultimate Gourmet Kitchen
A gourmet kitchen is a kitchen that focuses on the love of food and cooking. Whether you are a passionate home cook, frequent dinner-party host, or busy mom, life revolves around preparing and enjoying food with family and friends.  So it only makes sense that you would need a spacious and stylish space that makes life in the kitchen more simple. Designing and customizing your brand-new kitchen is the ultimate foodies dream. Not every space lends itself to looking like a Top Chef kitchen, but there are plenty of ways to craft and remodel a kitchen worthy of your gourmet aspirations. Here are some design tips to consider.
FIT FOR A FOODIE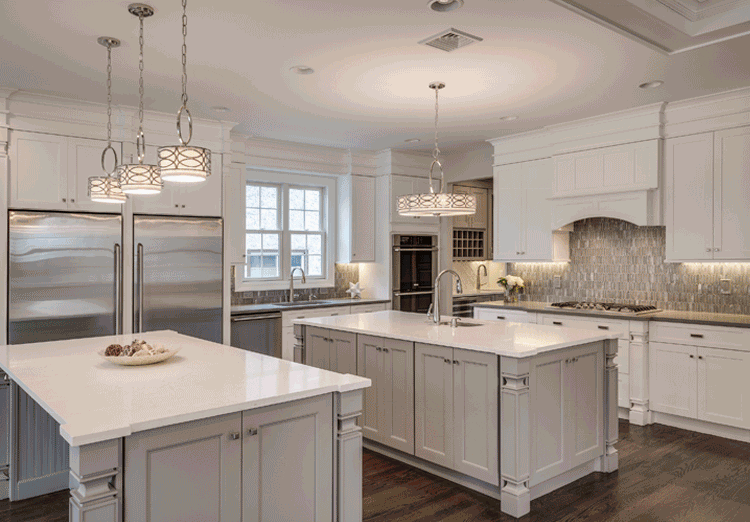 Create order: You want to think about designing a space that meets both your social and practical needs. To keep guests from getting in the way during dinner prep, it is helpful to separate zones for food prep and cleanup from that of your seating area. A wall of drawers compliment the cabinets and allow more storage for a large collection of cookware. When considering the design layout, be mindful of making efficient use of your cabinetry. Items used regularly should be easily accessible. Store food and accessories with ease of use in mind.  For example, baking ingredients should be stowed in a drawer beneath the main food-prep counter, and clearly labeled spices in drawers adjacent to the range. Also, keep cooking utensils off your counter-top to avoid clutter. Consider a custom pullout cabinet near your stove to keep utensils close at hand. Drawer inserts will improve organization, looking neater while making it much easier to find what you're looking for. Avoid the panic of rummaging through a drawer full of tangled utensils when something is bubbling over on the stove-top.
Proper ventilation: We all love the aroma of good food while cooking, but no one wants a smoke-filled kitchen.  A gourmet kitchen should be well ventilated to keep all the heat and odor away. Consider a large hood to prevent any transfer of scents, so your guests don't leave with anything but leftovers. A heavy-duty range hood vented to the outdoors is a great investment for any foodie or culinary specialist.
Big sink: Don't skimp on the sink! Make sure to choose one that can accommodate your larger pots and pans. Even if you have a dishwasher you will still need space to cool, empty, and rinse cookware. You may want to consider a small prep sink near your stove or primary work-space, if budget permits. This will improve the kitchen flow when there is more than one cook in the kitchen.
Think clean: As a foodie, you want to spend your time cooking, not cleaning up. Select surfaces that are easy to maintain and can stand up to your particular demands. We suggest using solid or stainless steel counters in the clean-up zone to eliminate any dirt-trapping crevices. Laminates, especially ones that are not entirely smooth, can be harder to clean and may show wear and tear more easily.
Find thoughtful bells and whistles: New appliances and gadgets can make cooking faster and easier. If you love to cook, chances are you've spent a pretty penny on at least one good kitchen knife.  Leaving kitchen knives to rattle loosely in a cutlery drawer will either dull or damage the blade, so make sure to store them in a separate and organized manner. You may want to buy a stainless steel or wooden knife block to store your knives in a design-friendly fashion. Furthermore the addition of a quality cutting board can be striking enough to leave on the counter without occupying space in your drawers.
High-end kitchens with restaurant-quality features are perfect for the person who takes cooking seriously. Professional appliances, durable surfaces, and specialty storage are all aspects that make a kitchen fit for a foodie. These tips can help you build a space where you can whip up amazing meals for friends and family. Who needs a personal chef when you can be the pro. We'd love to hear how you would use your space and what appliances/additions would satisfy your specific needs!  Leave us a comment below!