July 06 2022
Our All-New Slim-Shaker Cabinet Door Style: Introducing Luna by Fabuwood
Fabuwood is excited to introduce our all-new door style, Luna. Since we have always been a cutting-edge company, we took it upon ourselves to provide our own version of the new cutting-edge slim-shaker door style. This door style modernizes the traditional shaker cabinet for a modern and sleek new look. We are thrilled to share with you the new cabinet door style you have all been waiting for: Luna.
A Deeper Look at Luna
Our Luna line features three main highlights that set it apart from other cabinet door styles. The first is the modern slim-shaker style that follows the evolution of the shaker cabinets to bring a traditional style into the future. The second is Blum's innovative clip-on hinges for quick and easy installation and removal of the cabinet doors. And finally, the two finishes Luna is available in provide the opportunity for a beautiful and cohesive two-tone kitchen.
The Slim Shaker Style
Our Luna door style brings Fabuwood's vision of a modern slim-shaker design to life. To help you better understand this innovative new design, we'd like to share a little about where shaker cabinets originate from, what they are, and how they evolved into the new slim-shaker style of today.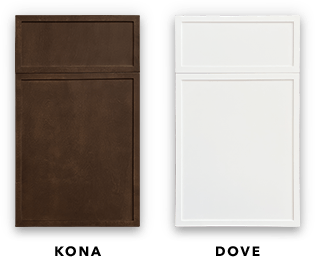 History of the Shaker Cabinet  
The shaker cabinet derives its name from an exclusive group that was nicknamed "The Shakers." The Shakers traveled to America and spread out across New England, forming a self-sufficient community that handcrafted their own furniture, including their cabinets. They took great pride in the quality of their cabinets and the minimalism of their design. Spending time embellishing their furniture with extravagant details was considered a dishonest practice, which is why the shaker door features such a simplistic style. However, crafters would add a beautifying touch by dyeing the wood in different colors to provide unique finishes.   
The Evolution of the Shaker Cabinet
So how did we get from that original design to our cabinets today? Well, as the years progressed, people's style preferences evolved in everything, from clothes to music to home décor. Since Fabuwood is dedicated to staying ahead of the trends, our new Luna line follows the newest evolution of the shaker cabinet to provide quality, in-style products for the modern kitchen.
The Traditional Shaker
Shaker cabinets are built of a five-part design that is composed of a four-piece frame (two stiles and two rails) and a recessed center panel. The simplicity of this design gives it a charming quality, but it's the versatility of the shaker cabinet that has made it such a popular choice for kitchens of every style. 
The Slim Shaker
There are many ways to adjust/alter the shaker cabinet to match your personal style. The most recent example of this is the slim shaker. The slim shaker brings the traditional design of the shaker cabinet into the future. This sleek design essentially trims the frame of the shaker cabinets, leaving a wider recessed panel in the center for a contemporary twist. The minimalist appeal of this "cutting-edge" design was crafted to complement contemporary and transitional kitchens alike.
Blum's New Compact Clip Hinges
Fabuwood's newest line features Blum's latest innovation: the Blum Compact Clip. This hinge is an enhanced version of Blum's Compact Blumotion hinges which Fabuwood utilizes throughout our other lines. The clip technology incorporated in this update was previously reserved for larger clip top hinges generally seen in frameless lines or on angled, specialty, or corner cabinets. Clip technology includes a quick-release lever that allows an installer or end-user to remove and attach the doors quickly and easily from the face frame mounting clip without having to unscrew the hinging.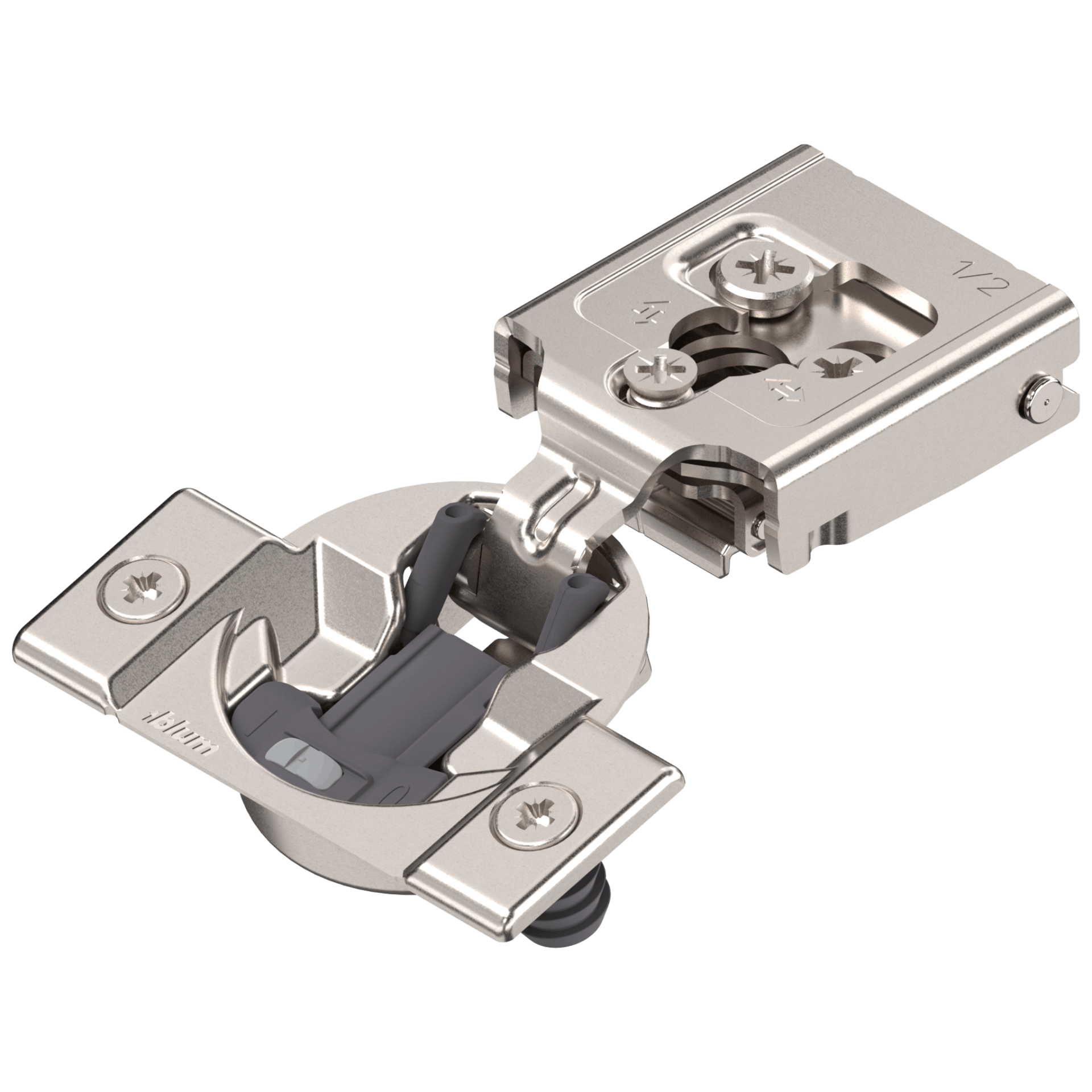 Benefits of Clip-on Hinges
Clip-on hinges simplify the process of attaching and removing cabinet doors, allowing you to save time in both installation and removal for cleaning or other purposes.
No tools are needed which makes cabinet installation easier and reduces the risk of damage being done to the cabinet frame.
The lever is concealed in the back of the frame mounting plate to present that same clean look and compact profile while still providing new technology.   
Please note that Blum Compact Clips and compact hinges are not used in all the cabinets Fabuwood offers. Some exceptions include but are not limited to, Lazy Susan and Wall Pie-cut cabinets which come with specialty hinges to support their unique functions.
Two-Toned Beauty
Luna will be available in two of Fabuwood's beautiful finishes: Kona and Dove. Kona is a stained finish that accentuates the natural wooden grain of each door in a rich shade of walnut brown. Dove is a beautiful painted finish that adds brightness and warmth to every space with a balanced off-white.
Our Favorite Two-Toned Kitchen Ideas
These finishes were chosen not only for their individual beauty but also for the way they seamlessly complement each other. Creating an aesthetically pleasing and harmonious two-toned kitchen has never been easier. In fact, mixing and matching a painted finish (Dove) with a stained finish (Kona) is a great way to add texture and dimension to your kitchen design. Our two finishes blend flawlessly enough to be cohesive but contrast just enough to bring out each other's beauty. Below are a few ideas for incorporating both of our Luna finishes in your kitchen to create a balanced design.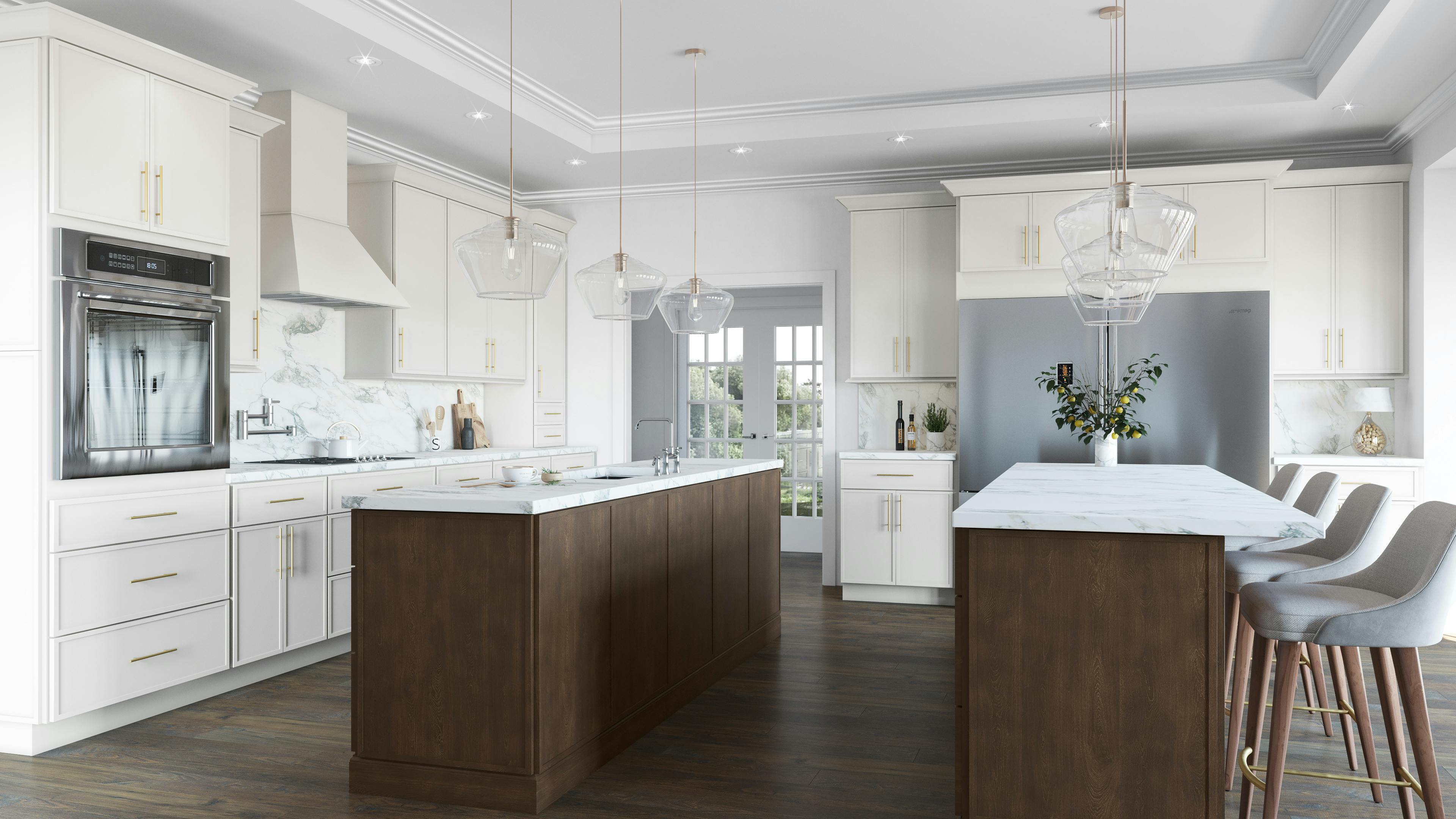 Top and Bottom Cabinet
Try using one different color for your top and bottom cabinets to keep your two-toned design exciting yet clean. Generally, the darker color (Kona) would be used for the bottom half of the kitchen while the lighter color (dove) would be used for the top half.
Different Color Island
For a subtle two-toned touch, try utilizing a different color for your island cabinets than your wall-mounted and base cabinets.
Create Color Blocks
If you want to create a dramatic design, try creating blocks of color within your kitchen using colors that strongly contrast or complement each other. An easy way to accomplish this effect would be to divide your kitchen into portions and have each portion be one of your selected colors, switching off between the two to create visible blocks of color.
The Lovely Luna
At Fabuwood, we never stop innovating and providing the highest quality and trendiest styles to our valued customers. That is why we are so excited to present Luna, our newest "cutting-edge" take on the classic design shaker cabinet design. With sleek new technology and two beautiful color options, our new slim-shaker line is ready to bring your dream kitchens to life. We look forward to seeing how you incorporate Luna into your dream kitchens.
Inspire us with your creative and unique designs!