Nothing makes a room look more furnished and complete than well-positioned lighting. Under-cabinet lighting illuminates the room, creates an ambiance and makes cooking, preparation and recipe reading more comfortable. Additionally, attractive accent lighting inside your cabinets is a unique and effective way of highlighting certain pieces. Here are our tips for adding layers of light to your room and refreshing the look of your cabinets.  
Kitchen lighting ideas - options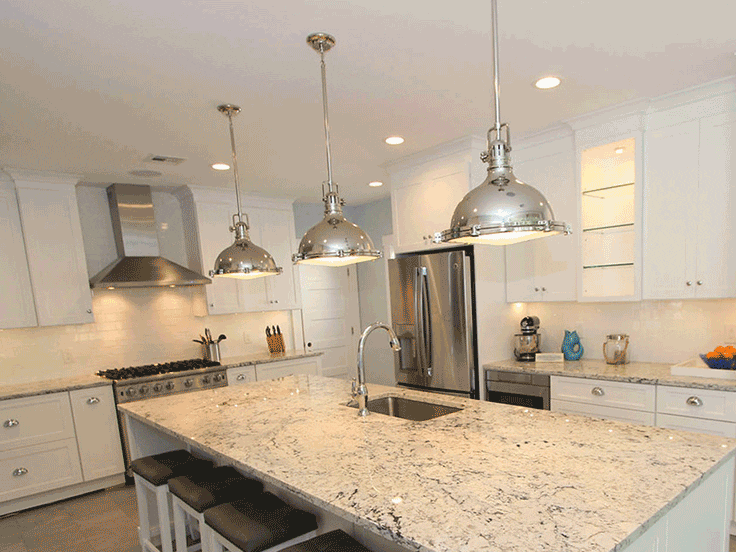 Want to shed a little light on the contents of your kitchen cabinets? There is a wide variety of lighting options out there.  With so many diverse options available it is important to contemplate how you want the light to work for your specific space. We suggest starting by deciding what type of light you're looking for. Do you want a focused spotlight, a single source soft glow of light or a muted ambient glare? Each type of fixture will give you a different effect while also impacting the décor.
SPOTLIGHTS:  Typically used as under-cabinet lighting to highlight a specific section of the counter or to illuminate the back-splash and make it stand out. Puck lights also present another way of adding ambient lighting to a kitchen by brightening up the inside of a cabinet with LED components. This works best if the cabinet has transparent or opaque glass front doors that let the light shine through. Similarly, because they act as spotlights, they can call attention to the prettier pieces (a collection of antiques, or perhaps a beloved serving dish) you'd like to display.
Lighting under kitchen cabinets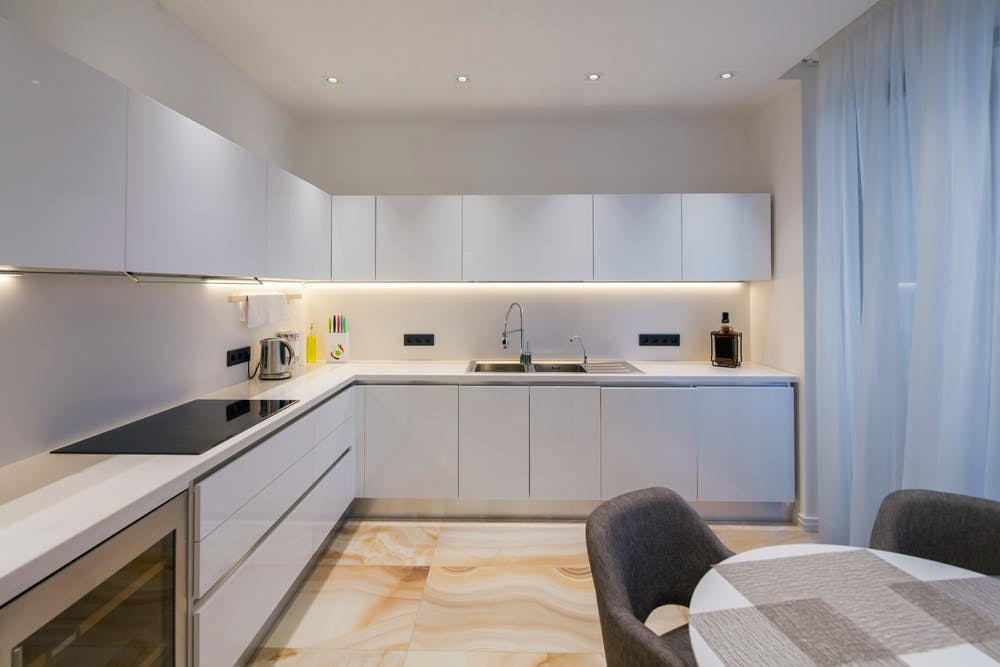 LIGHT STRIPS: Where spotlights can create visible effects on the surrounding walls, strips give off a wider, more even beam of light. They're used more often for under-cabinet lighting, but they're suitable for installation inside the cabinets as well. Light strips are an easy and convenient solution, and they are available in varying brightness levels. It is always recommended to go brighter than anticipated and add a dimmer for greater control.
Under the counter lighting
TAPE LIGHTS: Tape lights offer balanced illumination for accent and ambient lighting. They are made up of long flexible tubes with a string of lights inside (either incandescent or LED) that give off a subtle glow. This is the flexible and versatile option, as they are usually peel-and-stick and will attach to just about any surface. They can be cut to desired lengths, and are relatively affordable and easy to install.
Adding a little light to the interior of a cabinet can be absolutely revolutionary. Not only do in-cabinet lights bring items out from the shadows, but a whole room can be revamped by cabinet accent lighting. Do you have lights below or inside of your kitchen cabinets? We'd love to hear how they work for you in the comment section below.