Renovating a kitchen with resale in mind
When you're contemplating your kitchen remodel, you want to be conscious of creating a design with long-term appeal. After all, you might not be the only homeowner to cook in your kitchen.  We understand that a new kitchen is a big investment, so you want to make sure that it will pay off in the future when it's time to sell your home.  We are not suggesting that you remodel your new kitchen on resale value alone, but it does help to keep in mind the desires of a future homeowner. Here are some tips to help you design the kitchen you want, while creating lasting value.
Renovating a kitchen THAT HAS a MASS APPEAL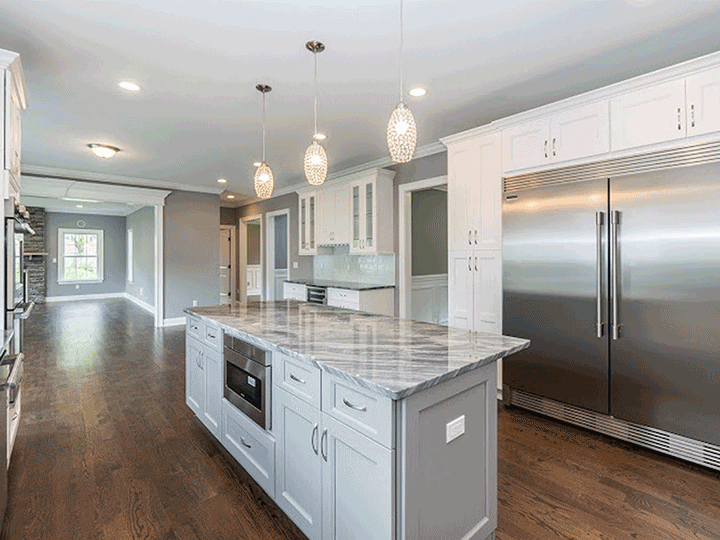 Choose transitional style semi-custom cabinets: When we say 'transitional', we are essentially describing kitchens that successfully combine traditional and contemporary elements. Transitional kitchen cabinets are usually more contemporary than traditional, but not modern or streamlined. You may want to consider shaker cabinets as they are timeless and affordable. They create a great canvas as a starting point with their versatile style, mass buyer appeal, and reasonable price point. A resale-conscious homeowner should avoid expensive, stylized, and ornate cabinets in favor of simple yet sturdy shaker cabinets at a lower price point.
Opt for convenient features:  a win-win for both ends as home-buyers love to see convenient features in kitchens, and you'll love cooking in a kitchen that makes your tasks easier. It may sound like a bizarre upgrade, but adding at least one USB-charging outlet in the kitchen is a sure way to attract buyers. In terms of making your cabinets more convenient, you may consider including lazy Susan's and appliance garages that will make your kitchen extremely functional and immaculately organized.
Avoid extremes: Ask yourself -  is this necessary or is it luxury? You decide. It's important to find the appropriate balance between price and value. You want to be sure to put your money in the right places. Don't cheap out on the important features, but you also want to avoid overspending on unnecessary high-end items.
Have you recently put your house on the market? or are you a recent buyer? What do you think makes your home most appealing to it's future residents?  Let us know in the comment section below.