November 11 2019
How social media can help boost your kitchen sales!
Running a kitchen dealership is no joke. While taking care of the myriad, mind-boggling details that go into managing your business, you may forget to tap into a high-potential, highly-lucrative market on social media. No, we're not kidding – social media does help sell kitchens!
There's nothing like it when your social media marketing efforts transform into tangible kitchen sales. Facebook and Instagram have grown to become remarkable platforms for showcasing stunning kitchen projects to the world. So, what are you waiting for?
If you're trying to get your footing in the seemingly daunting world of social media, our tips below can help you find your groove. It's time to put your work out there, make your presence felt, and build lasting relationships with your social media-savvy clientele. 
Content is key
As a kitchen expert, you have a wealth of knowledge to share with the world. Channel your day-to-day business insights into inspiring social media content!
The redemption: Think about it – who doesn't love a great story of redemption? Flaunt your customers' before and after kitchen photos on Facebook and Instagram to show the world the magic you're capable of creating.
Cinderella's (not-so) instant makeover: While we often tend to daydream of kitchens that transform instantly with a wave of Fairy Godmother's magic wand, the realist in us truly appreciates the sweat and tears that go into Cinderella's stunning makeover. Post behind-the-scenes videos of your ongoing kitchen projects – the challenges and wins of your customer's remodeling journey will make for a great transformation story.
Picture-perfect: Aesthetically pleasing photos are more likely to catch the eye of a casual passer-by. So, save your perfectly beautiful, high-resolution kitchen photos for your FB/Instagram posts. Investing in a professional kitchen photoshoot maybe beneficial, as quality content makes the best impression. However…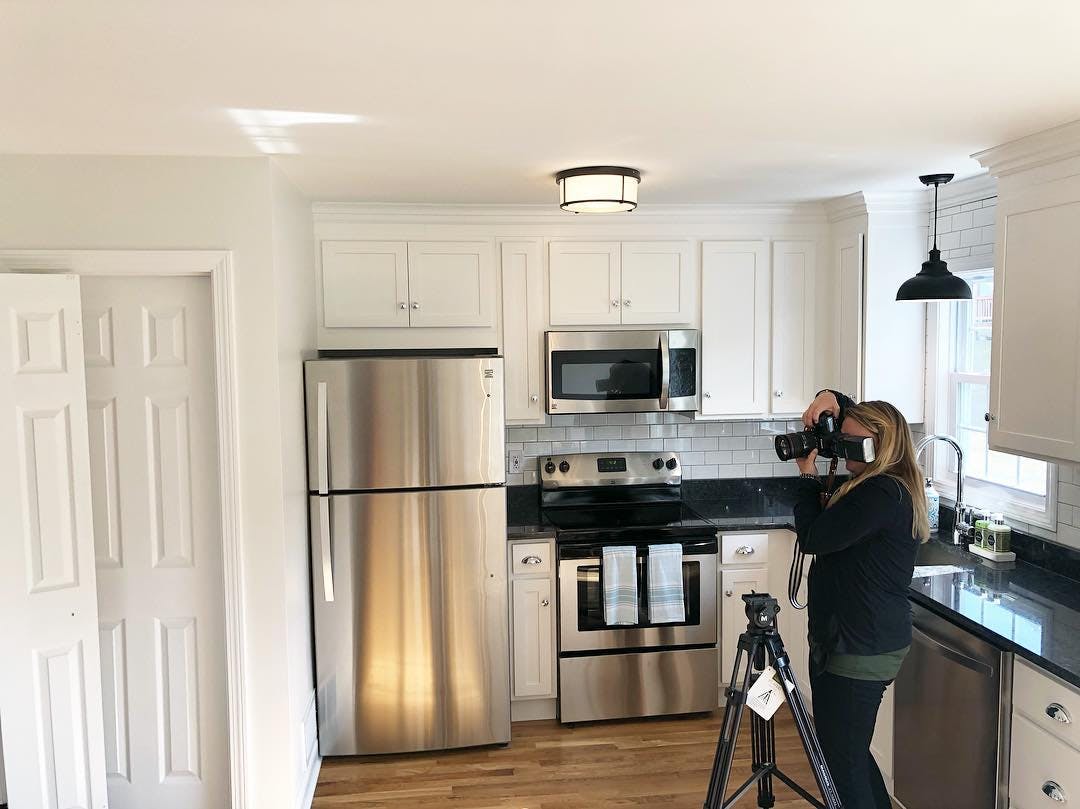 The magic is in the mess: …Don't shy away from posting the more run-of-the-mill (but still valuable) photos and videos as ongoing FB/Instagram stories. While posts play an important role in sustaining your brand image, "messy" stories go a long way in helping your brand look more human and relatable.  
Moral of the story: Work on building your list of followers by first putting your best foot forward (aka posting high-quality, stunningly beautiful photos). As your content starts speaking for itself, followers are naturally bound to be more invested in the behind-the-scenes stories you put out.
Commitment comes to a close second
If creating a social media account for your business is important, being committed to posting relevant content on a consistent basis is the real deal.
Everyday matters: To ensure strong social media presence, post relevant content on a day-to-day basis. Don't be frustrated if you hit a road-block trying to spew out original content every day. This is where sharing comes into play.
Care to share: Sharing third-party content (with necessary permissions) is a great way to make sure your account is bustling with excitement and activity. Start by sharing content posted by industry leaders, associations and partners. That's a smart way to keep your content going while also maintaining solid relationships with the people you work with.
Silence? Not so golden anymore: Silence is overrated, at least when it comes to social media. Don't forget to keep the conversation going by liking and commenting on posts from the people and brands you follow on social media! If we haven't emphasized enough already, engaging with industry partners and consumers alike will significantly help boost your brand recognition.
Customer is king
The customer has the last word, one which will add immense credibility to your business. What better way to elevate your business than to reach out to your customers for positive feedback!?!  
Straight from the horse's mouth: Today, homeowners heavily rely on social media reviews while in the process of narrowing down the best dealers in their area. Always follow-up with your customers after completing a project and request a Facebook review. Take the time to respond publicly to all customer reviews, to show them your gratitude or to address any concerns they may have expressed. Put in that extra effort to personalize your message as canned counterparts fail to impress. Period. While positive reviews are great for your business, prepare yourself for a few negative ones as well. We have a whole new blog post coming up on how to handle negative reviews on social media, so do keep an eye out!
Always a win-win: Encourage customers to show off their beautiful, new kitchen on social media. And while at it, have them tag you to their remodeling photos and videos. While they get to enjoy the attention, you get to enjoy your growing popularity!
A private talk: Respond to all private messages that you receive via social media. You never know when an unassuming inquirer may become a loyal customer, or when a disgruntled-turned-happy customer may laud your timely response and excellent service (word gets around quick on social media)!
Cost matters
Tag along: If your business is currently on budget-control mode, optimize on organic ways to promote your content on social media. A great way to expand your reach is by tagging in your post, the folks you collaborated with on your project (your manufacturer, customer, contractor, and any other possible party involved in the project!). Be sure to give them a social media shout out – chances are, the favor will be returned someday.
And hashtag along: Don't forget: hashtags, hashtags, hashtags! By using a handful of pertinent hashtags, you will expand your reach to an array of individuals searching for keywords related to your project. Throw in brand-related hashtags as well as descriptive words and phrases that best portray your kitchen remodel. The more you use, the merrier your chances of being discovered!
Pay what you want: Paid social media marketing will open a whole new world of visibility for you. Advertising on social media (think Facebook and Instagram ads) can be easy on your wallet as you are in control of your expenses (or should we say investments?). You get to decide how much to spend and how frequently you want to advertise. To reach a wider audience, you can also opt to boost content that received great engagement from your followers. With paid advertising, you can select and customize your audience based on user demographics!
Create some social me(dia) time
There's no time like me time: It's very important that you incorporate social media marketing into your overall business plan. Set aside some time to promote your business on social media every day – even setting aside a small part of your day will go a long way. If you're completely immersed in other aspects of running your business, consider investing in dedicated social media personnel who can take over the social media reins while helping ease the burden of doing it all on your own. If you're limited by your budget in terms of hiring a full-time professional, hiring part-time/freelance professionals or outsourcing to creative marketing agencies can do wonders for you. No matter the direction you take, you're bound to see the results of going that extra mile!