November 06 2019
7 Best decorating themes for your kitchen
Picking the right theme for your kitchen is a vital part of decorating. Unfortunately, there are so many distinctive styles it's hard to keep track, much less pick a favorite for your own home. That is why we have devised a list of the 7 most popular kitchen themes, so you can easily pick the one that best matches your unique sense of style.
Traditional
When it comes to traditional style the devil is in the details. From crown moldings to wainscoting, embellishments should take up every nook, cranny, and surface. Well, all except the backsplash, which should be kept simple. Raised panel cabinets in neutral colors with an antique or stained finish are typical in traditional kitchens. Complete the look by installing some ornate lighting, and you have a gorgeous kitchen to make your ancestors proud.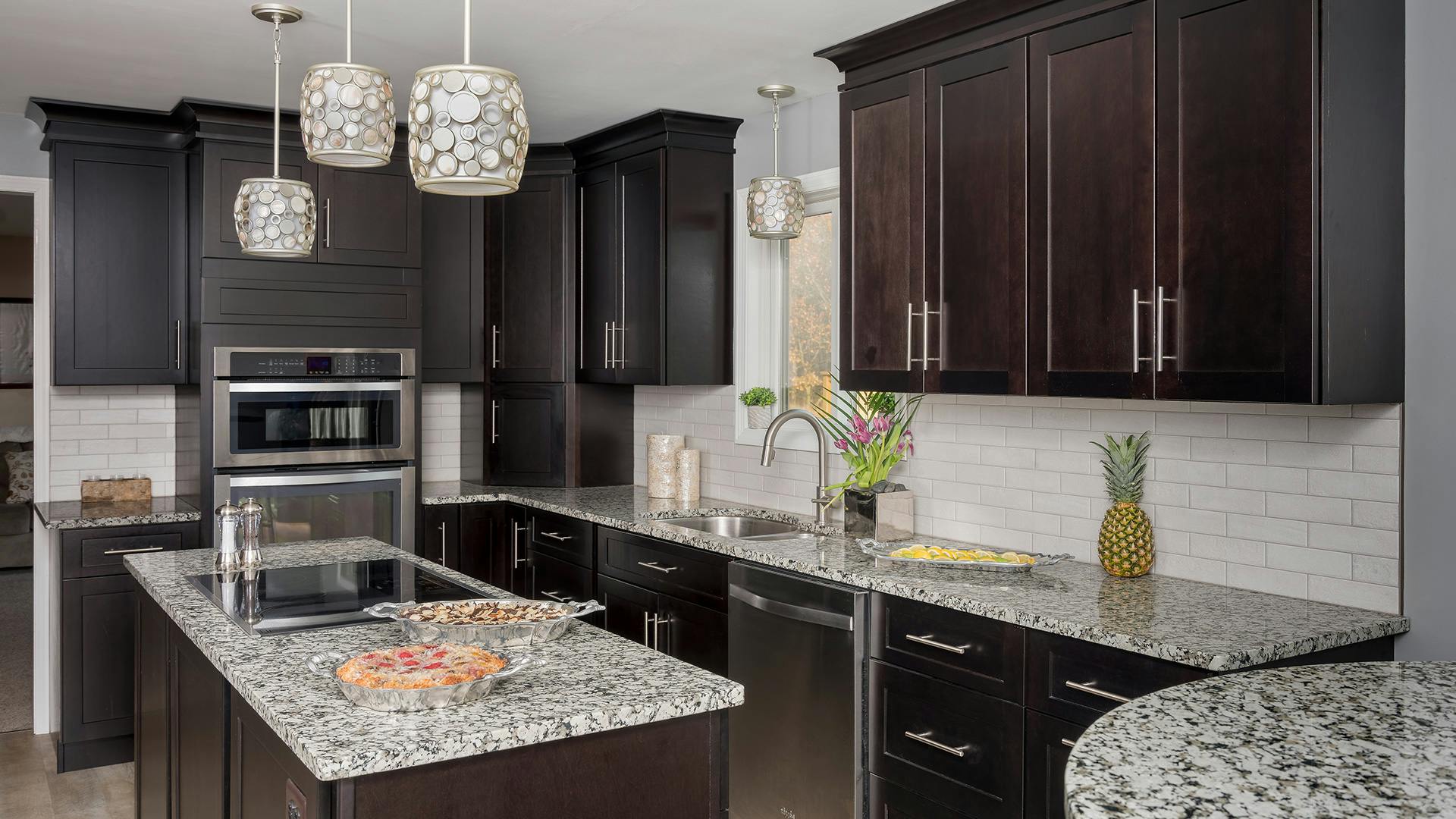 Modern/Contemporary
Open, sleek, and minimalistic are the key elements of a modern kitchen. White is the best choice, though any light neutral color scheme will do, so long as you keep it simple; Two tones at most. Try to keep the décor to a minimum, with small pops of color here or there. Advanced kitchen technology is also a key part of decorating a modern kitchen. Smart fridges, motion sensors, and so on, help modernize your kitchen and give it that futuristic look that a contemporary kitchen is built on.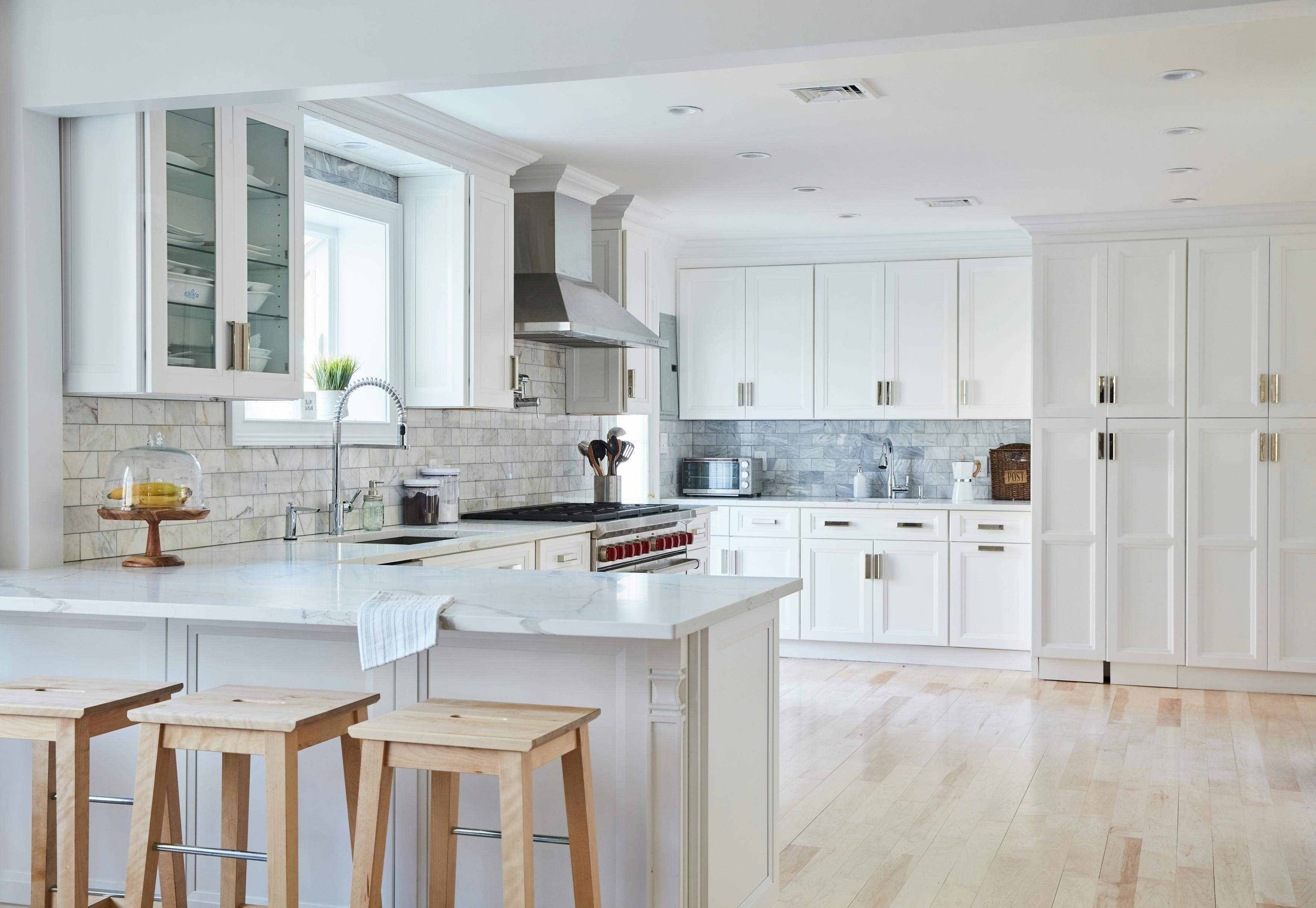 Transitional
Transitional kitchens are guaranteed to be unique. A cross between Contemporary and Traditional, transitional kitchens incorporate one of the mentioned styles into the other to create something new. If you want neat modern cabinets with antique knobs, a traditional kitchen with sleek advanced appliances, or any other mixed and matched style, a transitional kitchen is for you. Just pick your favorite aspects of a modern kitchen and your favorite aspects of a traditional kitchen and put them together like a jigsaw puzzle.
Farmhouse
Looking for a kitchen that says, 'welcome home!' the moment you step into it? Then a farmhouse kitchen is right for you. Farmhouse kitchens epitomize warmth and coziness. They are centered around large banquet-style kitchen tables which makes anyone want to sit and enjoy a good old-fashioned family dinner. And of course, there are those hardwood floors that can handle more than their fair share of muddy boots. Decorate with some open shelves, add a big stove and a farmhouse sink and there you have it. The warmest most inviting kitchen a family could want.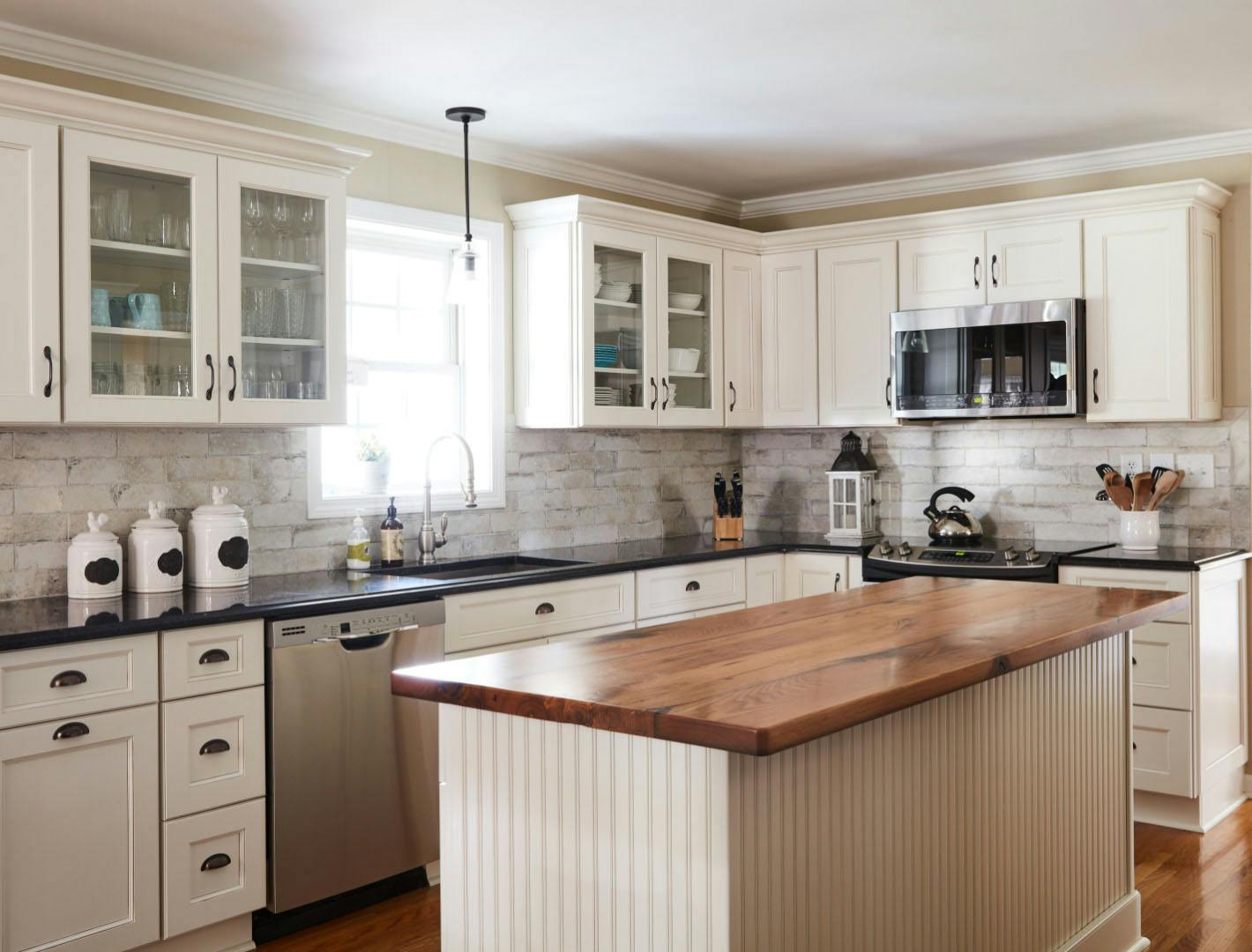 Bohemian
Bohemian-style kitchens play by their own rules. Or, rather, yours. They are defined more by personal style preference than a fixed theme. However, they have certain tendencies. Artsy touches such as patterned wallpaper and tiles, vintage elements, open shelves, house
Glam
Elegant, sophisticated, and luxurious, glam kitchens usually include sleek modern cabinets as a backdrop. They are then adorned with metallic accents in anything from yellow or rose gold to silver to bronze. Usually, A chandelier or some other elegant light fixture is featured over the kitchen island. White marble counters are most common, as they are the most elegant. Instagram ready at any moment, a glam kitchen can be a beautiful addition to your classy home.
Rustic
Log cabin style, rustic kitchens are based around natural materials such as wood or stone, with the added touch of some antiques. Distressed furniture and some open shelves contribute to the homey feeling that is the core of any rustic kitchen. Even a fireplace is not completely out of the question. In fact, it's a welcome touch. A rustic kitchen should feel heartening, comforting, and easy. A place where anyone can sit and feel at home.
Find a theme that speaks to you
Now it's time to think about what kind of kitchen you would like. The heart of your home deserves only the best, so don't rush your decision. Take the time to decide which theme speaks to you the most, to make sure that every moment spent in your new kitchen is a happy memory.
Which of these kitchen themes would you like in your home?