October 10 2019
15 Genius Kitchen Organization Hacks
The importance of organizing your kitchen cannot be overlooked. A clean and uncluttered kitchen space reduces exposure to harmful bacteria, allergens, and dust, with the added benefit of ensuring you always have what you need at hand. Having great kitchen organization will positively impact your entire life, since the kitchen is commonly used not only to cook and eat, but to gather with family, do homework and projects, and many other activities. After designing your ideal kitchen with beautiful cabinets, finishes, and accessories, it is important to make the most out of the space and keep it clutter-free.
Here are 15 simple and effective tips for outstanding kitchen organization:
1. Tupper…ware?
If you own Tupperware, you know the struggle of having a jumbled mess of Tupperware containers and lids in a drawer or cabinet. Tupperware tends to be a mess and takes up lots of space, creating frustration when trying to find matching containers and lids. The best way to organize your Tupperware is to utilize lid holders, which have compartments for easy and neat storage. They also fit nicely into any cabinet space.
2. Utilize Cabinet Risers
Cabinet risers are the best way to use every inch of space in your cabinets. Take advantage of vertical space and stack plates, cups, bowls etc. for a neat and well organized cabinet.
3. Take Advantage of Vertical Storage
Have no space for your baking pans and other awkward sized kitchenware? Slot dividers in cabinets allow for neat storage and easy access to large kitchen items. This makes the most out of your cabinet space and keeps those larger items out of the way.
4. The Best Type of Lazy
The Lazy Susan has a long history of being the ultimate kitchen tool that allows for quick and easy access for hard-to-reach items. With the origin of the name of this smart kitchen feature somewhat of a debate, there is no doubt it is a great addition to any cabinet space.
5. Modular Drawer Organizer
If you're tired of having to dig through your cutlery drawer every time you're looking for a mixing spoon, this kitchen organization tip is for you. Available in all shapes and sizes, the drawer organizer transforms your drawers into a neat and tidy crockery hub, letting you find whatever you need as soon as you need it.
6. Spice Up Your Kitchen
We're sure you've heard of floating shelves. A hanging spice rack ramps up the floating shelf concept as a great storage and design feature. To create a hanging spice rack, install a magnetic strip on the underside of your upper kitchen cabinets and glue on magnets to metal topped storage jars. Using your spices has never been so easy or looked so stylish! You can hang the magnetized spice containers on the wall as well. Check out this great DIY magnetic spice rack for some more ideas.
7. Reconsider Your Knife Block
A knife block typically takes up a lot of real estate on the kitchen counter, which can be a downside when you're low on counter space. Consider hanging a magnetic strip above your prep space for easy access and out of the way storage, clearing up your counter for even more prep room.
8. Rev Up Your Coffee Station
For an organized kitchen, consider crafting a dedicated coffee station that is as beautiful as it is efficient. If you don't have room for a coffee organizer on your countertop, use a drawer closest to the coffee station with modular kitchen organization. Keep the K-cups, straws, spoons, sugar packets, tea bags etc. in a sectional insert for easy access and simple inventory.
9. A Useful Backsplash
Have you ever considered a peg board as a backsplash? All your cooking utensils will be within easy reach by utilizing this unique solution. Install as many hooks as you like and hang your utensils, pots and pans, towels, and whatever other kitchenware you don't have room for in your cabinets. Remember to keep the pegboard organized and neat – you don't want your backsplash messier than your cabinets!
10. Create Zones Within Your Fridge
Dividing your fridge into four basic zones will prolong the freshness of your food while keeping your fridge organized. The upper shelves, or zone 1, should store ready-made foods, leftovers, and herbs because this has the most consistent temperature. The lower shelves, or zone 2, has the coldest temperature, so this is where you would house raw chicken and meat, dairy, and eggs. Zone 3 is the doors of the fridge, where condiments do best, because of the fluctuation of temperature. Zone 4 would be the fruit and vegetable drawers, where it is temperature and moisture controlled.
11. Invest in Clear Bins for Fridge Organization
Another great kitchen organization tool is nixing bulky bags and packaging and putting all your foods in clear bins. You will be able to take constant inventory of what you have, eliminating wasted food and needless spending. Clear bins lend a beautifully neat look, which will make you smile every time you open your fridge.
12. Utilize Over-the-Pantry-Door Hanging Storage
Consider hanging storage if you're short on space in your kitchen. Using hanging storage is one of the best ways to have an organized kitchen and pantry.
13. Label Everything!
Using stylish bins are only one piece of the puzzle – remember to label everything to further enhance your kitchen organization. Labeling keeps the storage unified, helping anyone who comes into your kitchen know exactly where items are stored. Labeling also keeps you from thinking twice about where things belong when unpacking groceries.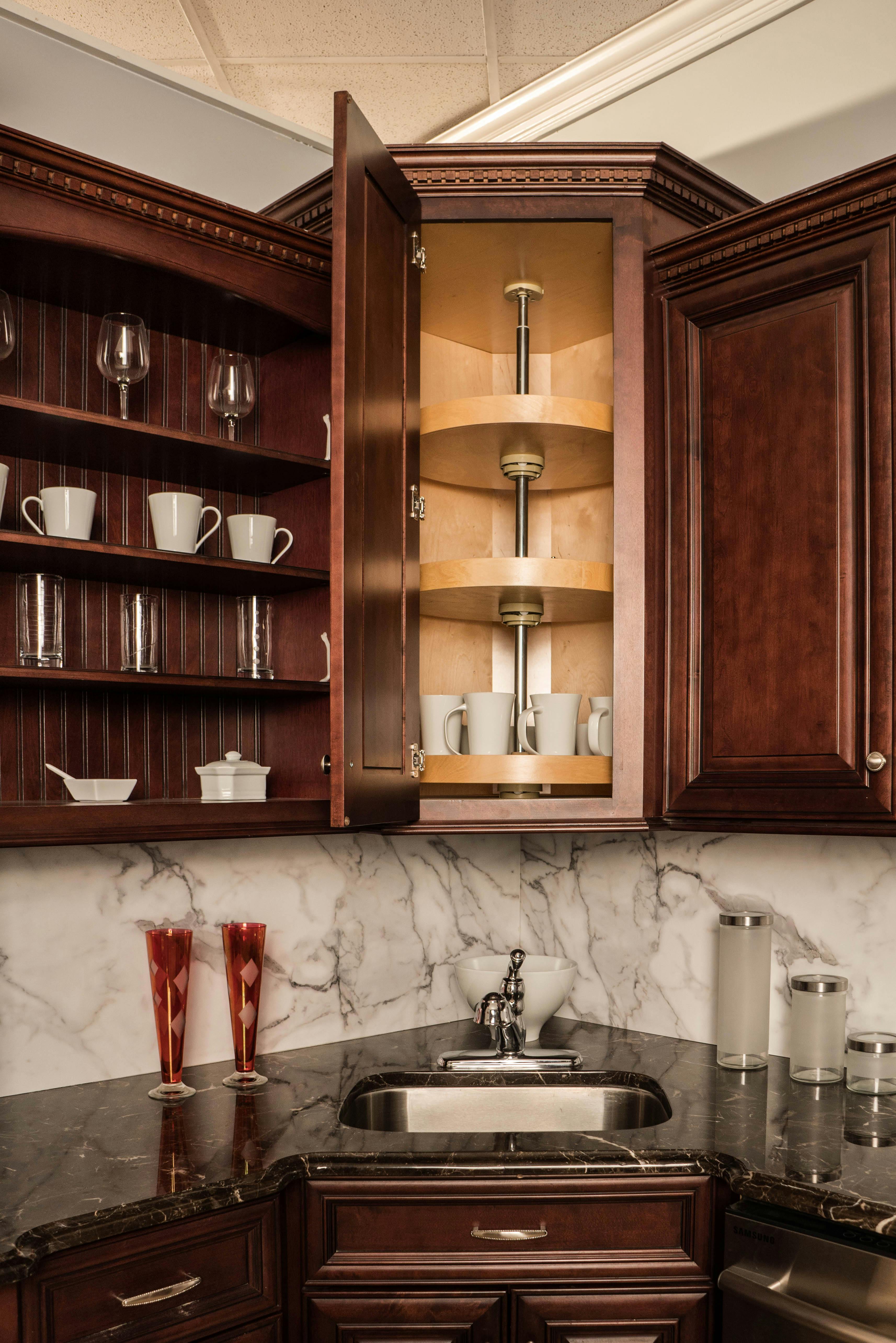 14. Relocate Your Recipes
Do you have a drawer filled with random scraps of recipes or have them shoved into a bag and waste time shuffling through them whenever you cook? Leave the stress out of cooking and create a scrapbook filled with your favorite recipes. Use a small binder with labeled tabs that you can continually fill with your favorite recipes.
15. The Greatest Space Saver – a Rolling Island/Storage Cart
If you have limited kitchen space yet still yearn for an island or additional storage, consider the rolling cart. Either in the form of an island, bar cart, or storage cart, this is a great way to pull out the extra space when needed and then roll out of the way when done. Rolling carts can be used anywhere in the home but are great in the kitchen where limited space means limited functionality.
The Added Benefits of an Organized Kitchen
Did you know keeping your kitchen neat and organized will save you money? With everything in its proper place, you'll be able to take easy inventory of your pantry and fridge items and never buy duplicates or let food grow old in the back of your fridge. Rotating the old foods to the front of your fridge and pantry after grocery shopping will allow you to always use up the foods in danger of expiring first, eliminating food waste.
Once your kitchen is organized, you'll find that everything else falls into place. Whole home organization, manageable schedules, and juggling all of your responsibilities will become that much simpler once you have organization tools in place.
Check out our website to view our drawer and cabinet customizations that make kitchen organizing a breeze!