Fabuwood's virtual kitchen designer
As you already know, there's an overwhelmingly large amount of options when designing a new kitchen space. That's why it is extremely crucial to make informed decisions, and in turn, avoid costly mistakes. Sure, it's quite challenging to imagine all the beautiful style combinations that are possible, but that's where we come in.
Access the free kitchen designer software
Our custom kitchen design visualizer tool will offer you a picture-perfect view of your future kitchen before you get started on the actual construction. We highly recommend using our visualizer to help bring your ideas to life. The tool's various features allow you to reinvent your current kitchen and give you a glimpse into how your chosen elements will come together.
The first step is to choose a layout that best represents your space. With Fabuwood's free kitchen layout software you can remove the guessing game from your kitchen build or remodel. Mix and match cabinet styles and colors with a variety of countertops, backsplashes, appliances, and flooring. Now, get to work!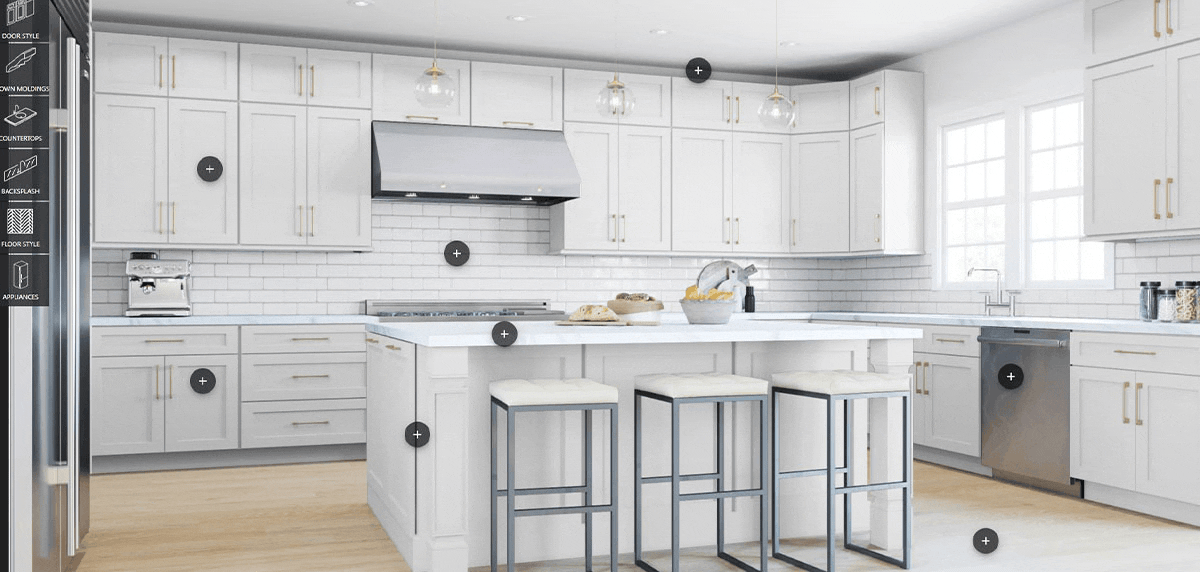 Virtual kitchen designer
What's the most important part of designing your dream kitchen? The cabinets, of course. As the most noticeable aspect of kitchen space, it is important to select cabinets that enhance the aesthetic you are trying to achieve. The purchase of new kitchen cabinets is a big investment for any homeowner, no matter their quality or style. That's why you definitely want to get it right the first time. With our kitchen design visualizer, you can virtually test Fabuwood's different cabinetry collections. You can easily select from all our popular lines; Allure, Value, and Quest. You're on your way to your dream kitchen now...
Countertop Design Visualizer 
With this component of the visualizer, you can easily decide which type of countertop fits your kitchen vision. The tool is equipped with the most popular selections including Formica, granite, and marble in a wide range of colors and designs. Our goal is to help you narrow down your choices before actually making a purchase. When selecting a countertop it is always helpful to think about what color surface you prefer to work on when dealing with food. The virtual countertop tool will definitely help you get a sense of whether or not a pattern is too busy for the rest of your selected elements.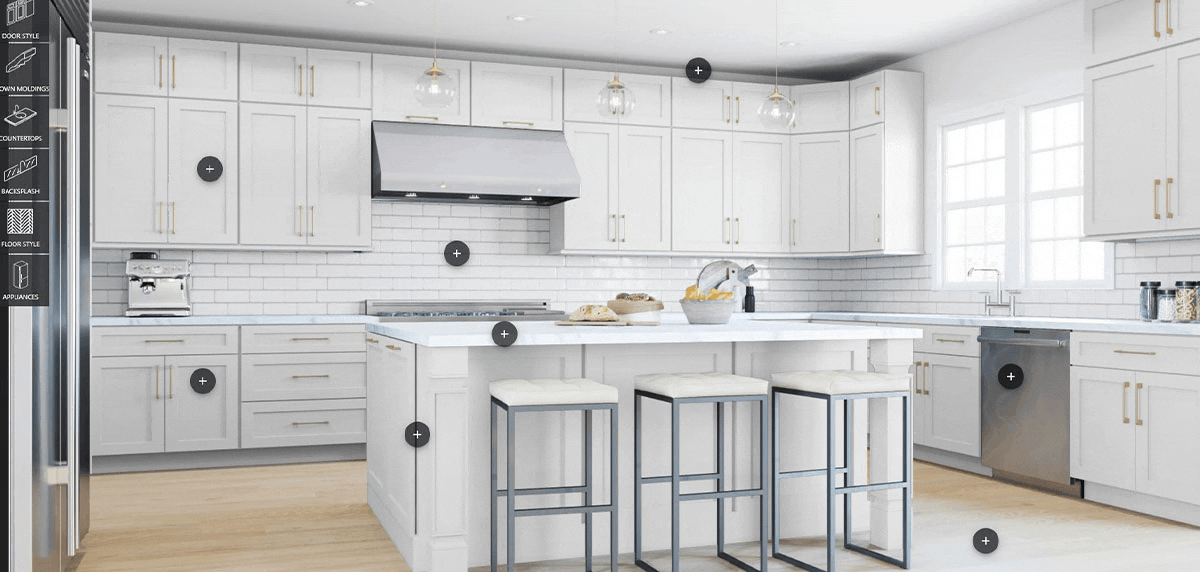 Backsplash Design Visualizer 
While using the visualizer you can try out different colors and options for backsplashes, as well. Backsplashes can be tricky to select because regardless of whether or not you like a particular material or color, they might not always blend well with your cabinet and countertop choices. The general rule of thumb is to choose a simple, muted backsplash, like subway tile if your countertops are busy - and vice versa.
Appliance Design Visualizer 
Choosing your kitchen appliances is a costly decision, so you want to get it right.  Typically, you have three standard colors/styles to choose from black, stainless steel, and white. Black appliances will give your kitchen a sleek, upscale look.  White appliances pair well with light-colored cabinets to create a seamless look. Stainless steel appliances instantly make a kitchen more modern. With the ability to virtually test out these different options, you'll definitely be able to imagine your future kitchen with ease.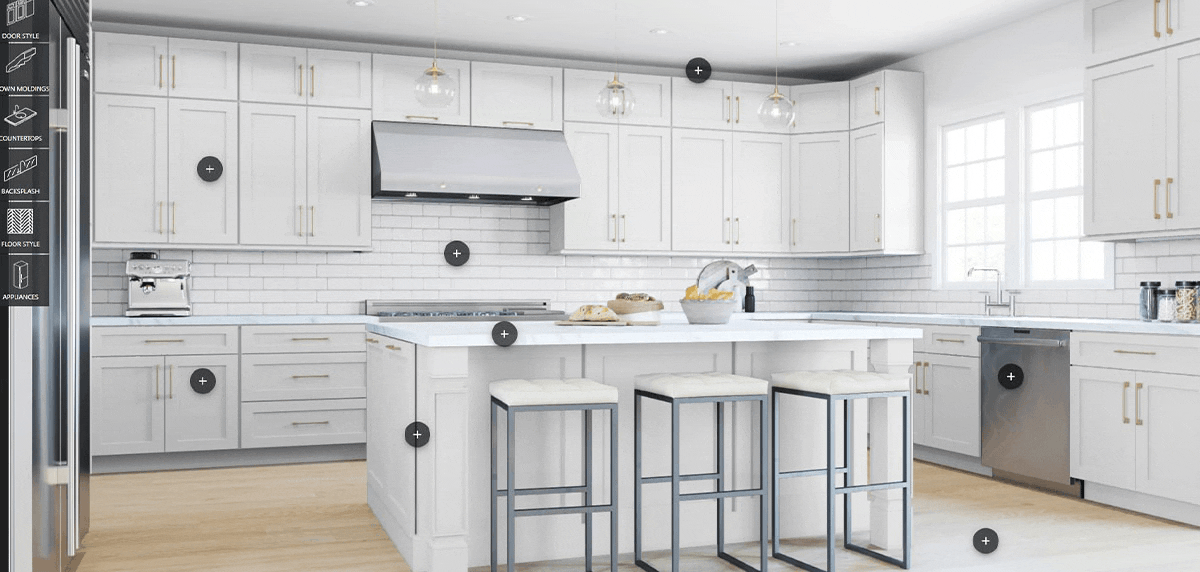 Flooring Design Visualizer 
Another reason that the Fabuwood tool is the best online kitchen visualizer is that you can play around with different floor ideas. Selecting a floor for your future kitchen is essential when tying in all the previously mentioned elements. Our visualizer offers a wide assortment of hardwood and tile options. Yes, hardwood kitchen floors are a thing and they're stunning. You may even find that you like an option that would have been overlooked without the help of the Fabuwood visualizer. 
Release Your Inner Designer with virtual kitchen designs
You don't need to be an architect to start envisioning your future kitchen space. In a few easy steps, you can have your very own kitchen design plan in surprising detail. Never settle for a limited number of options when you can access the large variety of attractive colors/patterns we offer with our tool. With access to these features, you will create stunning renderings that will look great on your screen and even better in your home. 
Once you have some ideas in mind, we can help you schedule a consultation with an authorized Fabuwood dealer in your area. You're the designer – so, let us know what you come up with!