November 25 2019
5 Kitchen trends you should avoid
The year is 2022 and trends are constantly changing, leaving no part of our lives untouched by internet crazes and seasonal fads. The world of kitchen design is no different. So many trends have come and gone it's hard to keep track. It's even harder to keep up with which are must-haves, and which are epic fails. That is why we've devised a list of five kitchen trends you should avoid, as they have outlived their times.
Hanging pot racks
These displays became popular due to the "chefs' kitchen" impression they gave, but their attraction was fast fading. It soon became obvious that these displays not only became visually unappealing after a short amount of time but were highly inconvenient when it came time to put those pots and pans to use. Probably best to just leave hanging pot racks in professional kitchens.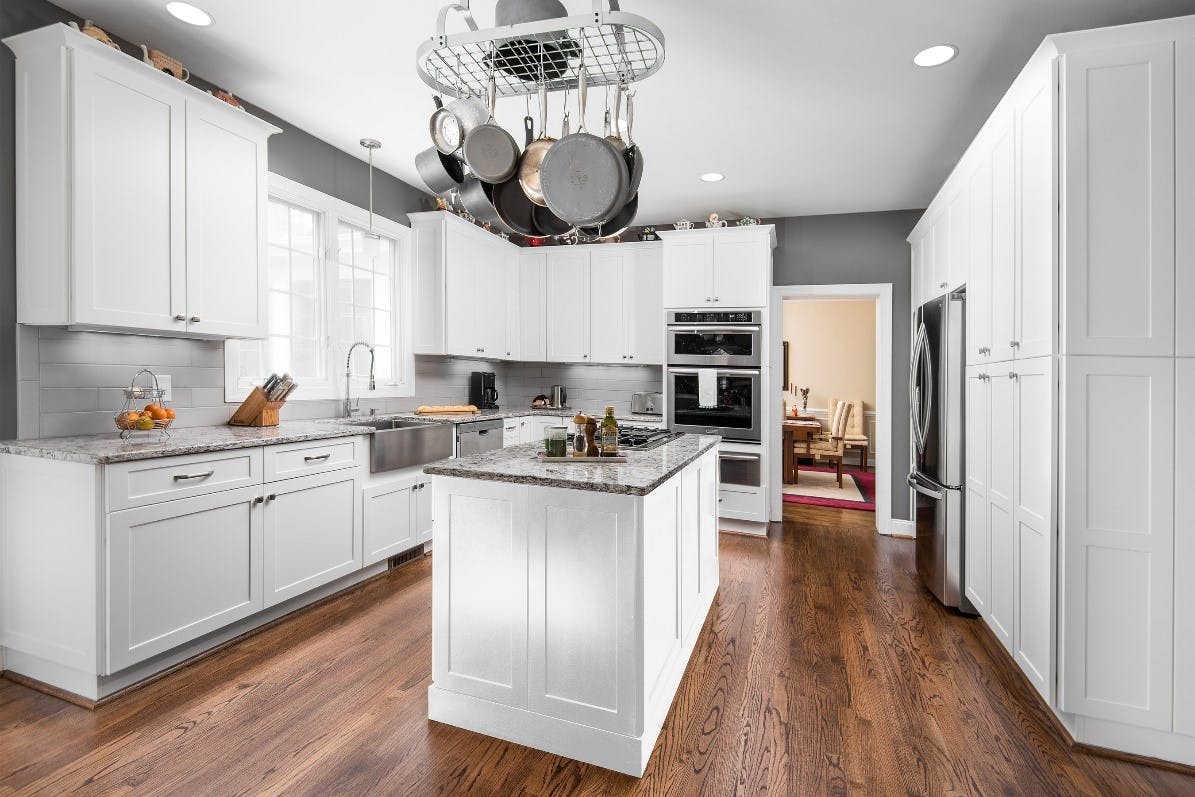 Frosted/shaded light fixtures
While these are perfectly fine for bedrooms, living rooms, or even dining rooms, you should avoid installing them in your kitchens. Frosted or shaded lights give off a softer light, which in some rooms gives a calming effect, while in kitchens looks terribly dreary. Kitchens need as much bright light as they can get, natural or otherwise, to give them life. Bare bulbs would probably be your best choice, to give the room at the heart of your home the bright, lighthearted feel you want it to project.
Tiled countertops: This trend actually started before the days of the internet. A popular choice in the seventies and eighties, it very quickly became apparent to those trying to remake the trend just why it was no longer in style. While tiled countertops may look
Closed kitchens
This one may seem obvious, but closed kitchens have a cramped and uncomfortable feeling that you definitely want to avoid. The kitchen is the room where you spend the most time, especially family time. As such, it should be a room people enjoy spending time in. Open floor plans not only make the room feel bigger but also make the space more inviting and comfortable. Best to have the kitchen open and breezy, so the smell of freshly baked goodies fills your entire home.
1.    Soffits: Soffits are big boxy fixtures installed on top of cabinets to hide the electricity and plumbing. Often, these structures are so bulky they protrude out in front of the cabinets. Not only is this visually unpleasant, but it also makes the room feel smaller, which, as mentioned above, is a phenomenon that should be avoided. Let's leave the top of your cabinets for treats you don't want your kids to find and items that disappeared when you most needed them.
Keeping it Trendy
Try keeping these tips in mind as you start the process of redecorating. Many of these trends are more headache than their worth and will lead to you needing another kitchen makeover almost as soon as you finish the first. Remember, there is such a thing as bad viral; just ask covid.
Which of these trends almost caught you in their trap?