Are Colored Appliances Coming Back?
Color Your Way Through Your Kitchen with Bold Appliances
What is the first thing you notice when you walk into a friend's kitchen? Besides for their choice of cabinets and accessories, the appliances are one of the most eye-catching aspects of any kitchen design. The color of the fridge, stove, and dishwasher all lend to the cohesiveness and stylistic choices of the kitchen. Lately, retro style kitchen appliances in splashy colors have made a comeback in the best possible way. Wondering how colored kitchen appliances became popular and why they've come back today? Read on!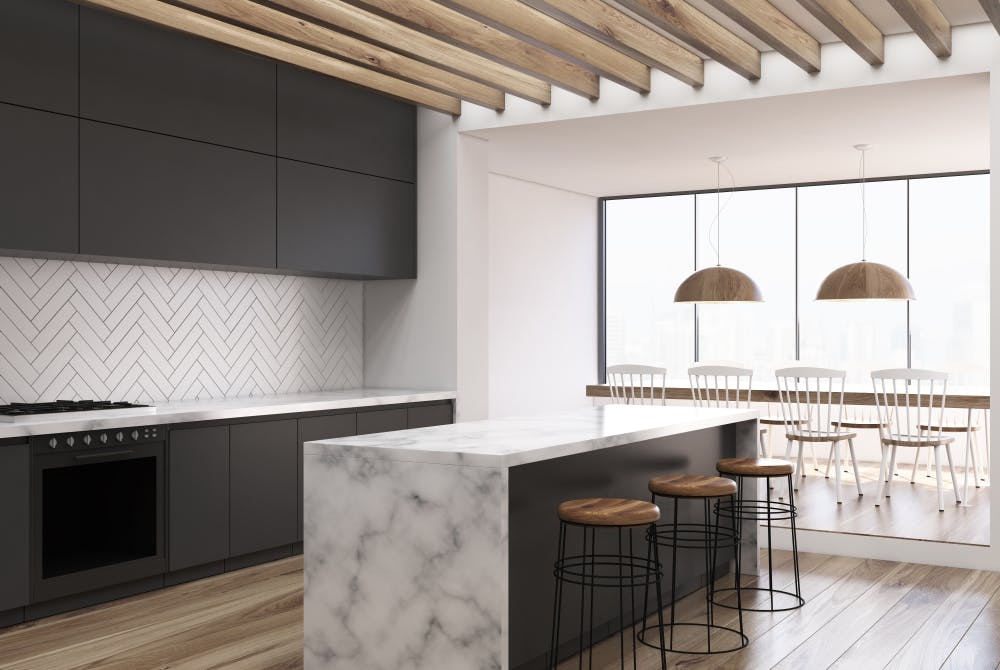 Colored Appliances: A Short History
Kitchen appliances were traditionally white, mimicking the conventional functionality of kitchens at the time. In 1949, the Chambers Company, which was a small stove company based in Indiana, introduced the first colorful kitchen appliances, shocking not only Indiana but the entire country with their dazzling colors. They offered stoves in bold colors like red, black, yellow, and green.
A few years later, when Mamie Eisenhower became first lady in 1953, she famously redecorated some of the rooms in the White House bright pink, the shade quickly becoming known as Mamie Pink. The color took the country by storm, and while it was most popular to have bathrooms covered in Mamie Pink, kitchens also became part of the trend.
A color revolution was at the forefront of the 1950s, with women expressing their creativity and individuality in their home décor. Instead of the kitchen being all about functionality, women now wanted their kitchens to be decorated as a space focused on livability. The current trend was all about thinking of the kitchen as a living space, not just a place to cook. If it was thought of as a living space, it needed to be decorated as one! Thanks to Mamie Eisenhower, vibrant hues were popularized in nearly every home in America.
The trend of bold colors and patterns continued through the decades (anyone remember the avocado green décor of the 70s?). The 1990s brought with it the popularization of stainless steel appliances, which remain in high demand till this day. However, there has been a recent resurgence of retro kitchen appliances and colored kitchen appliances, reminiscent of decades past. If you want to check out some modern takes on retro kitchen appliances, visit the Big Chill website!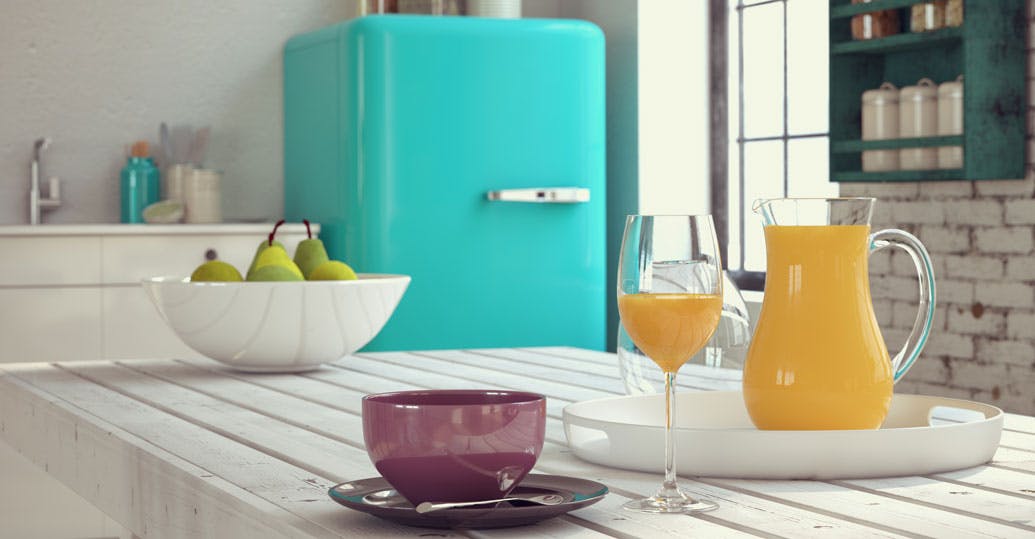 Design Inspiration with Colored Kitchen Appliances
Decorating your kitchen with bright and bold colors can be a bit tricky and look jarring if not done correctly. Here are some design tips to keep in mind while incorporating colored kitchen appliances:
1.      Create a focal point- The first step is deciding which part of your kitchen you want to highlight with the use of bold colors. You can pick a bright color for all the major appliances or just pick one, like the fridge. Kitchen appliances don't have to match in color, but keep in mind that if you mix colors that are too similar, they will end up looking muddied together instead of clean and crisp. Whether you choose one or all the appliances, they will be one of the first things that draw the eye as soon as you enter the room. Keep in mind that once you pick a bold color, keep the colors of the kitchen cabinets neutral so it won't clash or look too busy.
2.      Blend colorful kitchen appliances with their surroundings- If you're thinking of your kitchen as a calming space, avoid colors like bright red or orange and opt for a pastel blue or green for a soothing effect. If you want your kitchen to have a high-end feel, choose one appliance to become the statement piece of the kitchen and create neutral tones surrounding it. Choose finishes and a backsplash that blend well with your chosen color.
3.      Match your kitchen aesthetic- You might wonder what the best color for kitchen appliances may be or if there are certain colors to stay away from. The color choice is completely up to you! However bold and colorful you want to go with your kitchen appliances, just remember to make sure it matches the overall feel of your kitchen. For example, if you have an industrial style kitchen, Mamie Pink might not be the best choice!
4.      Make sure you love the color- With bold colored kitchen appliances on your mind, chances are you already love whatever color you're thinking of. If you're wondering what color of kitchen appliances is most popular, it really depends on your personal style. There is no singular color that is more popular than others. Colored kitchen appliances are a solid investment and can be pricey, so make sure you love whatever you buy!
Get your Creative Juices Flowing
If you're wondering how to get started with designing your kitchen around colored kitchen appliances, here are a few things to think about that can bring your color dreams to reality!
·         If you have a small kitchen, white is still the best bet. If you want to enhance your space to its fullest potential, think bright and white. Bold appliances can draw the eye downward and make the space seem even smaller. If you're set on colored appliances, try picking just one muted tone such as a pastel or light color as the focal point and keep everything else white.
·         If you're looking for what is the most popular, stainless steel still reins supreme. Now it comes in white and black as well as copper and gold if you're looking for an updated look to the typical stainless steel.
·         Don't think you have to stick with one color for all the appliances- feel free to mix and match. The one thing to keep in mind is to avoid shades of the same color, since putting them together can make the kitchen feel off balance and dingy.
If going with boldly colored kitchen appliances is too daring of a move for you, try incorporating bright colors with smaller appliances like toasters, microwaves, pots and pans, and Kitchen-Aids. You can still get the same effect in your kitchen without the price tag and commitment.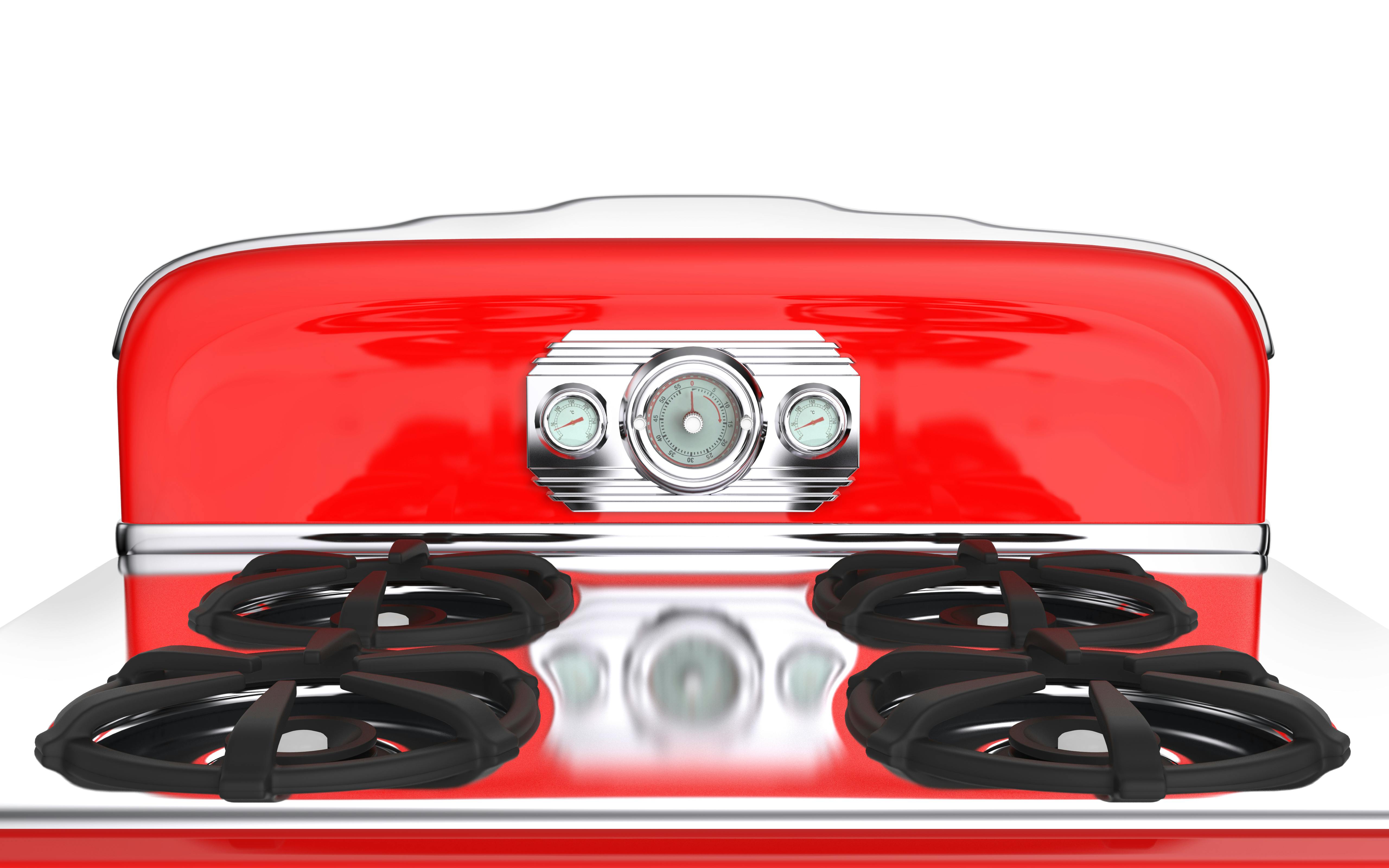 Using colored kitchen appliances is a confident choice, so more power to you for taking the plunge! Using the right colors can elevate your kitchen to a whole other level. You can go retro with some bright colors like Avocado Green or Harvest Gold or use more modern colors for an updated nod to the past. Remember, great appliances are the perfect complement to great cabinets, so choose the color for your appliances that complement your cabinet style. Try using cabinets like our new frameless Illume cabinet for a sophisticated and streamlined aesthetic or our Luna slim shaker cabinet for a clean and crisp look to your kitchen.
Let us know how you would use colored appliances in your kitchen in the comments below!