KBIS 2019
Remember our award-wining booth from last year? Wait and see what we have in store this year.
A convention you can't miss.
KBIS 2019 (February 19-21) is sure to set the show floor on fire, all amidst the grandeur of one of the most desired travel destinations, Las Vegas! Wake up to all the perks that the show offers – introduction to state-of-the art products and designs, new ideas and inspiration for your showroom, business-centric conference sessions and plenty of networking ops with peers and manufacturers.
With 30 spectacular kitchen displays, a larger-than-life cabinet model and a big rebrand reveal, Fabuwood took the KBIS show floor by storm last year! Designed to perfection and executed with style, our booth went on to bag the overall Best Booth award. What do we have in store for KBIS 2019? Watch out for displays that challenge the boundaries of design and a booth that offers yet another experience of a lifetime!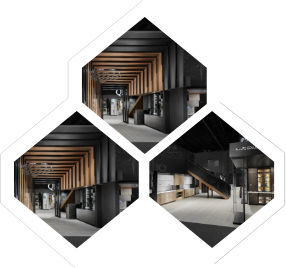 Why attend KBIS?
Architects
Learn about trending architectural details at KBIS while building essential skillsets to expand your business and design ideas. Meet with the brightest architectural minds to exchange ideas, discuss problem points and equip yourself with the tools needed to plan your next project.
Builders
Your KBIS pass will also grant you access to the International Builders' Show (IBS) which is held at the same time in the convention center. Optimize on networking ops with 85,000+ residential design and construction professionals as you explore the latest in the builders' world.
Dealers
Strengthen your dealership with better customer service, sales and problem-solving strategies through KBIS offerings! Narrow down on products that will set your showroom apart while giving your clients a fabulous and functional space. 
Decorative plumbing and hardware professionals
If turning around an average space is your strength, you'll love KBIS for sure! Interact with fellow decorative plumbing and hardware professionals, and gain insider insights on specialized sink and faucet designs, eclectic plumbing accessories, smart toilets, luxury showers and more.
Designers
Stay on top of the latest innovations in appliances, hardware, materials and more. KBIS offers many designer-centric sessions on the show floor as well as the conference program. Interact with industry experts to gather new ideas and find solutions for your design challenges.
Distributors
Compare a variety of products offered by hundreds of manufacturers and suppliers side-by-side. Interact with KBIS exhibitors to discover the right products for your business…and find out what gives you the best value for your money.
Home Centers
Face-to-face interactions with top manufacturers and suppliers at KBIS will help you forge new relationships and develop your business prospects. Sessions on sales and marketing strategies are bound to help you position yourself more prominently with customers.
Installers
If you're looking for products that make installation a breeze, KBIS can do wonders for you. Explore thousands of innovative products and information sessions that can help you take your business to the next level.
Remodelers
A remodeled space can transform your customer's quality of life. Equip yourself with new-found inspiration and ideas by networking with KBIS exhibitors and attending product demos. Keep up with the latest trends by making use of remodeler-focused show floor and conference sessions.
80K+
social media followers
Unlimited opportunities to learn, network and be inspired!
Redeem your free KBIS pass
Fabuwood is very happy to offer free KBIS passes to our valued partners and friends from the industry. Yes, we'd love to see you benefit from all that the show has to offer.
With our free pass, not only will you get to experience KBIS, you can also maximize your exposure by taking advantage of a cost-free visit to IBS. Two big shows, free of cost, all under one roof –  it doesn't get better than that!
What are you waiting for? Redeem your free KBIS pass now.