December 02 2019
5 most popular countertop materials
Picking the right countertop material is vital when renovating your kitchen. It's important to choose a material that is durable enough to handle the wear and tear of kitchen life while matching flawlessly with your color scheme and kitchen style. With that in mind, here is a list of the top five countertop materials so you can pick the one that is right for you.
Quartz
Quartz is favored for its wide variety of colors, which is what sets it apart from other countertop materials. As a synthetic countertop material, quartz is non-porous and as such does not need to be sealed, making it easy to clean. This also means Quartz will not absorb water or other spills and grow bacteria. Quartz is also able to be personalized since the material is dyed when It's manufactured. Extremely durable and both scratch and heat-resistant, quartz is a great pick for any kitchen.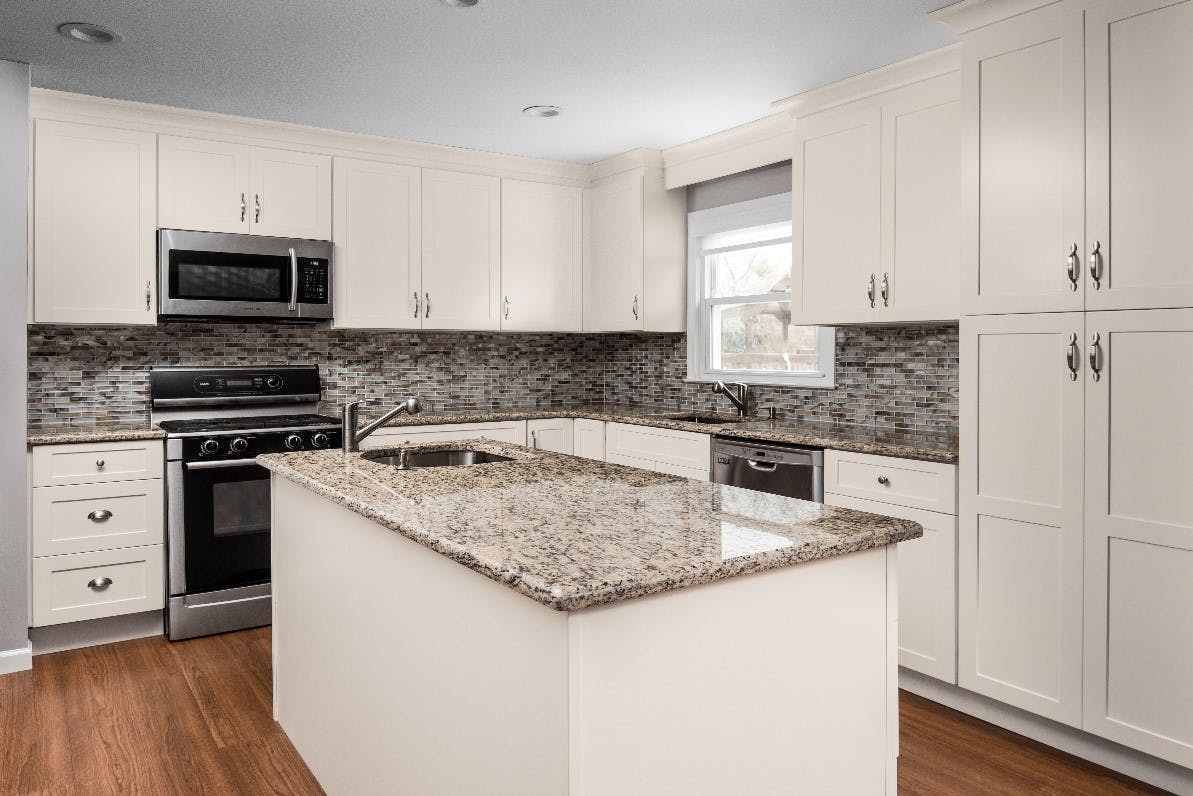 Granite
Considered to be higher-end than some other materials, granite comes in varying shades ranging from light to dark, so you're not limited in color despite opting for an all-natural material. However, as an all-natural material, granite is porous and needs to be sealed. Once sealed, it's heat resistant (to a degree) and extremely durable. A true natural beauty, granite countertops beautifully complement a traditional kitchen.
Marble
As far as luxury goes in the countertop business, marble epitomizes wealthy living with an elegance that will appeal to anyone interested in a glamorous kitchen. Marble is incredibly heat resistant and can stand almost any degree. However, it's a natural material and therefore is extremely porous, more so than granite, which means it needs to be sealed annually to maintain its beauty and function. This also means that no two slabs are alike, and with marbles' gorgeous veining, you will be sure to have a unique countertop ideal for a glam kitchen.
Butcher Block
A natural and earthy option, a butcher block countertop, is made up of slabs of wood and is an excellent choice for a rustic or farmhouse-style kitchen. Despite its name, butcher's block is the softest countertop material and as such can be easily restored in the event of damaging accidents. There is also a wide variety of woods to choose from, depending on what shade of wood you prefer. If you want a kitchen that's homey and warm, a butcher's block countertop is the perfect rustic touch.
Soapstone
Last, but not least, we have soapstone. Because It's mined in smaller pieces, soapstone is a great option for a kitchen island countertop, as it may have seams when used for larger surfaces. Soapstone countertops are heat resistant, and, despite being made of a natural material, non-porous. They are also extremely resistant to staining. The best part is that small scratches are easily buffed out by a bit of sandpaper. Soapstone comes in white, grey, navy blue, and black, so you have multiple choices to match most color schemes. If you're the kind of person who wants to be able to pull a pan out of the oven and dump it right down on your countertop without concern, soapstone is the best choice for you.
Pick a countertop
All these materials make beautiful countertops, but some may be a better fit for you than others based on their qualities. Remember, the countertop is the cabinet's best friend, and as such is a key factor of every kitchen makeover.
Which of these countertop materials do you think would fit best in your kitchen?