July 27 2022
Semi-Custom VS. Custom VS. Stock Cabinets
It's no secret that cabinets are the focal point of the kitchen and are therefore at the forefront of renovations. And since creating a new kitchen is a one-time opportunity for most people, it's important to make informed decisions when choosing your cabinets. Before you even start thinking about door styles and finishes, you first need to decide between custom, semi-custom, or stock cabinets. We're not afraid to say it:  semi-custom cabinets are our personal favorite as well as our customer fan-favorite and were excited to tell you why.
The benefits of Semi-Custom Cabinetry
Semi-custom cabinets are a perfect balance between custom and stock cabinets. At Fabuwood, we pride ourselves on providing products that will bring your dream kitchen to life, and by supplying you with the highest quality semi-custom cabinets available, we do just that. We believe that by creating the personal feel of custom cabinets with lower costs and shorter lead times, semi-custom cabinets are a perfect win-win. Don't believe us? Keep reading to see why we recommend semi-custom cabinetries for all homeowners exploring the options for their kitchen remodel.
The 3 Choices:
Stock:  
Stock cabinets are all about speed, simplicity, and savings. This is beneficial in some ways; but also has its downsides. Mass production makes for a short lead time, meaning your cabinets will often be express-delivered or immediately available for pickup so your project doesn't need to wait for your cabinets. However, mass production also means that the quality of your cabinets may not meet your desired standards. Their simplicity may help minimize the stress of decision-making, but it also means design options are limited. Stock cabinets are available in a limited variety of predetermined styles, constructions, and finishes, leaving very little room for creativity. Lastly, stock cabinets are the most economical option, allowing you to transform your kitchen without exceeding your budget. However, this often causes a lack of quality and personal touch. Ultimately, stock cabinets will help you create your new kitchen quickly, simply, and at a low cost.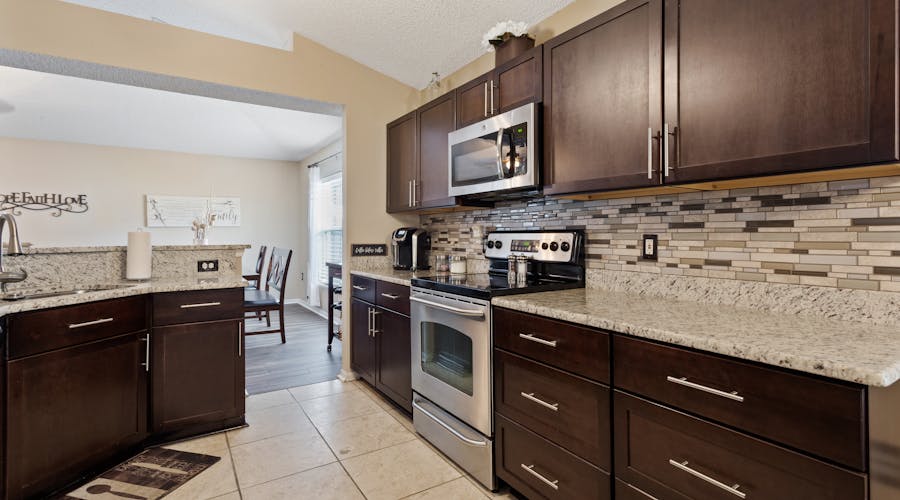 Semi-custom:
Semi-custom cabinets are the perfect middle ground. They provide many of the benefits of both custom and stock cabinets while avoiding most of their downsides. The cabinet carcass, or box, is built of sturdy high-quality materials, generally put together on a specialized assembly line. This construction process is similar but more advanced than the assembly lines responsible for the construction of stock cabinets. This is necessary because semi-custom cabinets can be built in any height, depth, and width the customer requires. They can also be otherwise moderated during construction to best accommodate the customer which allows for extra storage and ensures that your cabinets fit seamlessly in your kitchen layout. Semi-custom cabinets are available in an endless array of finish options and colors so your kitchen will be unique; of course, the more extravagant finishes will come at an additional cost. That being said, they are still far more economical than custom cabinets, and while they may not cost quite as little as stock cabinets, the various benefits make the difference in price well worth it. These customizations are available within a surprisingly short lead time, which varies based on how many customizations you chose, another great advantage of choosing semi-custom. Overall, these cabinets are the perfect way to create a beautiful, customized, and budget-friendly kitchen.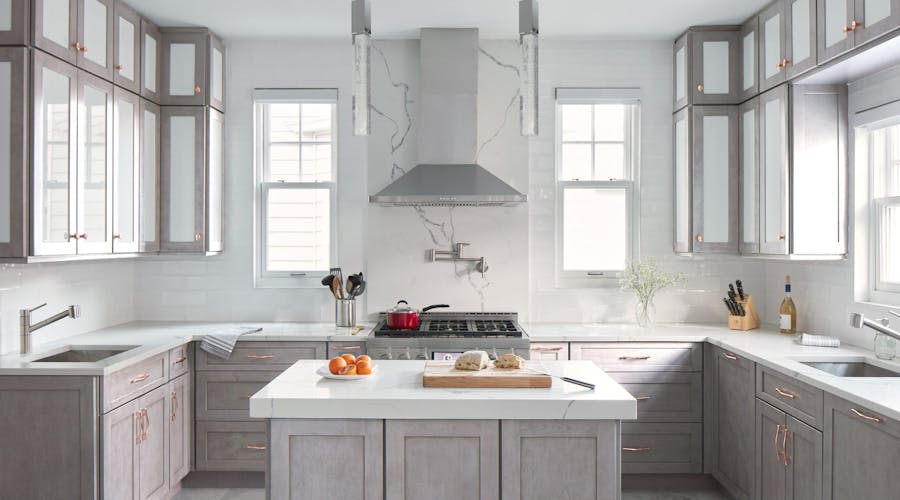 Custom:
There's no denying that custom cabinets are the most luxurious option available. You are essentially given the ability to design the cabinet yourself, from start to finish. If you or your designer can envision it, a custom cabinet company can build it. This means they will fit seamlessly in any kitchen no matter the size or layout, and they will have just the right amount of storage space that you require. Being allowed to choose from a variety of expensive materials ensures that your cabinets will be of the highest quality available. The limitless finishes ensure that your kitchen will be completely one-of-a-kind, representing your personality and sense of style in every detail. However, all these bells and whistles come at a steep cost and therefore require a large and flexible budget. Custom cabinets also have the longest lead time, meaning your renovation will need to stand by and wait for your cabinets to be built. If you have the time and money to spend and want a luxury kitchen like no other, custom cabinets are for you.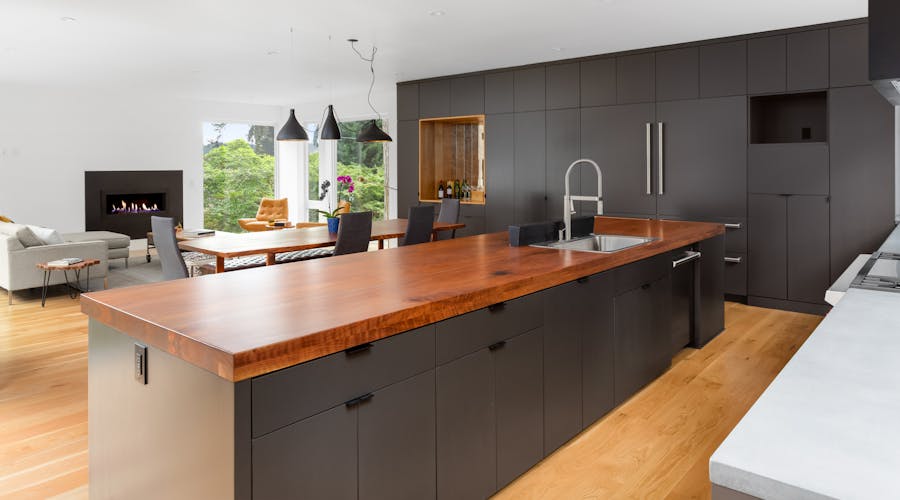 Why Choose Semi-Custom?
We've created a visual comparison between custom, semi-custom, and stock cabinets to help you fully understand the pros and cons of what each has to offer and how it compares to the others.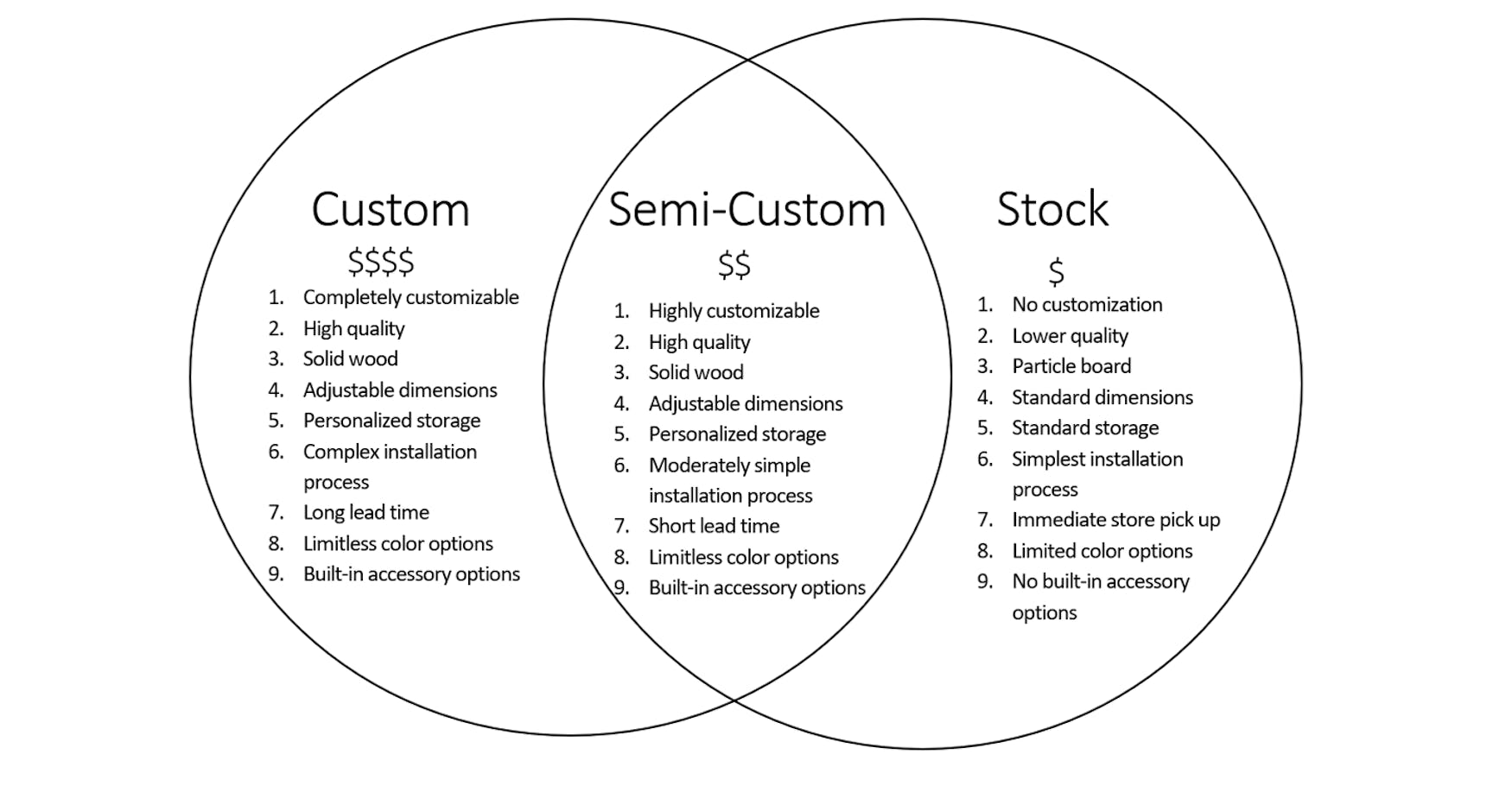 Fabuwoods Customization Opportunities
At Fabuwood, the only limit is your imagination. Our semi-custom cabinets can be modified to accommodate almost any customer request. As long as you have a clear visual representing your idea, Fabuwood will put its best team on the job of bringing it to life. Listed below are some of the most popular customizations we offer, based on consumer requests. Or as we like to call them, our Fabuwood favorites.
1. Stacked Cabinets: Stacking cabinets is a very popular design choice for many reasons. For one, double-stacking allows you to utilize every inch of space in your kitchen, providing maximum storage. They also add a lot in the way of design by providing a pleasing modern aesthetic and creating the opportunity for extra lighting effects and cool displays.
By placing a new face frame on the existing boxes or adding a new skin, Fabuwood ensures that our stacked cabinets are seamless. This saves you the hassle of installing decorative trims or implementing other tricks to hide the pesky seams. This modification allows you to double-stack any Fabuwood cabinets to take create a beautiful and functional space.
2. Lift-up Cabinet Doors: Lift-up cabinet doors are ideal for small kitchens since they don't require as much space to open as traditional cabinets. Many homeowners enjoy them because they can be kept open while cooking for easy access to ingredients since they don't protrude outward creating a risk of headbanging. Lift-up cabinet doors are also considered a modern alternative and provide a contemporary visual aesthetic.
All Fabuwood wall cabinets can be transformed into lift-up cabinets by utilizing Blum's lift-up hinges. This allows you to achieve the desired function without giving up the coordination of your Fabuwood kitchen.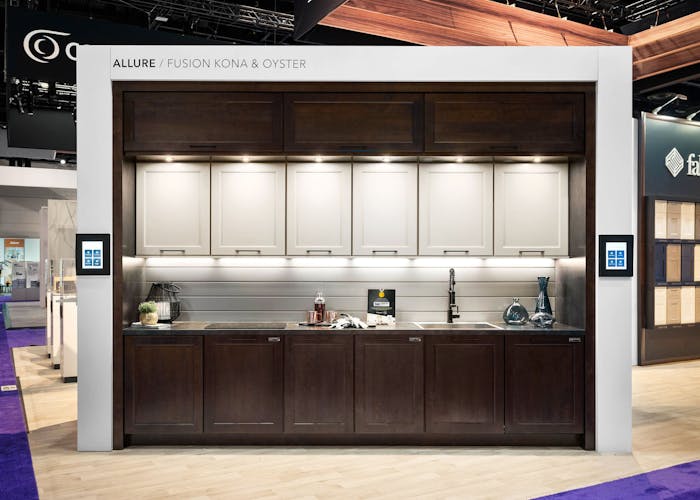 3. Laminate Interior: Laminating the interior of your cabinets is a great, and generally inexpensive, way of adding a subtle touch of elegance to your design. Especially useful for those who are installing open cabinets or glass-fronted doors, finishing the interiors keeps your kitchen displays beautiful, cohesive, and classy.
Fabuwoods offers the option of laminating the interior of our cabinets to match the exterior, so your glass-fronted or open Fabuwood cabinetry will look polished inside and out.
4. Bench seat: Bench seats are convenient, comfy, and stylish. They are most commonly found in mudrooms but are a great addition to the function and style of any room. Especially when the bench seat comes equipped with extra storage space such as drawers in the base and some colorful throw pillows for an added pop of color.
Per request, Fabuwood will create a bench seat with either one large cabinet drawer or two smaller ones. This way your bench seat will be coordinated with your cabinets for a beautifully cohesive design.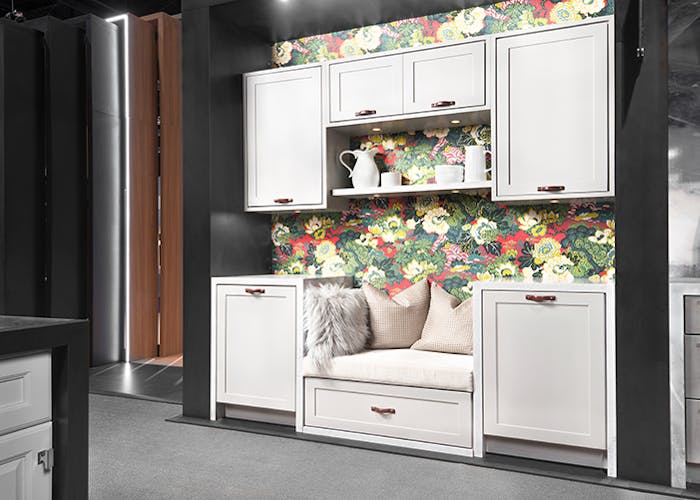 5. Broom Closet: We all know the struggle of finding a fitting place to stash your broom so it's ready for grabbing in case of sudden spills, but not just lying around creating clutter. What if there was a simple solution that could help you keep your space organized. Adding a broom-closet modification within a pantry cabinet allows you to keep your brooms tucked away yet accessible to keep your space neat and clean.
Fabuwood will modify our pantry cabinets to create a broom closet with plenty of storage shelves. A convenient extra for your kitchen, laundry room, or bathroom!
These are only a few of the many customizations Fabuwood accommodates. Remember, if you're not sure we can create it, just ask! Our goal is to create the kitchen of your dreams, so if you can imagine it, chances are we can create it.
And the winner is…
Stock cabinetry is all about speed, simplicity, and savings. Custom cabinetry is all about luxury, uniqueness, and style. Semi-custom cabinetry is about all of the above. Ready to accommodate your layout, style, time, and wallet, semi-custom cabinets are the perfect transformative centerpiece to your beautiful new home.