Modern vs. Traditional vs. Transitional Kitchens: Which Style is Right for You?
How would you describe your kitchen aesthetic? Modern? Traditional? Maybe a mix of both? Are shaker cabinets your thing, or do you prefer the modern appeal of frameless slab style cabinets? What used to be a strictly utilitarian space with no thought to style, the modern-day kitchen features unique, one-of-a-kind designs and layouts completely based on your individual taste. If you're wondering which kitchen style suits your tastes, read on to find out the key differences between modern, traditional, and transitional designs!
Kitchens Throughout History
The earliest kitchens that resemble today's styles date to the late 1800s when the most important aspect of the kitchen was its function. Separated from the rest of the rooms in the house, the kitchen was closed off so its smells and sounds wouldn't permeate the rest of the home (although, who doesn't love the smell of great food?!).
The 1890s brought about the first kitchen cabinet called the Hoosier cabinet. It was an all-in-one free standing work area complete with cabinets and a small workstation. Kitchen sinks were unlike what they are today – sinks were freestanding and built of porcelain and steel, making them impossible to move once they were installed. With the first fridge being more expensive than a Model T car, early kitchens were ultra-simplistic with just enough function to get by.
What is a Traditional Style Kitchen?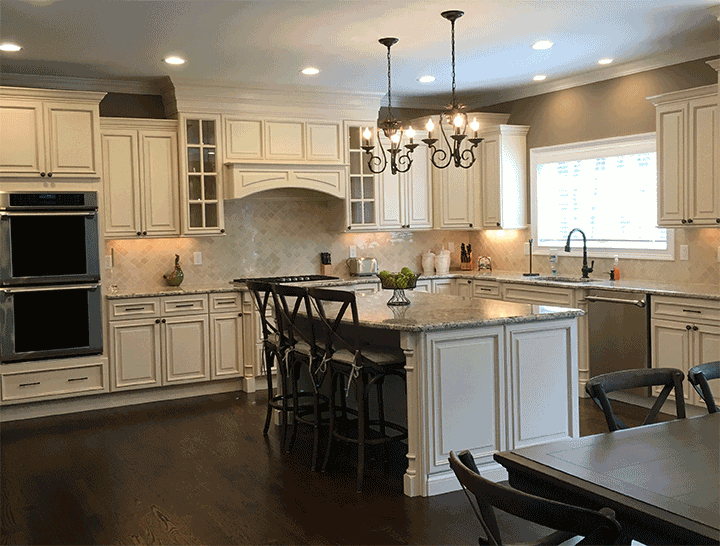 As times modernized, built-in cabinets replaced the freestanding Hoosier cabinet, and the height of kitchen counters and cabinets became standardized. The post-Second World War years brought with it bright colors and distinctive trim. The kitchen was also moved to the front of the home and open to the living and dining room, reflecting the modernization of the times. The kitchen was now thought of as a place for friends and family to gather, moving beyond the strict functionality of the past.
Unique design choices defined the subsequent decades, such as the laminate flooring of the 1950s and the flamboyant, non-coordinating colors of the 1970s. Now, traditional kitchens mix form and function for an individualized, subtly stylish kitchen, filled with personalized touches.
Shaker style cabinets are the go-to cabinet choice for traditional style kitchens. Having been a popular traditional style since the 1800s, Shakers are a timeless choice for a timeless kitchen.
Modern Style Kitchens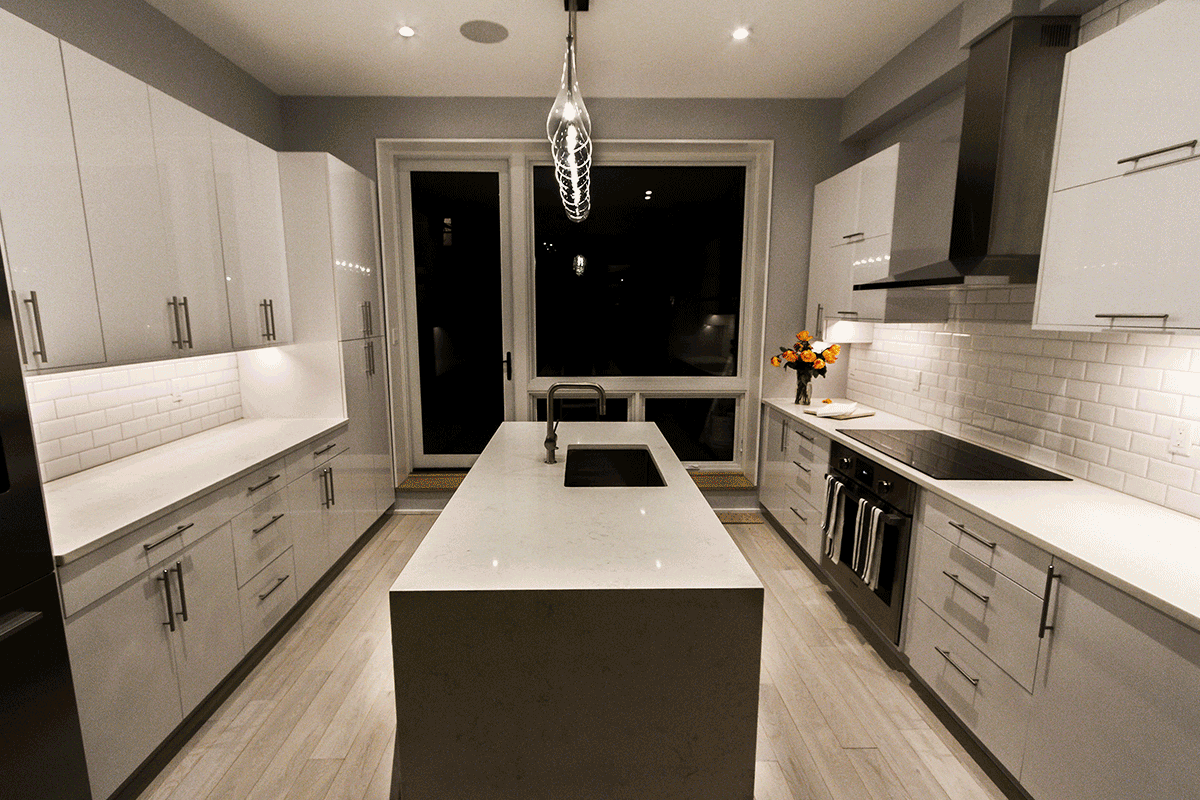 Modern style kitchens are characterized by sleek, minimalist appeal, open spaces, and simple décor. The streamlined look, as typified by frameless cabinets like our Illume cabinetry line and very simple hardware, speaks to a distinctive taste. Modern style kitchens have been in vouge the past few decades and have appealed to minimalists and those wishing for a simple and streamlined look to their home.
Transitional Kitchens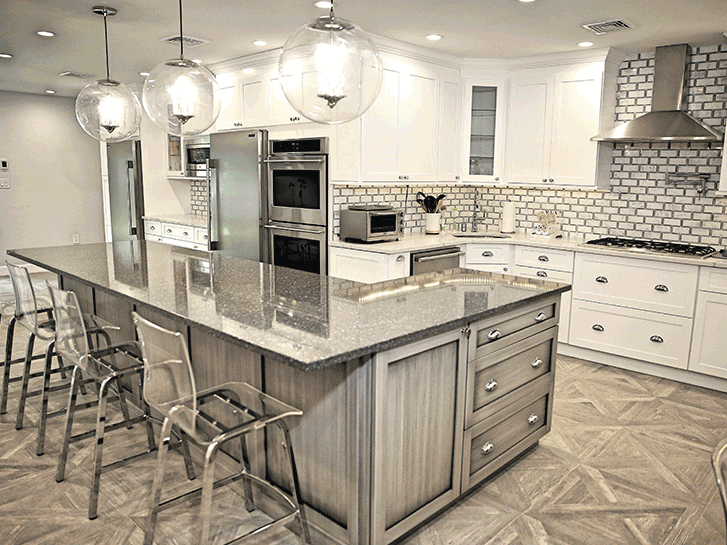 Transitional style is the perfect blend of modern and traditional, creating a fresh yet warm feel to the kitchen. This style gained popularity in the 1950s as a response to the ultra-modern styles at the time. Taking a bit of modern and a bit of traditional creates a clean, simple elegance for an enduring kitchen design. Transitional kitchens give you the ultimate flexibility and freedom since you can incorporate however much or little of modern and traditional aspects you wish. Shaker style kitchen cabinets are the most popular choice for transitional kitchens, with modern pulls and hardware the go-to way to modernize the widely traditional cabinet. For a modern take on the shaker cabinet, our newest Luna cabinet style is the ideal cabinet for a transitional kitchen.
Traditional, Modern, and Transitional Kitchen Design
Now that you know what defines each kitchen design, it's time to get out the paint swatches, hardware, and lighting and accessorize! Here are some helpful tips to keep in mind when styling your kitchen with your own unique flair:
Traditional Kitchen Design Tips
Imbue your kitchen with warm and cozy vibes by incorporating simple design with bold accents. A clean, white kitchen with shaker style cabinets accented by a bold island color or paint color on the walls is a perfect way to shake up a traditional design. Simple granite counters, classic lighting options, and cabinets with or without glass front doors are all ways to create a great traditional kitchen design. Remember, traditional doesn't mean boring!
Tips for Modern Kitchen Designs
Creating a modern kitchen aesthetic is primarily about the cabinets. Frameless cabinetry will be the focal point of the kitchen, bringing out the streamlined, cohesive look of the modern cabinet style. Simple hardware and natural accents help marry the cabinets with the rest of the kitchen design, while monochromatic colors keep the entire kitchen looking consistent. A modern kitchen aesthetic is based on a clean, simple look. No frill, nothing fancy. Just simplistically modern!
How to Create a Transitional Kitchen Design
Transitional design is all about mixing the old with the new, the traditional with the modern. Balancing the sleek with the comfort of traditional means incorporating fresh takes on traditional design. Creating a white kitchen while mixing in modern finishes and hardware is the perfect transitional look. Installing a classic farmhouse sink in a modern stainless steel finish or using modern materials on old furniture are both ways to marry traditional and modern into transitional design. It is the most personal type of kitchen design, allowing you to take your favorite elements of traditional and modern design and mixing them to fit your own unique aesthetic.
 Which Type of Design Speaks to You?
So now, the big question…which type of kitchen design best describes you and your personal style? Creating the kitchen of your dreams means building a space that not only suits your taste but is somewhere you will be happy spending a lot of time with friends and family. Here are some things to think about when deciding which style fits you best:
·         Is your closet filled with basic, classic pieces that you've had for years?
·         Would you consider your style classic and timeless or contemporary?
·         Do you love keeping up with the latest trends?
·         Do you prefer creating your own unique style, taking bits and pieces from other popular styles?
If you want to have some fun while deciding your kitchen design, try this style quiz from Houzz! Let us know in the comments what kitchen design style suits you best!