November 07 2018
How to pair kitchen countertops and cabinets
Creating a cohesive kitchen starts with choosing the right materials in coordinating colors. When you're putting together your kitchen, you'll need to choose your cupboards, countertops, appliances, and flooring in styles that show off your taste, and the way that you mix and match the colors and materials will have a direct correlation to the type of vibe that your kitchen gives off. There are a few ways that you can coordinate your countertops and cupboards to create an appealing aesthetic.
Color
The colors that you choose will be integral to the final look of your kitchen. This choice can shape your space into something fun and light-hearted or elegant.
The Color Wheel
When you're mixing and matching color combinations, they can coordinate in either complementary, analogous, or neutral combinations. On the color wheel, complementary color combinations are the colors that are directly opposite from each other. For example, blue is complementary to yellow. Analogous colors are those that are directly next to each other. For example, green, yellow, and orange are analogous to each other. You can also add in neutral colors, and these are often the basis of kitchen design. Neutral colors include grays, blacks, whites, and browns, and they have a calming effect, especially when paired with more vibrant colors.
Commonly Used Color Combinations in Kitchens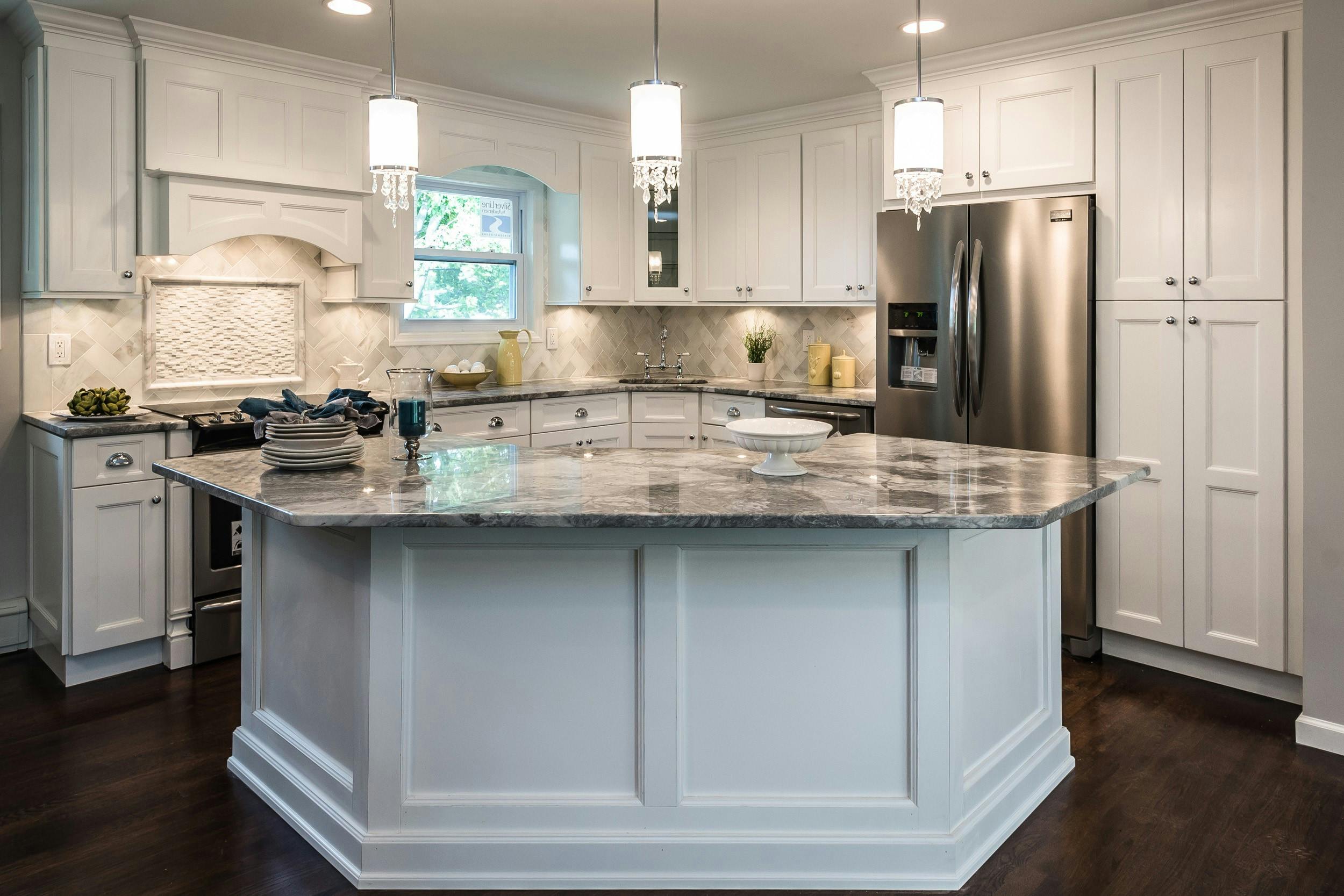 There are some combinations of colors that are appealing to a wide variety of people, so they're used in many homes. Beige, tan and gray are three colors that are often used because they are neutral, which gives you more reign to be free in your color choices in other areas of the kitchen.
How to Mix and Match Color Choices of Cupboards and Countertops
If you're looking to create color combinations that go great together, you'll want at least some variation. Generally speaking, stark white cupboards with stark white countertops are usually too dull-looking. But if you have white, marble countertops that have blue veining, you can pair them with white cupboards and pick up the blue from the countertops somewhere else in the room. Another option is to have blue cupboards so that the blue in the marble will pop more.
Techniques for Combining kitchen countertops and cabinets
Even if you choose a monochromatic color scheme, you'll want at least several shades of your chosen color. For instance, if you choose to use varying shades of beige as the basis of your design, you'll want at least two shades of beige, and you'll likely want a brown or white to add contrast. Also, when you're choosing your color scheme, one technique that you can use is to use a lot of one color in an area to pull out the color in another piece in your kitchen. For instance, if you have a granite countertop that has flecks of gold in it, you can make the gold in your granite countertops more dramatic by adding gold to your cupboards.
Materials
The materials that you choose will have a direct bearing on the overall quality of your kitchen and the level of luxury that it has. There are several materials that are commonly used for cupboards and countertops.
Cabinet Materials
It's no secret that one of the most common materials for cabinets is wood. However, cabinets can also be made of materials like wood veneer, plywood, and decorative laminate. Wood types such as cherry, oak, hickory, ash, birch, walnut and pine are popular for kitchen cabinets.  The type of wood that you use can have a direct impact on the aesthetics of your kitchen. Some woods have an even texture, and some have knots. For example, a wood like knotty pine has mostly a fine grain with small knots throughout, but the knots don't absorb paint in the same way as other parts of the wood. In turn, this type of wood is not the best choice if you want to paint your cupboards.
Countertop Materials
There's a wide array of countertop materials, and some of these include natural stone, engineered stone, solid surface material, ceramic tile, laminate, butcher block, stainless steel, and concrete, to name a few. The materials that you choose will impact the overall quality of the room, and it will also impact which colors you choose for your cabinets.
Natural Stone
A few of the most popular types of natural stone are granite, marble, and soapstone, which is making a resurgence. These materials look beautiful, and they come in many colors. Many slabs also have veining that you can incorporate into your cabinets. When you're choosing which kind of natural stone to use, think about your aesthetic preferences, but also think about what is most important to you in terms of durability. Marble and granite are beautiful, but they also require maintenance, and they can become stained and etched if acidic foods are left on the countertops.
Onyx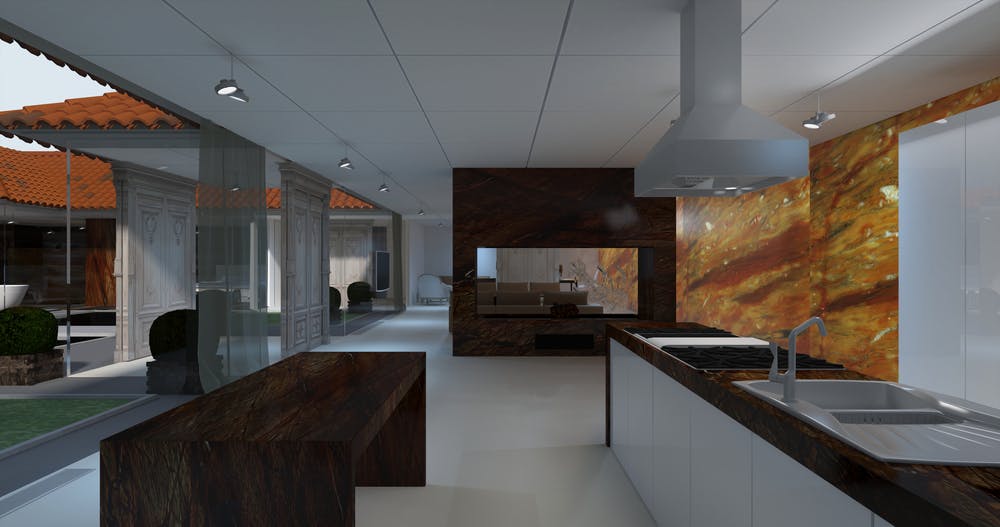 Onyx is a beautiful, black stone with veining in various colors. The biggest downside of onyx, however, is that is soft and porous. It's prone to staining and etching from acidic foods, and it will be cut if you try to chop vegetables directly on the countertop surface. It also needs to be sealed to protect it from staining.
Slate - white cabinets with black countertop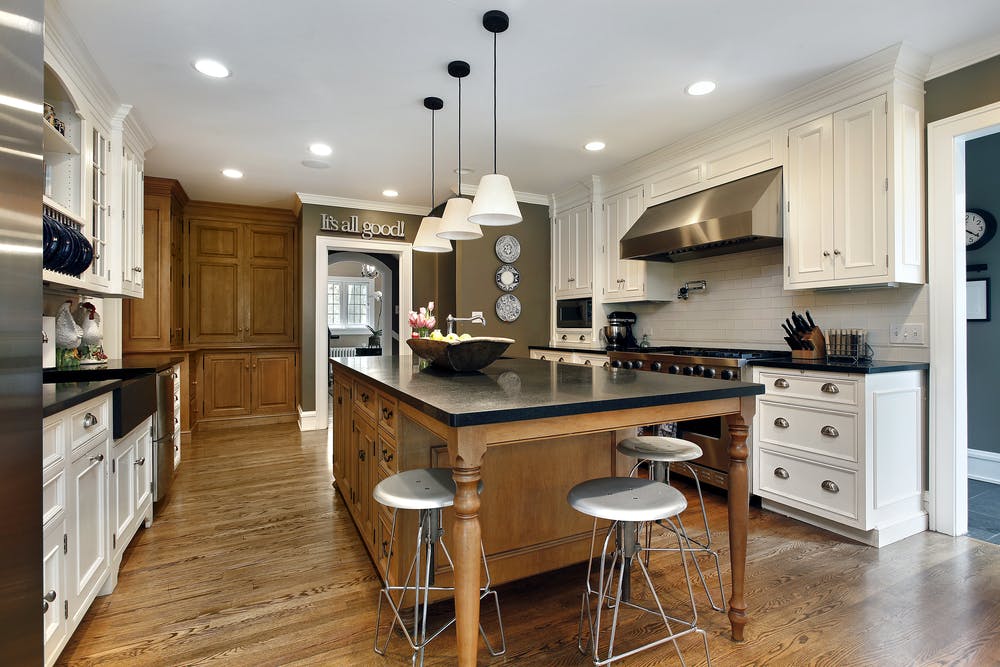 One of the positive aspects of slate is that it is a nonporous surface. This means it's less maintenance than marble or granite, and it won't stain or become etched because of acidic foods. It comes in many shades of grays, browns, blacks and even some with a reddish, bluish, or greenish tinge. The variety of colors isn't as wide as granite, and it can become brittle, but the durability overall is splendid!
Marble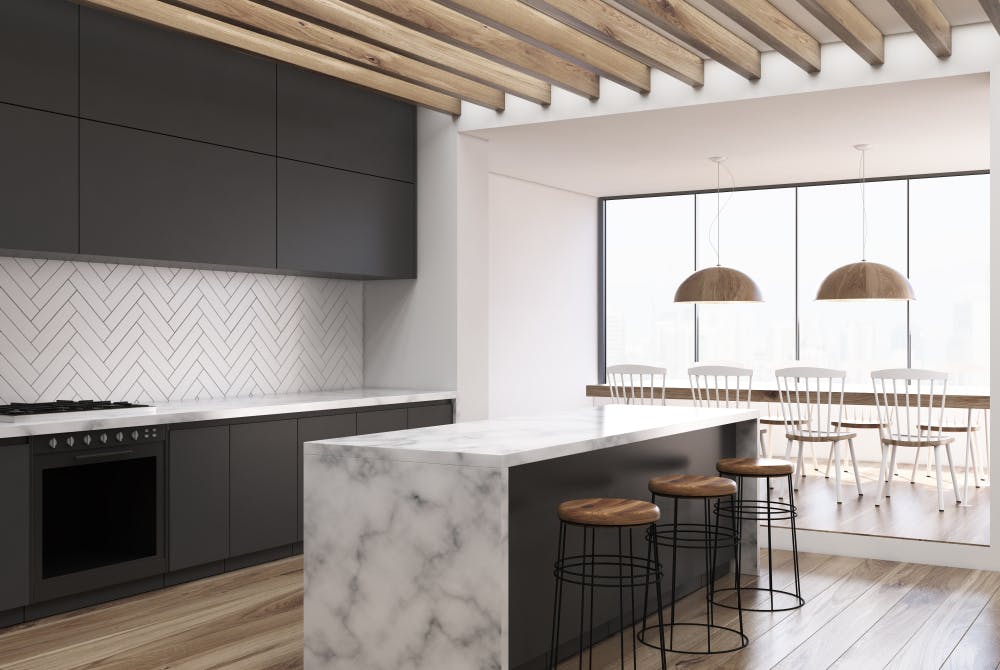 Marble is formed when certain rocks, such as limestone, are heated and pressed in the earth, creating a denser rock. This is why marble is hard enough to withstand the pressures of everyday kitchens.
Soapstone
Soapstone is a prime option for several reasons. First of all, it's nonporous, so it won't absorb stains. It also won't be harmed by acidic foods, has beautiful veining and is resistant to heat. It usually comes in shades of gray and even has shades of green or blue sometimes.
Granite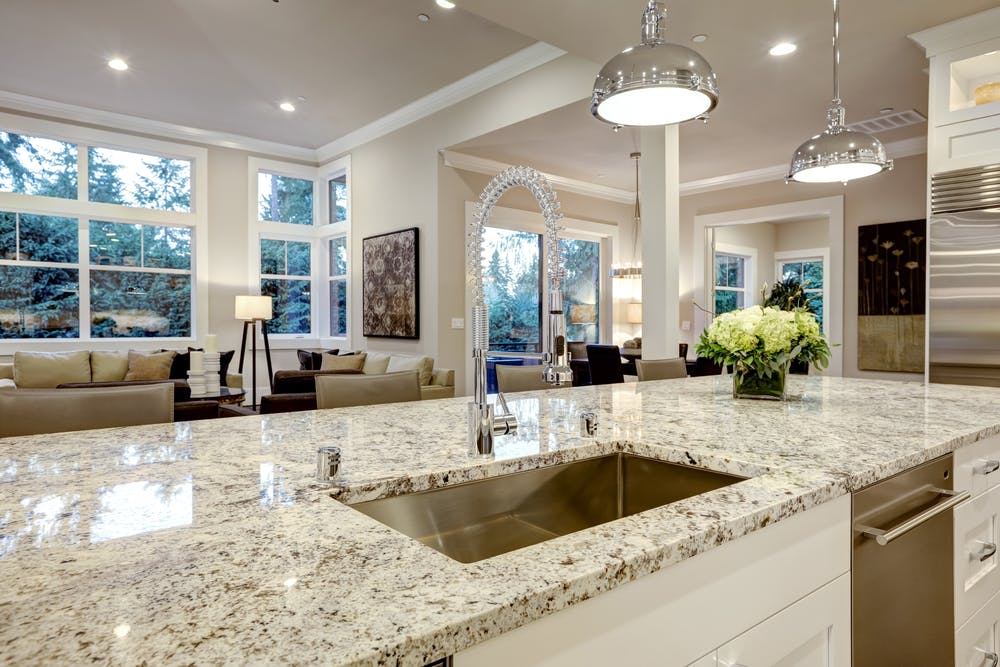 Granite is made from a combination of quartz, potassium feldspar and other minerals. The exact combination of minerals is how the color is determined, and that's why there is such a wide array of colors to choose from.
Engineered Stone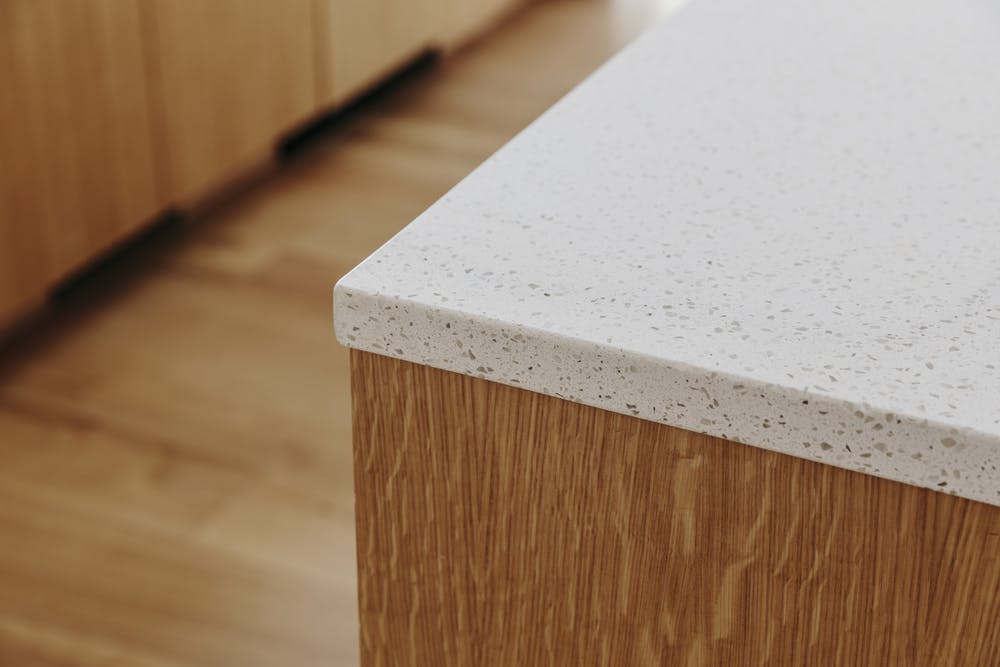 Like many natural stones, an engineered stone like quartz comes in many colors, and can have a variety of flecks of colors that you can use as inspiration for your kitchen cupboards.
Ceramic Tile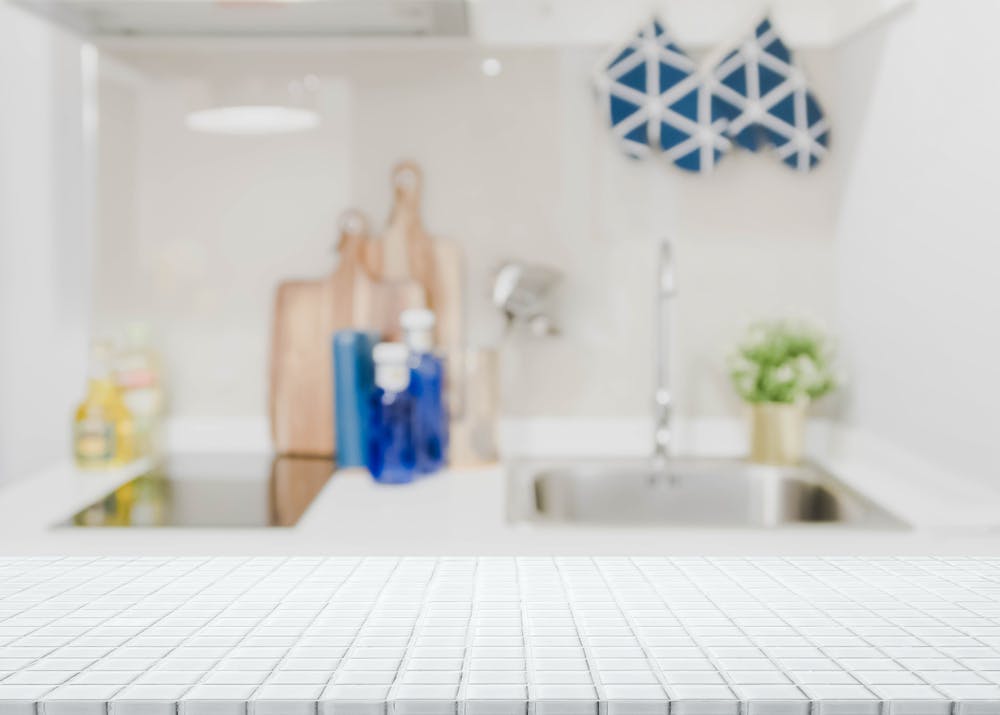 Ceramic tile comes in almost every color imaginable, and can look great with natural wood cabinets. For a fun vibe, you can also incorporate pops of color in your tile with painted cupboards.
Stainless Steel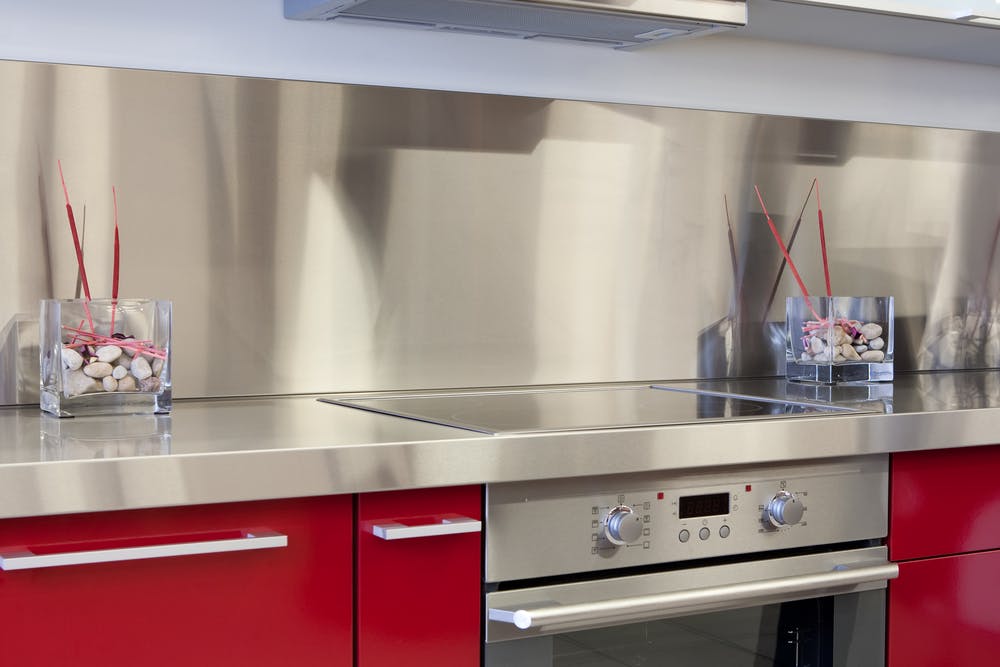 Stainless steel is popular since it's non-porous and has a long life. This material gives a room a very sleek look, and most shades of wood cabinets will seem out of place with it. If you're looking for cabinets that go well with stainless steel, avoid anything that is overly ornate or country-looking. Instead, try to find cabinets that will be as sleek as the counters are.
Concrete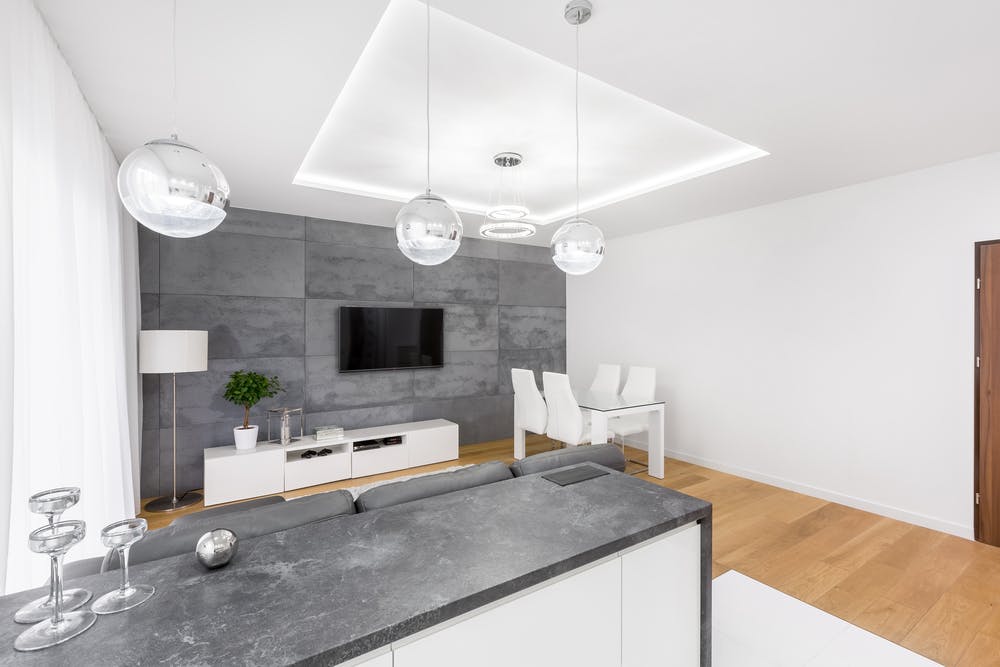 Stained concrete is a great material because you can have it in any color you want, and the concrete lasts for a very long time. Concrete gives spaces a more industrial look, so avoid any cabinets that look country or are too ornate.
There are numerous ways to pair any type of cabinets with your countertops. These helpful tips will make it easier for you to design a trendier and uniform kitchen.