Trend Alert: Two Color Kitchen Cabinets
There is no decorating rule that says all of your cabinets have to be the same color or style. In fact, two-toned cabinets are having a major moment in kitchen design these days. Contemporary and chic, two-tone cabinets can breathe unique life into a more traditionally styled space. Here are some tips that will inspire you to step outside the single-color zone and master an upscale effect with contrasting cabinetry.
Two Tone Cabinet Doors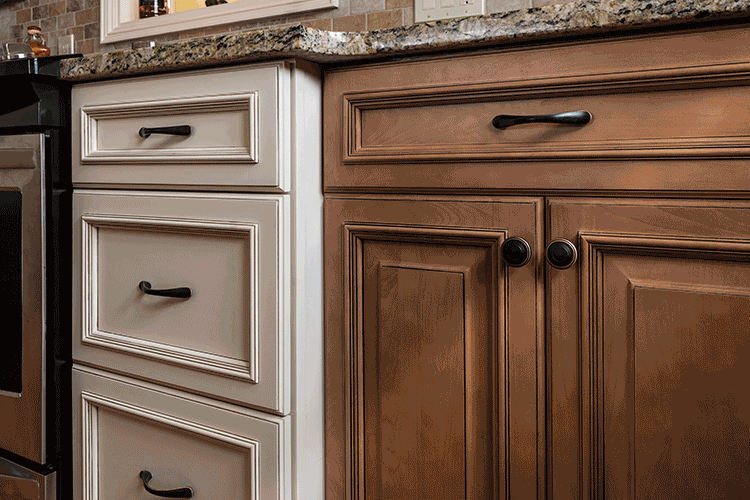 When designing a new kitchen, it is important to build a space that you won't get bored of easily. This involves being creative with your design features and choosing the right focal points. Two-toned kitchens are a great way to add character to a space that needs a bit more flare. Contrasting tones will liven any style from contemporary to traditional, and even transitional.
Add some personality to your kitchen with upper cabinetry or shelving that is different in color from the base cabinets. Using white above and a darker color below softens the room and breaks up the monotony. The darker shades below will serve to anchor the kitchen, while the lighter upper cabinets will create an open, spacious feel. This two-toned trend is a great way to mix things up, especially if you have a large space where you're finding only one color to be a bit dull.  While most two-tone kitchens have one color on the upper cabinets and another on the bottom, vertical columns of color work as well, but keep in mind that it's always important to choose shades that complement each other. Another design tip is to incorporate a patterned backsplash combining dark and light color elements to further smooth the transition.
Two Color Kitchen Cabinets
You may want to consider going one step further by combining two cabinet types. You don't have to stick to one design scheme to create a beautiful and cohesive kitchen. Mixing the style or texture of your cabinets can add more visual interest to your space. A broad range of materials and textures will give character and personality to your room, resulting in a unique and curated space. As far as door style goes, vary it up by using raised panel doors on lower cabinets and flat panel doors on upper cabinets. Play around with different combinations for cabinet design and color. You'll find it is a great way to express your personal style inside your home.
If you're not ready to change up your kitchen cabinets, try adding an island in a contrasting hue. A bright colored island will easily transform a stark white kitchen from dull to dazzling. The vibrant island will become a focal point for the entire room, and naturally, your visitors will gravitate towards this central space. A kitchen that boasts a fairly minimal design, like white perimeter cabinets or light granite counter-tops will definitely benefit from this contrasting pop of color.
No matter how you mix and match your kitchen, we suggest this general rule of thumb; make all of the cabinets that touch the floor (base and tall cabinets) the same major color. Then take anything not touching the floor (upper cabinets) and treat them as your second color.  When it comes to your return on investment, opt for a more classic style that will endure throughout the ages. Think timeless elegance and soft contrast tones instead of flashy and over the top. Our tip is to choose two neutral colors to keep the look both tranquil and cutting-edge.
Two Toned Kitchen Cabinet Doors
Two-toned cabinets are a great way to add some diversity to your kitchen so don't be afraid to break out of the norm. Whichever color scheme you choose, two-tone kitchens are an affordable way to add your personal style to your kitchen cabinetry. The unexpected paint pairings will instantly create a unique and uplifting place where you and your family will be happy to spend time. If you're thinking about a two-toned approach to your new kitchen, be creative! The possibilities are almost endless. We'd love to hear your thoughts in the comment section below.