February 23 2023
Two-Tone Kitchens in 2023: Everything You Need to Know
Two-tone kitchen cabinets have been a lasting trend that has proven to be a beautiful focal point in any kitchen, no matter the aesthetic or style. Whether you are designing your kitchen in a modern style with our Illume cabinets or going with our transitional Luna slim shaker, two-tone cabinets create a versatile and personalized space that will leave a lasting impression on anyone you welcome into your home.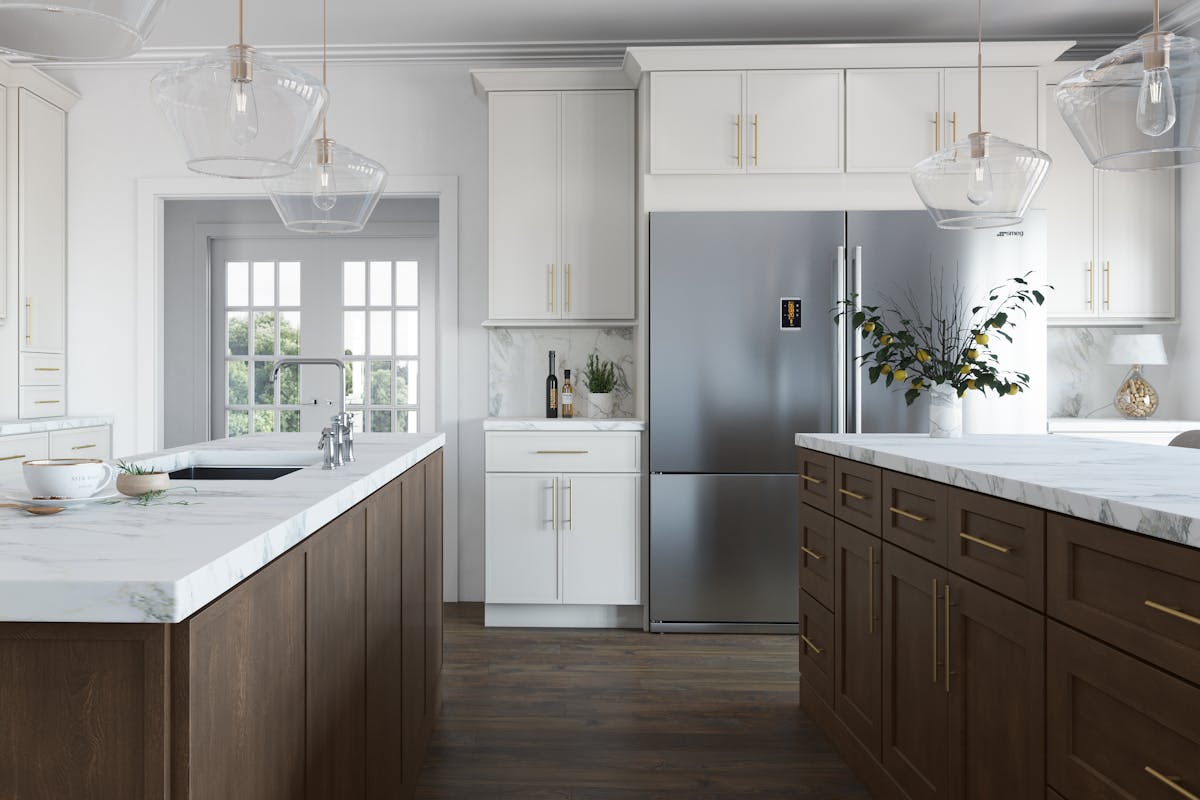 What are Two-Tone Cabinets?
Two-tone cabinets most commonly refer to incorporating two different cabinetry colors in your kitchen. This can take shape with different colors for the upper and lower cabinets or a different color for the island. Two-tone can also refer to different textured cabinets or finishes. With colors, textures, and finishes as available options, two-tone cabinets present the best in kitchen visual appeal. Being one of the most used spaces in the home, it only makes sense to make the kitchen as attractive and pleasing to the senses as possible.
Why Two-Tone Kitchen Cabinets Are a Great Choice

1. Make smaller spaces seem larger- Generally, it is best to have a lighter shade for the upper cabinets and a darker tone for the lower cabinets. This is especially true when it comes to small kitchens. The eye is drawn upward with lighter-colored uppers, tricking the brain into thinking the kitchen space is bigger than it really is.
2. Can increase the resale value- Although they are trendy right now, two-tone cabinets can be timeless with purposeful styling. If you are thinking of selling your home down the road, two-tone can be particularly pleasing to potential buyers, especially with neutral tones which appeal to the masses.
3. Two-tone cabinets can improve your kitchen's aesthetic appeal- For an elegant, up-to-date look, two-tone kitchens create visual interest while breathing life into the space. As soon as someone walks into the kitchen, their eye will be drawn to the cabinets, defining your personal style. If you want to show off your design skills, two-tone kitchens are an easy way to impress!
How to Style Two-Tone Kitchens
Two-tone cabinets are the perfect opportunity to let your creativity shine with the colors, wood tones, finishes, and hardware you choose. The design flexibility means your inner artist and designer can shine while still creating a kitchen with universal appeal. Here are some tips to keep in mind while designing your two-tone kitchen:
· Choose a focal point- For larger kitchen spaces, the focal point is usually the island. You can have one color choice for all the cabinets and another for the island, making it even more of a focal point. For kitchens without an island, the lower, or base, cabinets can become the focal point by choosing a darker paint color for the lowers and a lighter shade for the uppers.
· Select your colors- Now that you chose a focal point, it's time to choose what colors appeal to you the most. With our custom colors program, you can choose whichever color your heart desires! While choosing a color, make sure the lower and upper cabinets are at least 3 shades apart so they don't end up looking muddied when put together.
The lighter color you choose can become the accent color throughout your kitchen for trims and finishings, which will further bring out the two-tone theme. Remember, don't choose anything trendy when picking a color! Think if you would like that color a few years from now and what would offer the best resale value.
· You don't always need a dark color- Two-tone doesn't necessarily mean a darker color needs to be used. White cabinets paired with a light or pastel color are also a good option for a light and bright feel to your kitchen. Whether you choose a dark color or not, remember the white color should generally be for the uppers and the contrasting color should be for the lowers or the island.
· It's all in the details- After choosing the contrasting colors, it's important to create a unified kitchen design with all the finishings. Choosing the right hardware is the perfect way to pull the entire kitchen together. Use the same hardware for all the cabinets and try to match the tone of the hardware with the color tone of the cabinets for an elevated and cohesive look.
Design Ideas for a Two-Tone Kitchen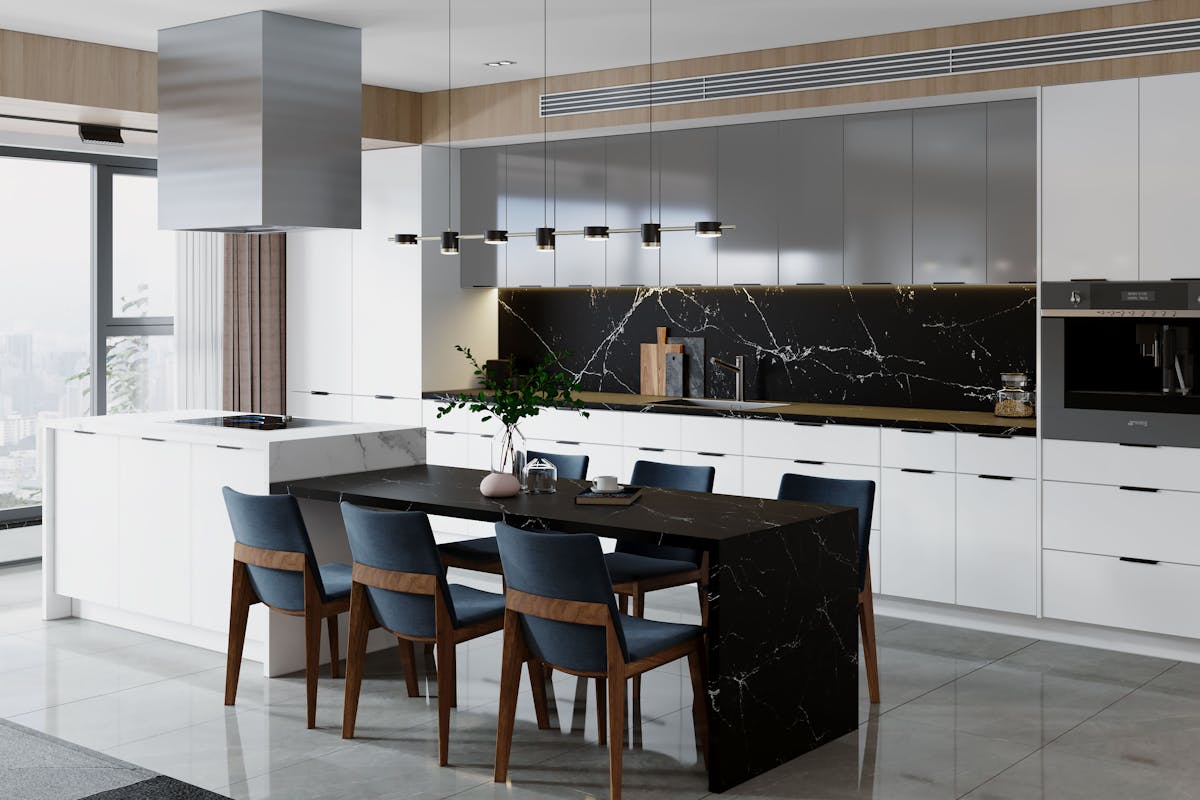 If you're at a loss with how to choose the right colors and elements for your two-tone kitchen, we've got you covered with our Visualizer. The visualizer lets you choose any color, cabinet, flooring, and countertop to help you bring your dream kitchen to life before actually committing to anything.
Here are some simple ideas to get your creative juices flowing:
1. The two-tone look can be created with textures as well as color. You can have a beautiful glossy white upper cabinet like our Bianco Gloss cabinets with contrasting wood lower cabinets.
2. Vibrant shades don't always have to be used. Try lighter and darker hues of one color for a more streamlined and subdued style.
3. If you don't want to go with the bold look of contrasting colors or materials, try playing with patterns instead. Contrast white cabinets with a bold, patterned backsplash for a simpler, two-tone look.
4. Don't forget about the finishes! Choosing the right hardware is vital when integrating your two-tone look. Keep it cohesive with matching material for hardware and finishes throughout your kitchen for a unified space.
5. If two-tone cabinets are too adventurous for you, you can always try incorporating pops of color into your kitchen with utensils, cookware, and appliances. This is a great way to try out the style without full commitment. Check out these great ways to add pops of color to your kitchen with HGTV.
Are Two-Tone Kitchens Just a Trend?
In short, no! If you keep a timeless aesthetic in mind while choosing the colors and finishes for your kitchen, the two-tone look can move beyond a current trend and remain a classic. Dual-color cabinets can add character and dimension to your kitchen space, clearly defining sections of the room. If styled correctly, two-tone kitchen cabinets move beyond the trendy and become an enduring classic.
While all-white kitchens used to be the go-to style for a timeless look, any style can be considered timeless if designed correctly. Kitchens are one of the most personalized spaces in the home, and different color and styling options allow you to truly make it your own. Whether you have a completely open extra-large kitchen with all the latest gadgets or a smaller galley kitchen with vintage touches, two-tone cabinets can be incorporated into any style. With the right colors and finishes, your kitchen can be a unique yet timeless asset sure to be the heart of your home.
Leave us a comment and let us know which colors you would love to use in your two-tone kitchen!