How to keep white kitchen cabinets timeless
The balance between keeping your kitchen up to date with the latest styles, yet still unique and marked with a personal touch, seems as if it's becoming harder to maintain; however, not every kitchen remodeling project has to throw you into a frenzy of worry and disarray about the future – we've got the perfect solutions to ensure your white kitchen cabinets stay timeless. These simple white kitchen cabinet ideas will help your ivory cooking space compliment the latest trends and your personality.  
Adding contrast by using darker colors and tones
Using different textures throughout the decor with various finishes
Bringing in pops of color and unique decorations to brighten up the area
Installing under cabinet lighting to remove shadows and warm up the space
Come to the Dark Side… we have contrast!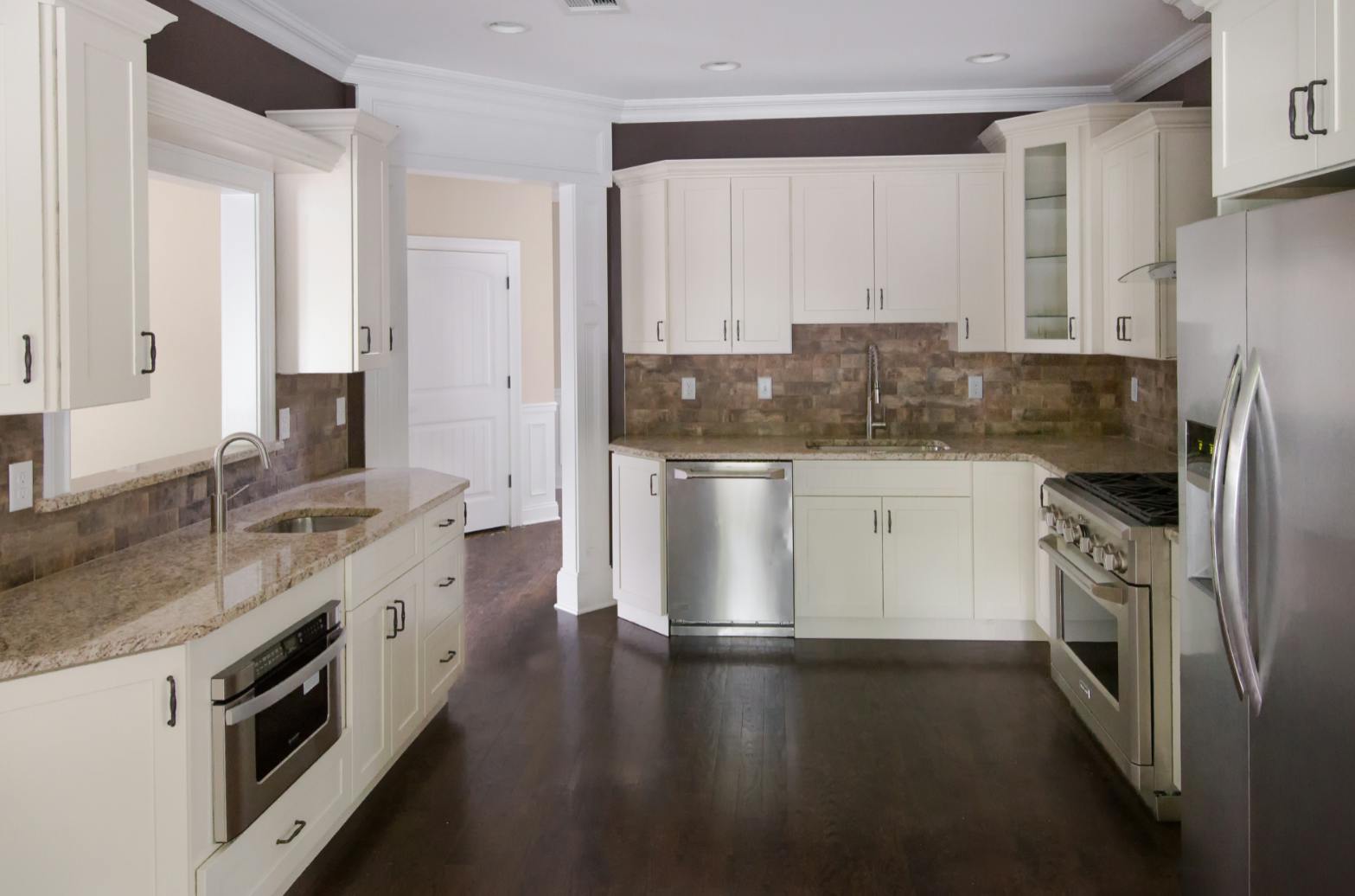 It's no surprise that the all-white kitchen trend still reigns supreme for homeowners and designers alike. The all white decor offers an airy and sleek feel, while also bringing in some much-needed brightness; however, when designing a white kitchen, too much white can become to start feeling sterile and cold, the exact opposite of how it should feel in your cooking space.
One of the best ways combat this delicate balance might sound surprising and require a trip to the dark side (so grab your light-saber), but it's on the forefront of current trends, easily eliminating any sterile aftertaste. Bringing in darker colors and tones throughout the kitchen creates amazing contrast that helps everything flow, and compliment the brightness of white kitchen cabinets by pulling everything together.
The best part of all is that you don't have to limit any personal creative streak with a dark color pallet, as there are plenty to choose from. The most "in" dark colors range from black, to hunter green, navy blue and even plum. Opting out for darker flooring, like dark woods or tiles, or even painting your bottom cabinets darker, while the top remain white, are all great ways to incorporate this dark toned contrast. Another benefit of dark colors is that they add an elegant and luxurious feel to any space!
Pump up the texture
If committing to a trip to the dark side is too much, the next best thing to do to spice up those white kitchen cabinets is by adding texture to the space. The list is endless in terms of options on how to achieve this with style, so once again, a personal creative touch is within easy reach. By adding materials with different finishes, visual interest starts to play a role and gives the space a more lively and unique twist. White kitchen cabinets compliment various materials beautifully, as the white remains as the neutral tone to keep the flow balanced.  
A great way to add texture is by opting out for an exposed or whitewashed brick as a back-splash instead of the typical glossy tile, or even mixing and matching glossy finishes with matte ones. Bringing in any rustic/wood furniture or decor will warm up the whiteness, and even adding something like woven area rug adds a playful mix. Other materials like metals will also drastically change the look and feel, just by swapping out to a new brass faucet, or brass cabinet knobs/handles.
POP goes the color
Adding color to a white space might seem obvious, but there is a method to the madness when it comes to where and how you add it, as it should be intentional and have thoughtful placement; however, adding color is another sure-fire way to brighten up those white shaker kitchen cabinets if mixing textures isn't appealing or preferred. Start by picking colors that draw the eye in, and give off a happy feeling, and work with those. Accent your counter top with an opaque yellow flower vase with pink and orange flowers, hang a fun graphic above your sink, or bring in patterns with decorative fruit bowls or area rugs.
Beyond just decor, a more daring, yet captivating, way to increase the color pallet is to opt out to accent appliances or furniture – a baby blue stove, a bright red toaster, colorful kitchen island chairs, a pastel pink refrigerator, or even painting the entire kitchen island a different color are all great ways to incorporate new hues. By keeping the kitchen cabinets white and stark, there's plenty of room to choose these accent pieces and let them shine.
To take it up a notch even more, if the itch to redesign on a bigger scale ever beckons at the door, turning the kitchen into a blank canvas takes minimal effort. The white cabinets act as a perfect foundation for a new paint job (as opposed to installing brand new cabinets in a different color) of whatever new color a person is craving. If any of those sound like too much, there is of course the classic option of having a bright and colorful back-splash, to give off the perfect little pop of pigmentation.
The best overall part about a white kitchen space is that the customization capability is unparalleled, whether pops of color take reign, going all out with re-designing, or keeping them white and bright is favored.
Let there be Light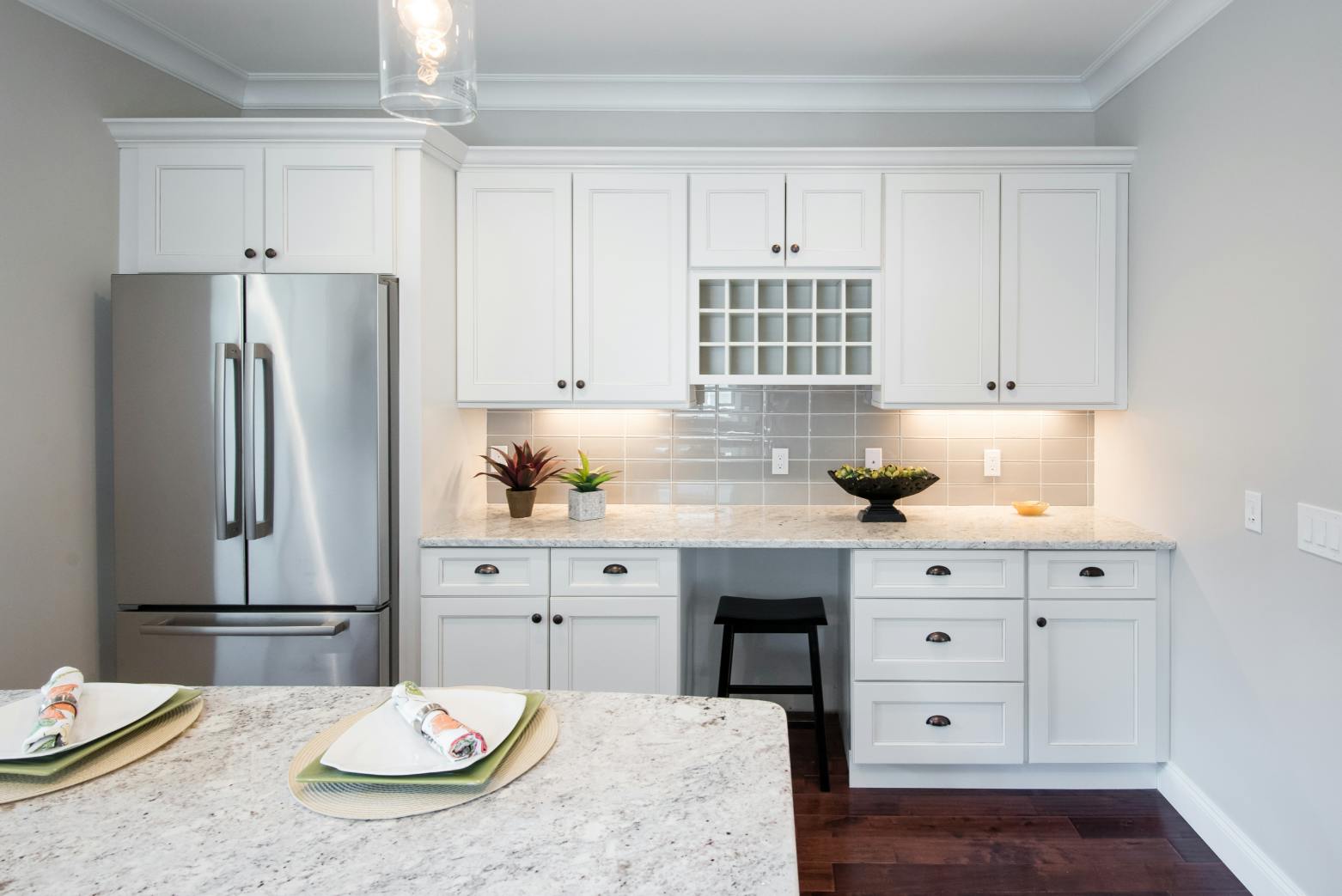 Last, but certainly not least, this is a great way to literally brighten and warm up your white kitchen cabinets with a classy and elegant touch. Adding under cabinet lighting does wonders for white kitchen cabinets, as it eliminates shadows that might be coming off the cabinets and other appliances around the kitchen space. Creating a cozy and homey glow, under cabinet lighting can really go far in white kitchen decor. It's almost an effortless touch of something extra, without having to compromise the cohesiveness of the white sequence, especially if adding colors is not favored. With a simple trick of the eye, the lighting can also change the hue of white cabinets, making appear more like off white kitchen cabinets. A bonus to adding lighting is that it can potentially increase the value of your home, as it gives the whole space a lavish and elegant look.
Whether you prefer darker and cool toned shades, pops of color and accent pieces, or unique textures and amplified lighting, enhancing your white kitchen cabinets by incorporating the latest trends is a fool proof way to make them timeless for years to come. Even more so, if the itch to redesign on a bigger scale beckons at the door, the best part about a white kitchen is that it turns the space into a blank canvas, allowing for a much easier foundation to start from for future projects, and customizing the space with half the hassle (i.e. adding a coat of paint to change up the white look versus installing a while new set of cabinets) Gone are the days of any worry of this classic kitchen style running it course – with these tips you can rest assured that your white kitchen cabinets are here to stay, albeit with a few modern, fun, and elegant twists.
Let us know what your favorite tip was below and how you would spice up a white kitchen!